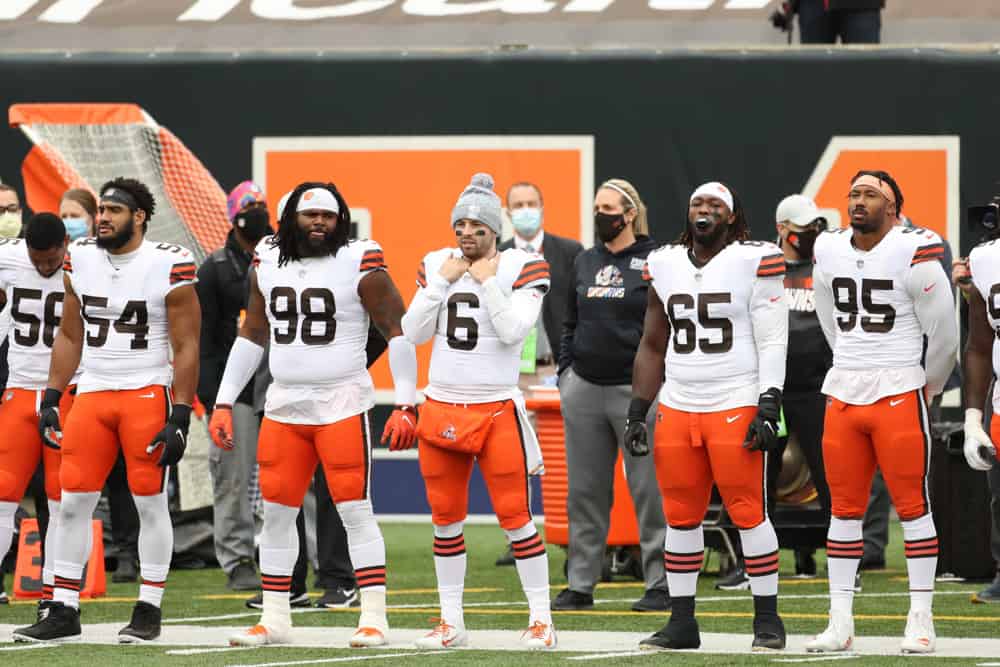 The Cleveland Browns do not have an easy road ahead of them.
They will be without head coach Kevin Stefanski and likely a handful of players for Sunday's playoff matchup against the Pittsburgh Steelers.
Although, the Browns were able to clinch a playoff berth with a win over the Steelers in Week 17.
To be fair, Pittsburgh did rest some of their starters, but it's too early to count out the Browns.
However, they will need a few players to step up if they plan to take out Pittsburgh in the first round.
Baker Mayfield
It has been incredible to watch quarterback Baker Mayfield shine under Stefanski's system.
The former first round pick was more than impressive during the regular season.
Through 16 games, Mayfield had 3,563 passing yards with 26 touchdowns and eight interceptions.
It was a career year for the third-year quarterback who took down Pittsburgh to end an 18-year playoff drought.
It takes a certain grit to end an 18-year @browns playoff drought.

A determined @bakermayfield would not be denied with the game on the line 💪 pic.twitter.com/wlEzPk5kfh

— NFL Films (@NFLFilms) January 7, 2021
Sadly, Mayfield did look a little shaky at times during that regular season finale.
He completed 17 of 27 passing attempts for 196 yards and one touchdown.
That was with the Steelers sitting multiple starters on their defense.
Despite a mediocre performance, Mayfield got the win and gave it 110 percent the whole game.
BAKER! @browns @bakermayfield pic.twitter.com/V2Wuh1X3zt

— NFL (@NFL) January 3, 2021
Mayfield had a fantastic second half of the season including 11 touchdowns and one interception in his last eight games.
He is limiting the turnovers and putting the Browns in position to win football games.
However, this is going to be a tough challenge for the young quarterback.
The Steelers have an elite run defense that will likely force the Browns to make plays through the air.
How Mayfield performs under center will go a long way to deciding who wins on Sunday.
Myles Garrett
There was some speculation that the Browns possibly overpaid defensive end Myles Garrett.
However, he has certainly killed those rumors with his tremendous play this season.
Through 16 games, Garrett had 48 tackles, 12 sacks, and four fumbles forced.
The 25-year-old earned his second trip to the Pro Bowl in four seasons.
Garrett is arguably the best defensive end in the NFL right now.
Myles Garrett has 9 sacks in 6.5 games. There is no one playing at a higher level. #Browns pic.twitter.com/msEwj6jOzu

— Dave @ BIGPLAY (@BIGPLAY_dave) October 25, 2020
He is the type of player that can take over a game by himself.
Through four seasons, Garrett has 152 tackles, 42.5 sacks, and 10 fumbles forced in 51 games.
Garrett is such an elite player that he forces opposing teams to create gameplans just to stop him.
In Week 17, Garrett had four tackles and one pass defended in the win over Pittsburgh.
However, the Browns are going to need more from Garrett this time around.
Getting pressure on quarterback Ben Roethlisberger will be key to getting this win.
Luckily for Cleveland, Big Ben lacks mobility and is usually forced to stay in the pocket.
Myles Garrett's speed is terrifying 😱 @MylesLGarrett @Browns pic.twitter.com/7fY4VrFwfK

— The Checkdown (@thecheckdown) November 16, 2020
Getting through the offensive line and taking down Big Ben will be huge for Cleveland.
Honestly, even getting pressure on Roethlisberger and forcing him to make bad decisions is good enough.
Garrett is the most impactful player on this Cleveland defense, so he'll need to step up to help the Browns secure this victory.