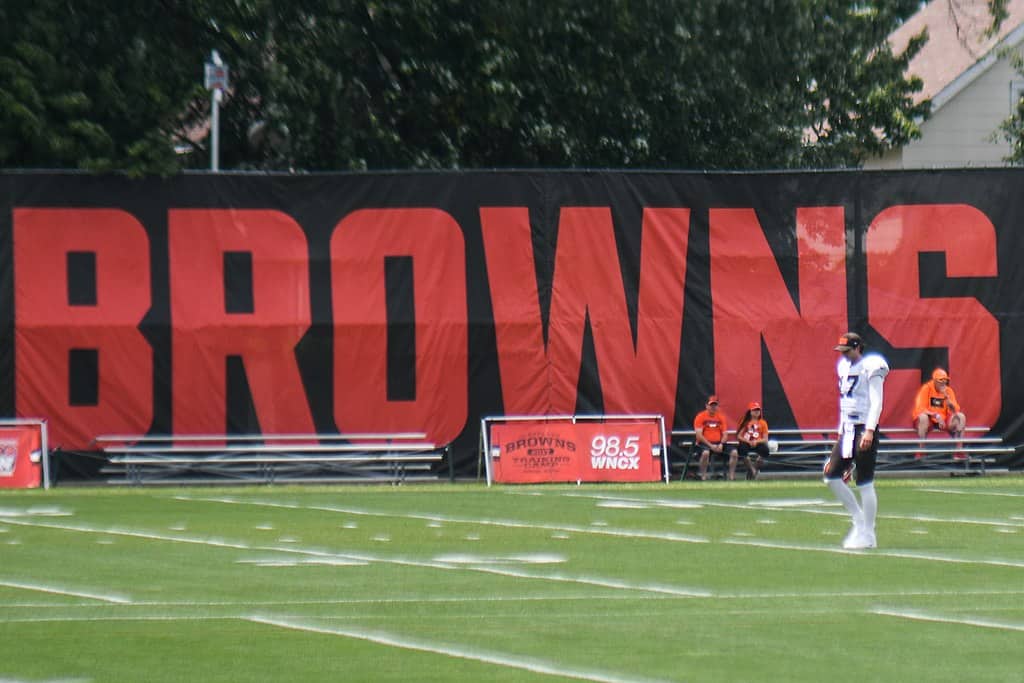 Cleveland Browns rookie head coach Kevin Stefanski recently addressed the media via Zoom from Browns training camp.
As has been the case since day 1 with HC Kevin Stefanski, it's clear he is prepared and has a plan to deal with this new normal. Optimistic he will make the most out of his limited time to get this team ready for the 2020 Season.

— Nathan Zegura (@NathanZegura) July 30, 2020
Here are a few highlights:
1.  Browns Safety Protocols Are Top Notch.
Stefanski elaborated that the organization has gone above and beyond the NFL's protocols to keep players safe.
This includes retrofitting the facility.
A weight room is now converted into a second locker room.
Position meetings are scheduled in rooms that allow sufficient social distancing.
Because the indoor facilities are "maxed" out in this capacity, he emphasized that outdoor practices will be paramount.
Only if it is impossible to practice outside will an indoor option be considered.
#Browns coach Kevin Stefanski on field house being used for overflow locker room: We're an outdoor football team, so we're going to be outdoors as long as we can, we'll go inside if absolutely necessary, I'm not a rush to get indoors for practice

— Nate Ulrich (@ByNateUlrich) July 30, 2020
He also mentioned the contact tracing bracelets players are required to wear in the facility to help contain the spread in the event of a positive test.
2. Additional Protocols Beyond NFL's Are Being Implemented.
No in-person indoor meetings will happen before August 9.
Next week, the squad is split into Brown and Orange teams which will work out at alternate times.
Walk throughs will happen with players wearing masks.
Traditional practice will happen in mid-August, but even then, there will be modifications.
Stefanski emphasized that he doesn't want to do too much too fast.
In consultation with team doctors, he is ramping up slowly for the safety of all players.
3. Players Try To Maintain Bubble Mentality Away From The Facility.
Stefanski feels very safe in the Browns facility but has emphasized that players and their families have to make good decisions when they are not at the facility.
#Browns Kevin Stefanski: I feel like I'm in a bubble. Wearing a mask everywhere and staying distanced from everyone.

— Scott Petrak ct (@ScottPetrak) July 30, 2020
He called it a shared responsibility during this unique time.
Veterans must lead by example.
While he is cognizant of the work/life balance, he has encouraged sound decision making for the players outside the facility.
4. What Is the Impact Of No Preseason Games?
He believes there is enough time to get the team prepared.
Strength and conditioning is occurring now.
#Browns quarterbacks and rookies are in the strength and conditioning phase of training camp. Photo of Baker Mayfield courtesy of the Cleveland Browns. pic.twitter.com/DA2dHoQHLT

— Nate Ulrich (@ByNateUlrich) July 30, 2020
Stefanski stated there are 44 days until opening day and only 6 off days scheduled during that time.
The important thing for the coaching staff is to mimic game settings in practice to overcome the lack of preseason game snaps.
He feels the Zoom off-season meetings went well with a lot of material covered.
However, nothing compares to the in-person interaction and work on the field.
5. He Did Not Comment On Specific Players.
Because the press conference was prior to the first walkthrough and not everyone has reported, he could not comment on Jarvis's recovery or Baker's fitness.
He also did not talk about those who are on the Reserve/COVID list.
Stefanski reiterated that the organization has great expectations for David Njoku and looks forward to his arrival.
#Browns Kevin Stefanski says the teams stance hasn't changed regarding David Njoku pic.twitter.com/XjC657ZDtn

— Fred Greetham (@FredGreetham) July 30, 2020
6. Is Not Sure If More Opt-Outs Are Coming.
Stefanski doesn't know if more opt-outs are coming.
When asked, he said that no coaches have opted out.
And there is a plan for everyone in the organization, to the extent that it is similar to a set of dominoes.
If one player or coach is unavailable, then the next man up has been identified, and so on down the line.
Stefanski is eager to get started and finally meet all of his players in person.
He admitted that hasn't happened yet and sometimes he cannot recognize players with masks on as he sees them around the facility.
Stefanski seems up to all the unique challenges of this season and is ready to roll.