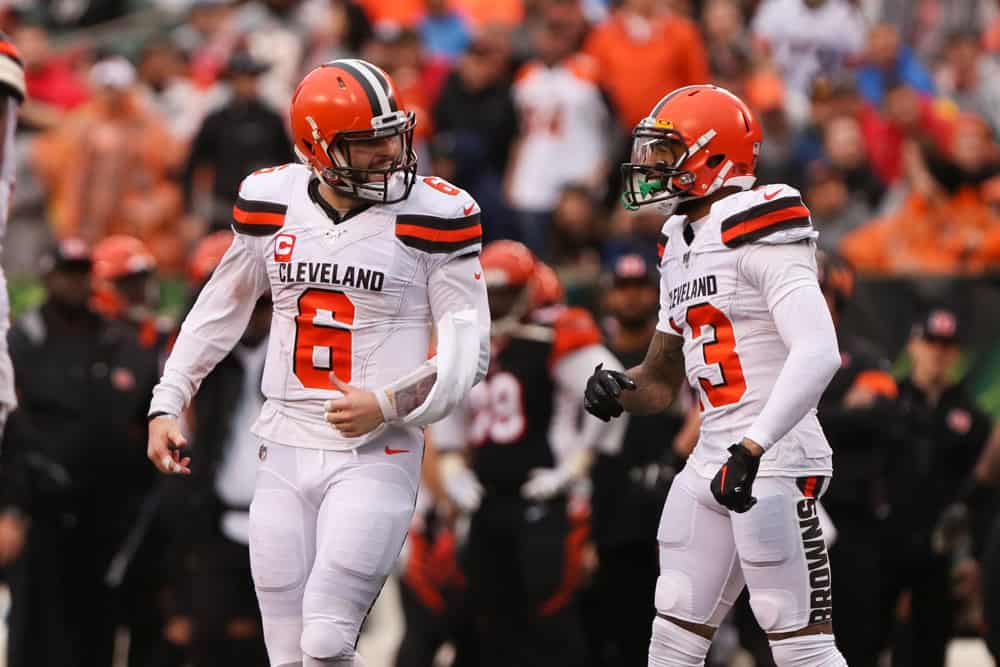 ESPN's Bill Barnwell recently appeared on the Bull & Fox Podcast to discuss the 2020 Cleveland Browns.
He recently ranked the Browns 2020 offensive weapons as 2nd best in the NFL (KC Chiefs are 1st).
Here are some key takeaways from Barnwell's interview:
1. On Paper, Browns Have Great Offensive Weapons.
Barnwell's analysis is focused on RB, WR, and TE players on the 2020 roster.
Previous seasons and other offensive positions were not evaluated.
He made the point that on paper, the Browns are top-notch.
We don't know what will happen, but in the best-case scenario, Nick Chubb could be among the best RBs in the NFL this season.
And his backup Kareem Hunt isn't too shabby either.
OBJ can return to elite status assuming the injury is behind him.
Austin Hooper is an exciting addition.
There are so many upsides and talented players if all goes well, and they play up to their capabilities.
2. Will The Real Baker Stand Up?
Barnwell contends that we don't know who the true Baker Mayfield is.
Mayfield's rookie season was great, but his 2nd year was mediocre, at best.
Baker Mayfield had himself a season last year 🔥🔥
_____________________

6 wins👍
59% completions ‼️
3827 yards🤯
22 touchdowns⚡️
21 interceptions🆒
78 quarterback rating💵
1 game winning drive😤
1 4th quarter comeback🐐
___________________

He's the future of the AFC! 💯 pic.twitter.com/L4ryHgdAiv

— Boston Cream 🍩 (@itsbostoncream) July 25, 2020
He believes Mayfield actually regressed last year, and his college performances were better.
With that said, Baker is in the 3rd year.
He knows the stakes.
There is a new coaching staff and system; he is as fit as ever.
This year sets the tone for Baker's career in Cleveland and beyond.
Which Baker will we see?
3. Cleveland's Big Contracts Are Noteworthy.
Barnwell says the Garrett contract made perfect sense in terms of dollars and timing.
Aside from the issue in the Steelers game last season that overshadowed everything else, Myles Garrett has played extremely well.
Barnwell believes Garrett could be a Von Miller or Khalil Mack caliber player.
As for Austin Hooper's big contract, Barnwell had some interesting insights.
While Hooper is a good player, Barnwell thinks he benefited from a weak TE draft class.
He also noted that some of Hooper's stats last season in Atlanta were in garbage situations.
Barnwell is unclear if he is in the class of Jimmy Graham (in his prime) or Rob Gronkowski.
Many have opinions on what Hooper brings.
#ICYMI @NathanZegura gave his 2020 #FantasyFootball projections for #Browns TE Austin Hooper, on #FantasyDirt with @Michael_Fabiano @md_1010xl! pic.twitter.com/X8GMO7C9DK

— Fantasy Sports Radio (@SiriusXMFantasy) July 21, 2020
4. Rookie Coach, No Off Season, And COVID Remain Valid Concerns.
Regarding Kevin Stefanski and the Browns being a bit behind because he is a rookie coach with a new staff and no in-person off-season instruction time, Barnwell did not seem as concerned about this.
He admitted that a rookie coach is always a little behind in a normal offseason, but he notes that Stefanski has probably adjusted well to online instruction so this situation should not make-or-break the Browns at the onset.
How confident are you in Kevin Stefanski in this early stage? pic.twitter.com/RzT8ESKCq0

— Browns Brawl™️ (@BrownsBrawl) July 28, 2020
As for COVID, he mentioned the situations are tenuous with MLB and NFL because they are not operating in a bubble and are traveling to games.
Barnwell says the NFL has to be concerned about dealing with a Miami Marlins situation.
But he also noted that in England, where there have been lesser cases, professional soccer has been able to play outside of a bubble.
He admitted that lots of jobs, including his own, will be limited or eliminated if the NFL cannot play.
However, that is not the reason to play the game.
The only path to playing is by ensuring the safety of the players.
Amen to that, Bill Barnwell.