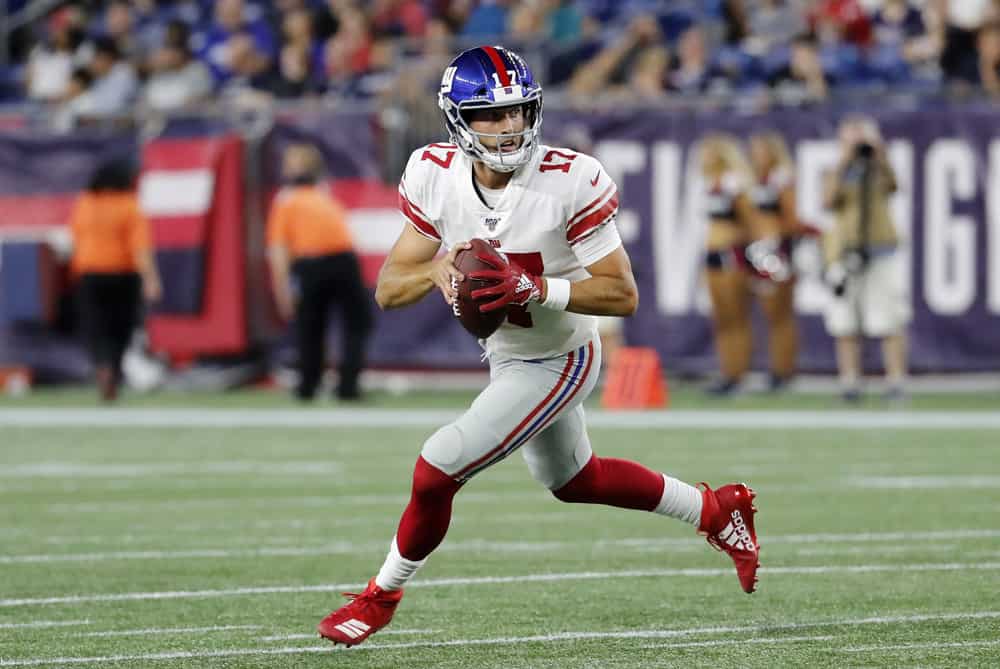 Andrew Berry added an emergency quarterback to the Cleveland Browns' practice squad.
Kyle Lauletta, originally a 2018 fourth-round draft choice of the Giants, was signed today.
Unfortunately, Covid testing rules make Lauletta ineligible to play this week.
The NFL informed the #Browns that practice squad QB Kyle Lauletta isn't eligible to dress Sunday at Pittsburgh because he won't have completed COVID-19 protocol when the team departs Saturday, per sources.

So if Baker Mayfield (chest) can't go, they'll have one QB: Case Keenum.

— Tom Pelissero (@TomPelissero) October 16, 2020
Case Keenum is the only available backup if Mayfield can't go.
Jarvis Landry and Odell Beckham Jr are probably willing to take over if needed.
But Scott Petrak of the Chronicle-Telegram reports Mayfield looks comfortable throwing the football in practice.
#Browns Baker Mayfield throwing and looking good at practice.
Jarvis Landry also back.

— Scott Petrak ct (@ScottPetrak) October 16, 2020
Who Is Kyle Lauletta?
Kyle Lauletta, 6-3, 222 pounds, joins his fourth team in just his third season of play.
When the New York Giants drafted him out of Richmond, they had to defend using a fourth-round selection.
But they called him a Pro-Style passer with a speed component and hoped he would eventually succeed Eli Manning.
Lauletta had some moments in the preseason and was active for several games in 2018.
But with a warning already issued about being late for practice, the rookie chose to ignore a traffic cop to beat traffic on one of New Jersey's most-congested roadways.
A few more details on #Giants QB Kyle Lauletta's arrest. If you've been stuck in traffic trying to get on 495 in Weehawken, you've had the urge to lose it. But you just can't. pic.twitter.com/VSHkxOX0YT

— Mike Garafolo (@MikeGarafolo) October 30, 2018
Weehawken police threw the book at him with five citations, including eluding police and obstruction.
Lauletta avoided any jail time and remained a Giant, making his debut in relief of Manning in December.

He threw five passes, completing none, and capped his day off with an interception.
In 2019, the Giants drafted quarterback Daniel Jones with the sixth overall pick.
Lauletta lasted until the final cuts of training camp before the Giants released him.
Well Traveled, But Nothing to Show For It 
Philadelphia signed Lauletta to their practice squad the following day.
Local writers speculated the Eagles to add Lauletta to their active roster, replacing third-string QB Clayton Thorsen.
They cited Lauletta's four preseason touchdown passes in proclaiming him an upgrade for the Eagles.
But Philadelphia never called him up, and Lauletta was released in mid-August this preseason.
Atlanta signed him to their active roster for a few days before cutting him and adding them to their practice squad.
But Lauletta never made it into another regular-season game, giving him a career passer rating of zero after his one appearance in New York.
To add insult to injury, he also tried to run the ball once and got thrown for a 2-yard loss to account for his -2 career yards-per-carry.
Mayfield seems determined to keep Lauletta's stat line intact as he shrugs off his chest wall injury.