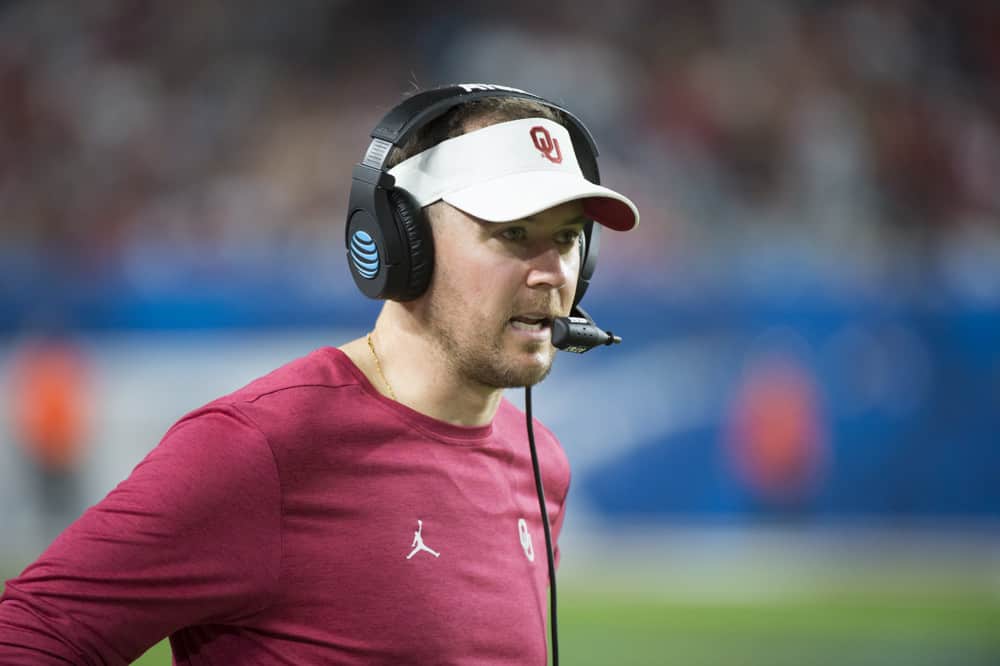 When it comes to football, Oklahoma head coach Lincoln Riley knows a thing or two.
When it comes to football and Baker Mayfield, we should definitely take what he has to say to heart.
Mayfield's former head coach knows that 2019 was a disappointing season for Mayfield.
However, he expects more and has full confidence in Mayfield's ability to bounce back in a big way in 2020.
Mayfield Is "Hungry"
Riley made an appearance on ESPN's First Take on Monday morning.
When asked about Mayfield's potential for next season, he described Mayfield as "hungry" and "excited" for the next chapter.
"I know the kind of competitor and player that he is. He's hungry. He's had a tremendous offseason so far," said Riley. "I know he's very excited about the new staff coming in and being able to have some continuity with some of these players, especially his receivers coming back."
Riley's comments stem from a 2019 season that featured 21 interceptions by Mayfield, which was the second-most in the NFL.
His 78.8 passer-rating was the league's second-worst mark.
The Browns finished 6-10 last season and fell short after lofty expectations.
As Mayfield looks to return to form, he sees his ability to turn around as future success for the team as a whole.
Lincoln Riley on Baker Mayfield's disappointing 2019 season and future in Cleveland.

"I would expect for him to do what he's always done anytime he's got knocked down, which is he gets back up and he fights and he normally finds a way to win."#OUDNA | #Browns pic.twitter.com/CQDllIfsoT

— Sooner Gridiron (@soonergridiron) April 6, 2020
Sound Familiar?
Earlier in the offseason, Mayfield appeared on First Take and talked about his 2019 season.
He discussed how he should not talk as much and "keep his foot out of his mouth."
Baker Mayfield and Rex Ryan make up on @GetUpESPN.

"…Doing my job the best I can and not worrying about the outside stuff. Not replying to you…" — Mayfield

"That tells me right there that you're starting to get it." — Ryan#OUDNA | #Browns pic.twitter.com/Lx8Q00IxWP

— Sooner Gridiron (@soonergridiron) January 31, 2020
When Riley talked to the gang, he echoed similar comments.
"Baker would be the first to admit, and he has, that he has to play better and he will," Riley said. "Having an organized cast around you, guys that are healthy, a system that fits — it takes everything. And if one little part is off — whether it's another player, somebody being hurt, a scheme that doesn't fit, whatever, if any part of it's off, then it's going to show. Especially at that level."
Leading The Way
Riley ended the segment by saying he believes that Mayfield will fight his way back to find a way to win.
In his words, "I fully expect he'll do it."
Not everyone has confidence that Mayfield will lead the Browns to break a 17-year playoff drought.
That includes the cast on First Take.
The Browns new GM is fully backing Baker Mayfield, and @stephenasmith nearly lost his mind 😂😂😂😂 pic.twitter.com/cxg2bp24qG

— First Take (@FirstTake) February 6, 2020