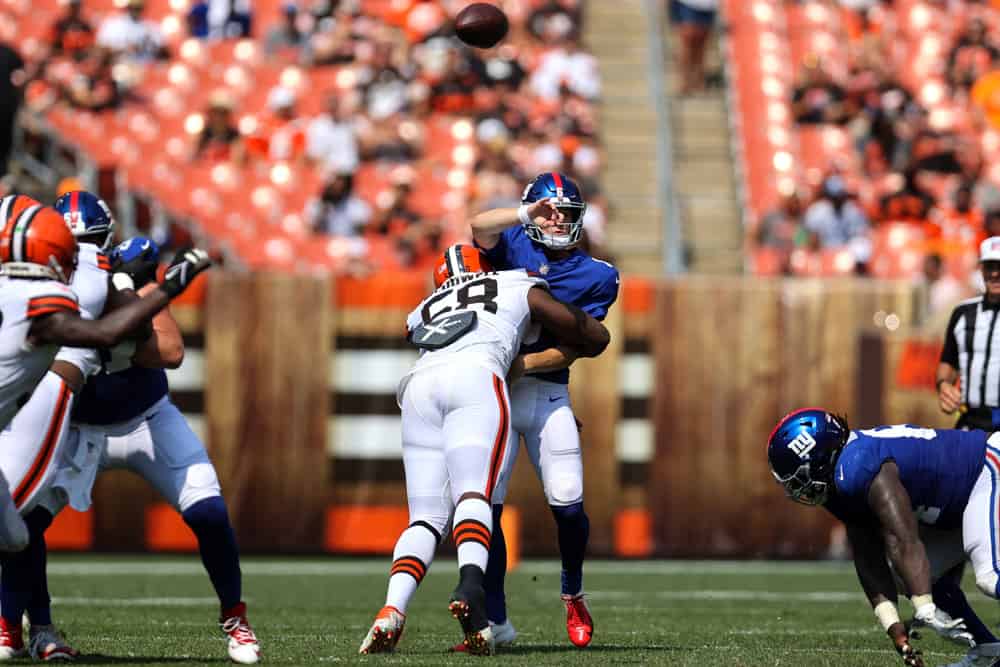 The Cleveland Browns retooled defense has been a headline this entire 2021 preseason.
There are big name draft picks and free agent signings, but one person who is seemingly flying under the radar but performing very well is defensive tackle Malik McDowell.
McDowell is a former second-round pick by the Seattle Seahawks in 2017 who was injured in an ATV accident before the 2017 training camp.
Those injuries and ensuing legal issues kept him off the field for years.
The Browns signed McDowell in May, and he is definitely embracing his second chance so much so that he has a good chance of making the 53 man roster and logging playing time.
Lest we forget, Malik McDowell was considered a first-round talent at one point in time. Ability has always been there. Same can't be said about his commitment. Now, he seems to have everything back on track and it comes as no surprise when he plays really well against backups.

— Brent Sobleski (@brentsobleski) August 23, 2021
Preseason Games
At 25, McDowell is finally on the field in game situations this preseason.
His first game was against the Giants.
He played like many expected years ago.
#Browns Kevin Stefanski on DT Malik McDowell: Continues to grind, continues to work at this thing. I thought he had a nice day (vs. Giants).

— Scott Petrak ct (@ScottPetrak) August 23, 2021
#Browns coach Kevin Stefanski said Malik McDowell has done good job since the day he showed up on campus

— Nate Ulrich (@ByNateUlrich) August 30, 2021
Malik McDowell was the Browns highest rated defender on Sunday with an elite 91.7 grade per PFF.

McDowell had the Browns only sack and was in on 4 other tackles.

Andrew Berry struck gold. pic.twitter.com/zDrNzoN2YG

— Nick Karns (@karnsies817) August 23, 2021
McDowell also played well against the Falcons.
Nothing about Malik McDowell obliterating the center is normal. This man is special. https://t.co/SBMw9jpOcH

— Nick Karns (@karnsies817) August 30, 2021
He had a sack in each game.
Malik McDowell with his second sack in as many weeks.

it's been 4.5 years since he played football.

A MAN AMONG BOYS.

— Nick Karns (@karnsies817) August 30, 2021
Where Does He Fit
McDowell still has skeptics on social media.
Whether the issue involves his previous legal problems or the fact that he has not played against starting players in the preseason, some are not sure where he fits.
Others recognize what a great player he is.
He is built like a tank and can move bodies around on the line.
Putting him on the field with Myles Garrett and Jadeveon Clowney excites some fans.
Veteran Browns players are taking notice to how well the "rookie" McDowell has played this preseason.
Joel Bitonio on Malik McDowell: "You can tell why he was a second round pick. He's big, he's powerful… He's been disruptive during the pre season. Jack Conklin who played with him in college said he's becoming his old self again."

— Nick Karns (@karnsies817) August 25, 2021
Conclusion
McDowell has made a strong case for being on the 53 man roster and seeing significant playing time.
I do not envy Andrew Berry, Kevin Stefanski, and the coaching staff.
It is a good problem to have such a deep 80 man roster, but it is going to be difficult making some of these decisions in the process of trimming down to the final 53 man roster.