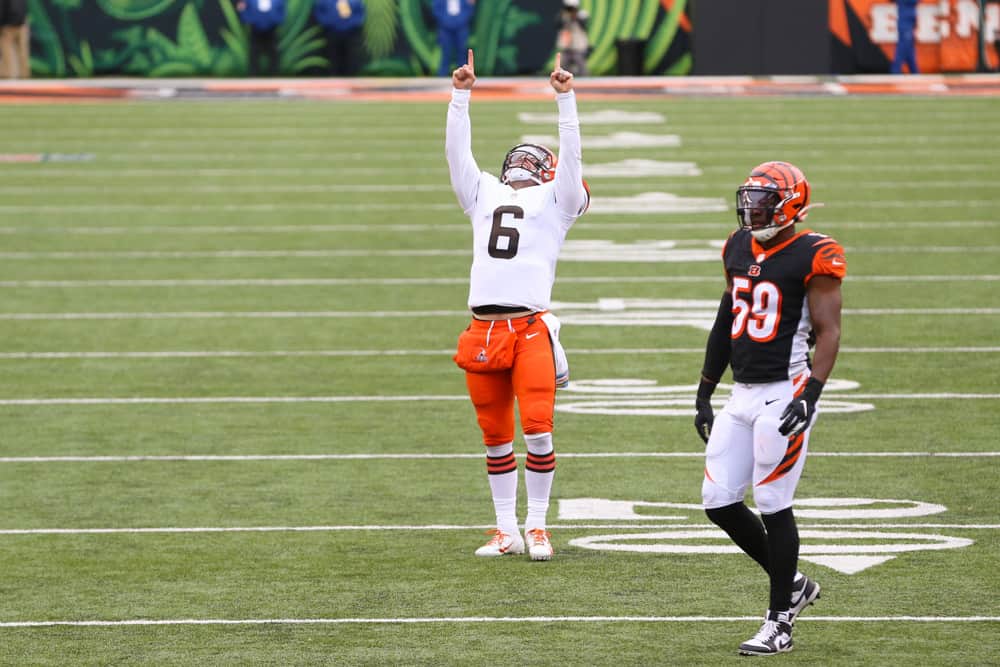 This hasn't been the greatest season for Baker Mayfield.
Statistically, he's doing worse than he was at the same point last season, but he's working with a better supporting cast.
He's had a much improved line in front of him, but he's holding onto the ball too long and forcing it into tight spaces that are leading to turnovers.
Speaking of turnovers, the last two weeks saw him throw the ball into the opposing teams' hands-on the Browns first play of the game.
Browns fans have been very vocal in their displeasure of Baker's performance this season considering how improved his supporting cast has been.
Former players have been quite critical of him, especially in the early moments of today's game.
Baker Mayfield starting the day in the most Baker Mayfield way possible. Starts by throwing the ball to the other team.

— Ryan Clark (@Realrclark25) October 25, 2020

With that being said…maybe we need to cut him some slack.
Baker WILLED this victory into existence.
After opening the game with yet another interception, something flipped inside of Baker.
Baker Mayfield started 0/5 with an INT, then went nearly perfect:

22-23
297 Yards
5 TDs

His only incomplete pass was a spike to stop the clock.

Shut the haters up. pic.twitter.com/Rj1lLbWYSL

— SportsCenter (@SportsCenter) October 25, 2020
Rashard Higgins, who tapped into the form that put him on the map a few years ago, caught six balls for 110 yards.
Harrison Bryant and David Njoku, filling in for the injured Austin Hooper, caught another six passes for 76 yards and three TDs between them.
Rookie Donovan Peoples-Jones caught 3 passes for 56 yards; including the one that mattered most.
The Throw.
The Catch.@bakermayfield to @dpeoplesjones FOR THE WIN.

📺: #CLEvsCIN on CBS pic.twitter.com/cIlcHw99yr

— Cleveland Browns (@Browns) October 25, 2020
Overall, Mayfield went 22-28 for 296 yards and FIVE TDs after throwing that game-opening pick.
There is a bit of truth that he played against a bad Bengals team, but this was the Battle of Ohio, Part Deux-and Mayfield, after his early struggles, carried the Browns to the win.
He looked poised and comfortable in the pocket, something that hasn't been visible to anyone watching the previous six games.
He was accurate with every throw-short, intermediate, deep.
His release was crisp, and he put touch on his pass all over the field, including this TD to Njoku:
CHIEF❗️@bakermayfield finds @David_Njoku80 for the touchdown!

📺: #CLEvsCIN on CBS pic.twitter.com/26Qnhisw7Y

— Cleveland Browns (@Browns) October 25, 2020
Breakout Game For Mayfield
Regardless of what one might think, this was a breakout game for Mayfield.
This was the game that fans had been looking for in the #1 overall pick, willing his team forward, slinging the ball all over the field, and carrying his team to a win.
Mayfield has obviously been in a funk and it could've been the rib injury, the weight of expectations, or whatever the case is.
This was a game both he and the team needed, especially after last week's brutal loss to the Steelers.
This type of performance from Mayfield is one that could turn around his season and catapult the Browns to the next level.
Whatever the case is, enjoy this one Browns fans, we watched one hell of a performance and the team moved to 5-2.
And, for this week at least, we have Baker to thank for that.