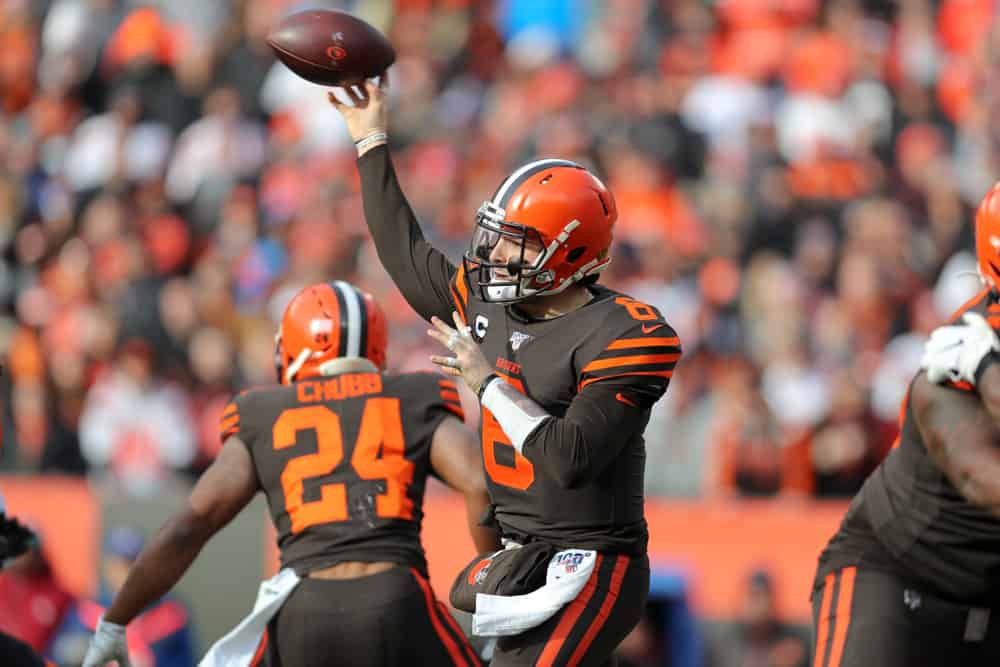 Every NFL analyst has fans and detractors, and Pro Football Focus boasts some high-profile doubters.
But you have to give them credit not just for standing by their work, but their willingness to update their analyses.
Baker Mayfield, however, might not be so quick to give PFF's Sam Monson credit for his updated starting quarterback rankings. 
Most turnover worthy plays this season:
🔹 Carson Wentz – 17
🔹 Ryan Fitzpatrick – 11
🔹 Baker Mayfield – 10 pic.twitter.com/ppqx8gJi6z

— PFF (@PFF) October 21, 2020
Monson originally posted a preseason ranking that naturally sparked cries of foul from various fan bases, including the Cleveland Browns and the 18th-ranked Mayfield.
After 6 weeks and multiple quarterback changes, Monson felt it was time to re-evaluate.
In PFF's Week 7 redux, Mayfield falls to #25 overall, a 7-position drop from his preseason ranking.
Carson Wentz (#17) also dropped 7 spots and Drew Brees dropped like an anchor from #4 to #20 overall.
Both Wentz and Brees remain comfortably ahead of Mayfield.
And 4 of the 7 quarterbacks listed after Mayfield were not starters heading into Week 1.
What's Wrong With Baker (Per PFF)?
Monson makes it clear his ranking is not based on Mayfield's performance against Pittsburgh.
He notes that while the Browns played four really good games this season, Baker Mayfield did not.
In the Browns' four victories, PFF gave Mayfield a performance score of 66.3, good for 22nd best over that span.
"Mayfield has had some big moments, but he still abandons clean pockets too often and is making basic, rookie errors in reading coverages and decision making. That's hugely concerning for a franchise that thought he was the answer after his rookie year."
To make his point further, the author reminds us Mitch Trubisky played better over that stretch and found himself benched for Nick Foles.
Monson is not the only PFF analyst to sound the alarm over Mayfield.
Mike Renner says it's time for Cleveland to panic over Mayfield's waning confidence and diminishing pocket passing ability.
Baker Mayfield games with an 80+ PFF Grade:
🔸 2018: 7
🔸 2019: 1
🔸 2020: 0 pic.twitter.com/yGItbyyweb

— PFF (@PFF) October 20, 2020
Renner examines Mayfield's performance on non-play-action passes, and the numbers are ugly.
Mayfield holds the ball longer (3.02 seconds) and is creating more quarterback pressure situations than he had in 2019, which was twice as many as his rookie year.
As Browns fans saw in the Baltimore and Pittsburgh games, play action, RPOs, and screen passes- the plays Mayfield excels at- don't have much of a role when Cleveland is trailing in games.
Other NFL Analysts Pile On The Browns' Quarterback 
PFF analysts are not the only ones questioning Mayfield's performance.
ESPN's Marcus Spears called Mayfield an "average-to-below-average" quarterback.
His fellow ESPN host, Ryan Clark, was quick to expand on that thought for their "Get Up" audience.
"When I look at the league and around the divisions, there are about 22 quarterbacks off-hand that I would take over Baker Mayfield. And in a 32 team league, that makes you below average…Against winning teams, he is 4 and 13. He has 29 turnovers to 24 touchdowns. That's below-average quarterback play."
The NFL Network's Cynthia Frelund included Baker Mayfield in a list of five high-profile players who are becoming liabilities. 
Frelund was kind enough to mention outside factors like multiple coaching changes and no preseason to learn Kevin Stefanski's offense.
She also thinks there is a chance for Mayfield to boost his confidence facing four consecutive passing defenses ranked #20 or lower after the 16th ranked Bengals this week.
Hardest schedule of pass defenses faced through Wk 5:

🔸 Baker Mayfield
🔸 Daniel Jones
🔸 Carson Wentz
🔸 Patrick Mahomes pic.twitter.com/1WxzTq669u

— PFF (@PFF) October 17, 2020
But Frelund believes if winning and a playoff appearance are prioritized in Cleveland this year, Mayfield has a short leash before Case Keenum is called on.
Another ESPN analyst and former NFL cornerback Domonique Foxworth commented on Mayfield's "body type" and diminished accuracy as factors working against his bid to become a franchise quarterback.
But after Foxworth mentioned how he enjoyed Mayfield's TV commercials, ESPN anchor Mike Greenburg summed up his opinion with this,
"(Mayfield's) future might be more in acting than it is in football. I don't mean to be funny. But that's the reality."