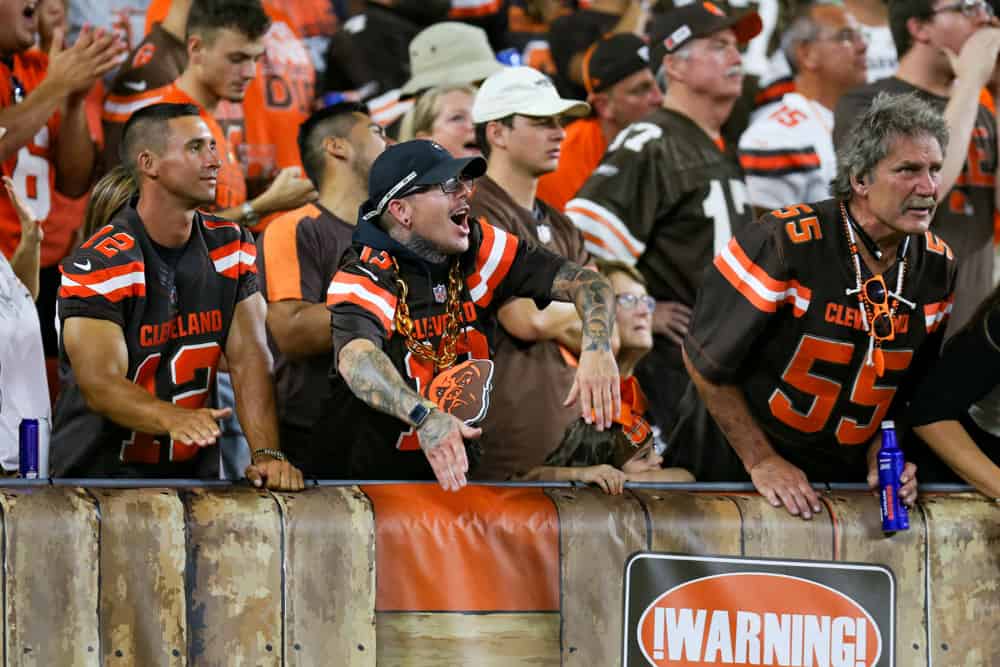 There should be no question that fans are the lifeblood of sports teams.
Without fans, athletes might as well be playing their sport in the backyard or neighborhood park.
Frequently cited among the reasons athletes love playing a sport is the roar of the crowd when they do something well.
As recently as early May, Akron native LeBron James was presented with the idea of playing the rest of the 2020 NBA season without fans due to the coronavirus.
He openly scoffed at the notion.
"We play games without the fans? Nah, that's impossible," James said. "I ain't playing if I ain't got the fans in the crowd. That's who I play for. I play for my teammates, and I play for the fans. That's what it's all about. So if I show up to an arena and there ain't no fans in there, I ain't playing. They can do what they want to do."
With the NBA playing 'in a bubble' in Orlando, they will, unfortunately, have to play without fans.
But that doesn't mean that the players will forget their backers.
Hopefully, the world will return to normal soon and the crowds will be back to full-throated roar in stadiums throughout the country.
As a tribute to the Browns fanbase, the following is a top ten list of the franchise's most famous fans.
Since it is impossible to objectively judge a person's fandom, the list is not meant to be considered as a ranking tool.

10.  Kid Cudi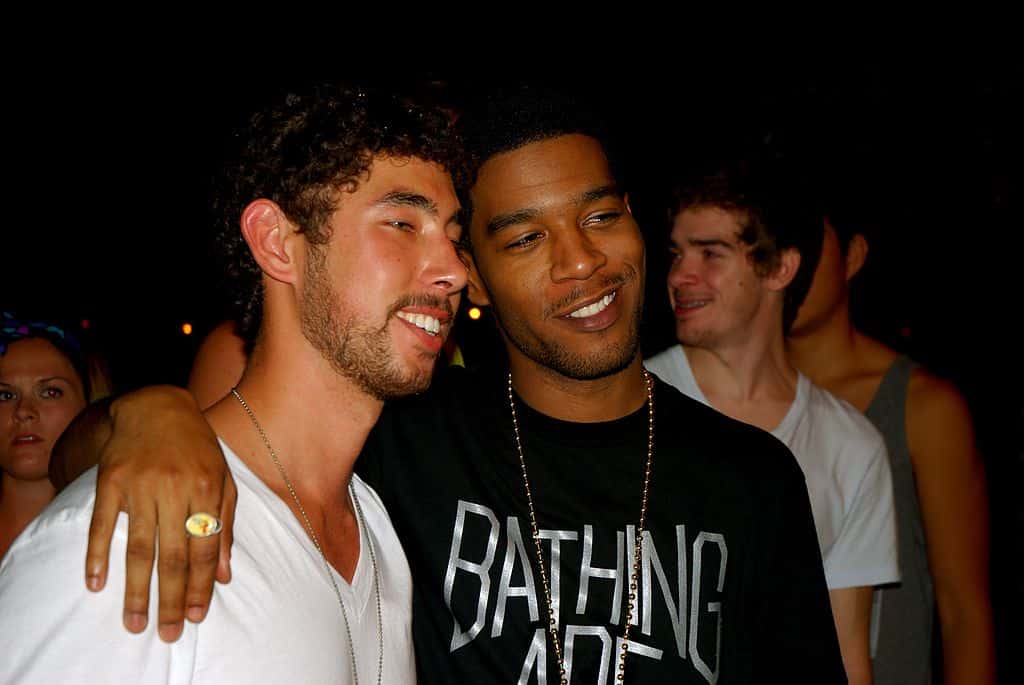 Cudi was born in Cleveland and has maintained his allegiance to the area despite his fame.
His skills as a rapper and performance artist first caught the attention of Kanye West in 2008.
After signing with West's GOOD Music label, Cudi broke through the mainstream with the single "Day 'n' Nite."
The song rocketed him to stardom as his debut solo album Man on the Moon: The End of Day went double platinum in 2009.
Cudi is a Grammy Award winner and has collaborated with a who's who of the industry's biggest stars such as Eminem, Jay Z, and Snoop Dogg.
Though he is famous the world over, Cudi has not strayed from his love of Cleveland sports.
Watch: Kid Cudi is a true Cleveland sports fan http://t.co/WfSJ2vaUZU #Indians #Browns #Cavaliers #OHSportsBuzz

— FOX Sports Cleveland (@FOXSportsCLE) January 30, 2014

During an interview with Fox Sports in 2014, Cudi was told by a host that he might have to wait a while before his Indians and Browns experienced any kind of sustained success.
Proving that he is a true fan, Cudi replied, "That's how we do it in Cleveland."

9.  C.J. McCollum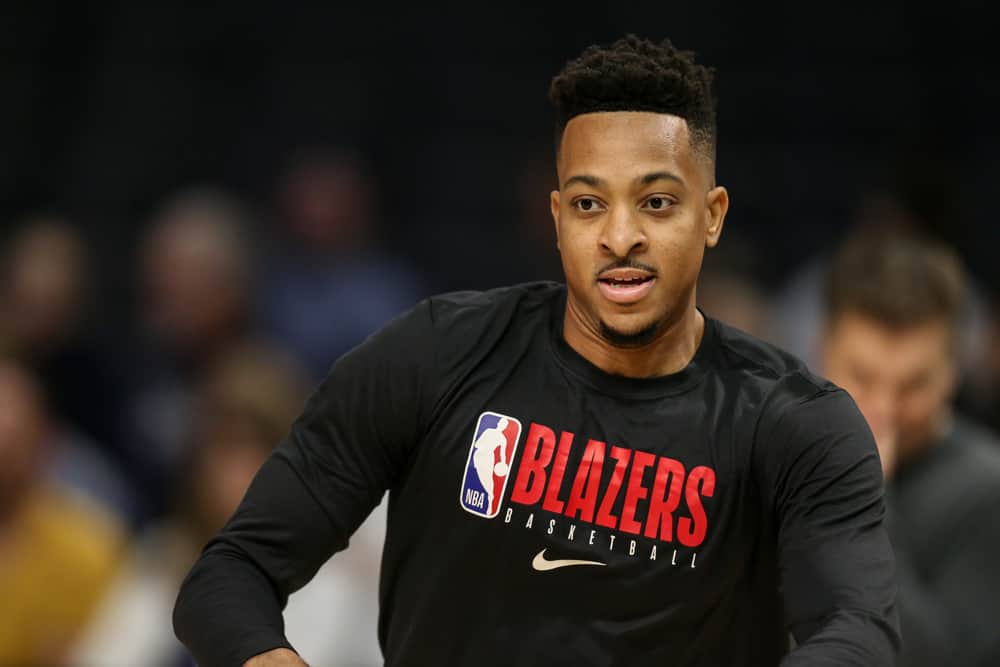 McCollum is a Canton, Ohio native and was a hoops phenom at GlenOak High School.
After playing college basketball with Lehigh University in Pennsylvania from 2009-2013, McCollum was drafted by the Portland Trailblazers in the 1st Round in 2013.
Spending his first two years in the NBA as a reserve, McCollum became a starter during his third year.
He was honored as the Kia NBA Most Improved Player of the Year Award after the 2015-2016 season.
When he isn't playing or traveling with the Blazers, McCollum will spend copious amounts of time exhorting his Browns to do well.
My browns are 2-30 in their last 32 games. Let that sink in for all you football fans complaining about your teams. Goodnight

— CJ McCollum (@CJMcCollum) October 9, 2017
He is such a diehard fan of the team that, in 2018, he refused to take a picture with a Steelers fan during a Browns game.

8.  Arsenio Hall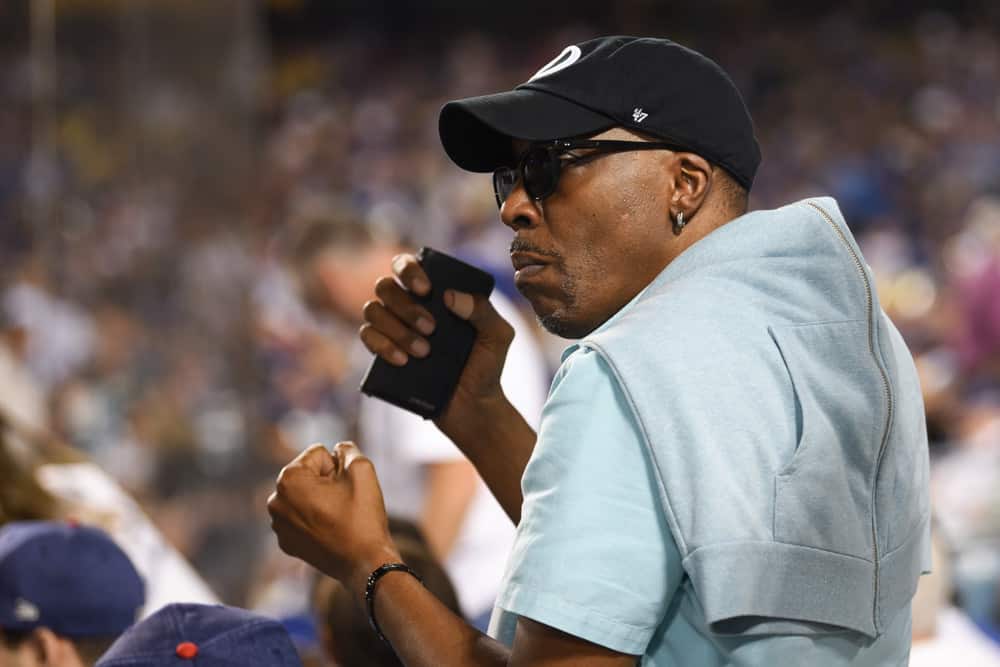 Anyone who was alive during the 90s knows Hall well.
He was born in Cleveland and attended Kent State University before heading to LA to try his hand at comedy and acting.
Hall quickly gained recognition for his wit and humor.
His breakout role in Hollywood came in 1988 when he co-starred along with Eddie Murphy in Coming to America.
From 1989-1994, he was the host of The Arsenio Hall Show. 
The late night talk show was a ratings bonanza and was known for the signature calling of "Roo, Roo, Roo!" by the audience along with a pumping of their fists.
In my Arsenio Hall "Dog pound" voice! pic.twitter.com/ux03FLGvxO

— Carlesa Dixon (@SC_CoachD) July 13, 2020
Hall has frequently taken to Twitter to talk about his beloved Browns and has a video on YouTube called 'Why I Am a Fan.'
The video is a tribute to the Browns.

7.  Brad Paisley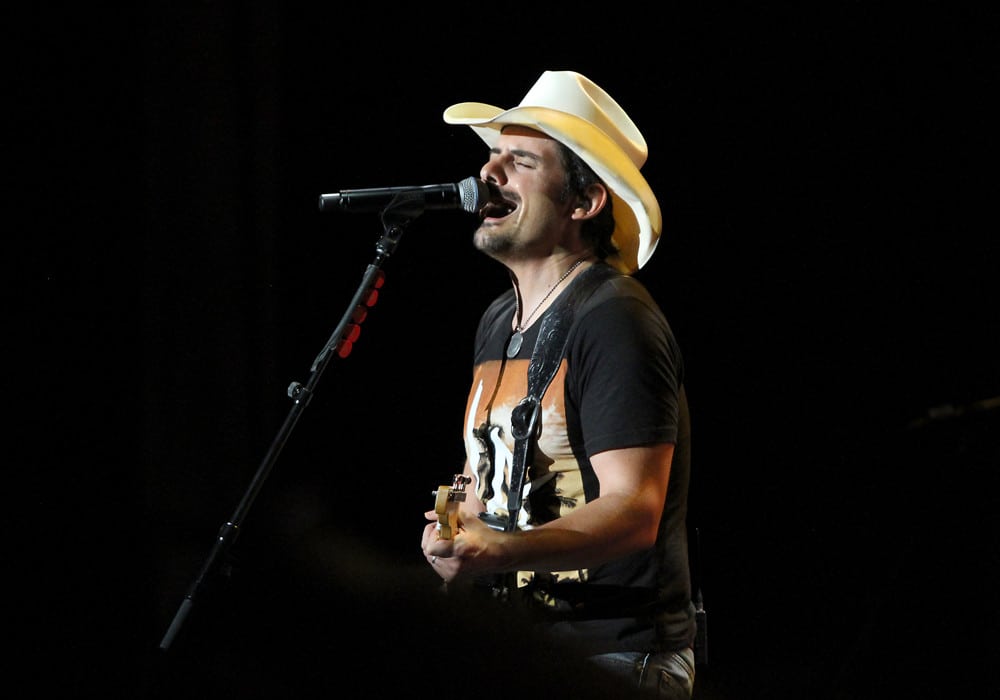 Paisley was born and raised in West Virginia, but he bleeds orange and white.
After his debut album Who Needs Pictures was released in 1999, Paisley has been a country mega star.
No less than 19 of his songs have been number one on the Billboard Country Airplay chart.
Paisley has sold over 11 million albums and counting and has won three Grammy Awards along with a host of other accolades.
For the past few years, Paisley has starred alongside former NFL quarterback Peyton Manning for Nationwide Insurance commercials.
Paisley's love for the Browns is obvious when viewing his Twitter feed.
My Cleveland Browns sure could have used a little help tonight. Bring back the crappy refs so we have a shot at an unfair upset win please.

— Brad Paisley (@BradPaisley) September 28, 2012
During a concert in 2018, Paisley wore a DeShone Kizer jersey.
Brad Paisley wears DeShone Kizer jersey at concert #ClevelandBrowns https://t.co/gqEBMv8HXo

— Browns Talk (@Browns_TT) September 25, 2017
He was also a guest of the team during the 2018 season of HBO's Hard Knocks.

6.  Drew Carey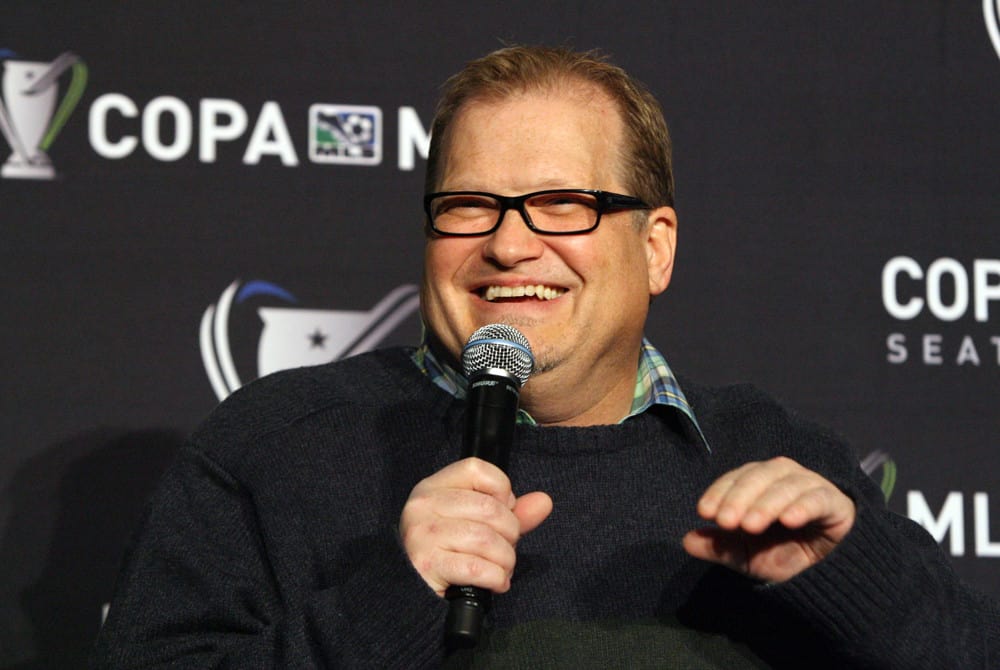 The comedian was born in Cleveland and has never been shy in his allegiance to the Browns.
So Drew Carey sat next to me at the browns game today… pic.twitter.com/wDfTg8OkBf

— Patrick McGuire (@p_mcguire18) September 9, 2013
After rising to the rank of sergeant in the U.S. Marine Corps Reserve, Carey decided to pursue a career in comedy.
Not long after performing as a stand-up in Cleveland and LA, Carey finally hit it big in the mid 90s.
His television show The Drew Carey Show began in 1995 and ended in 2004.
The theme song for the show was called "Cleveland Rocks."
He was also a regular on the show Whose Line is it Anyway?
In 2007, Carey became the new host of The Price is Right, taking over for long time host Bob Barker.
When the Browns returned to Cleveland in 1999, Carey was part of the pregame festivities.
Since then, he can be found at Browns games and cheering on the franchise through his Twitter account.
You got it wrong dude. The #Browns bailed on us. I'm tired of Cleveland being treated like this. https://t.co/sMx4Jcvdtb

— 🅳🆁🅴🆆 🅲🅰🆁🅴🆈 (@DrewFromTV) December 10, 2015
5.  Condoleezza Rice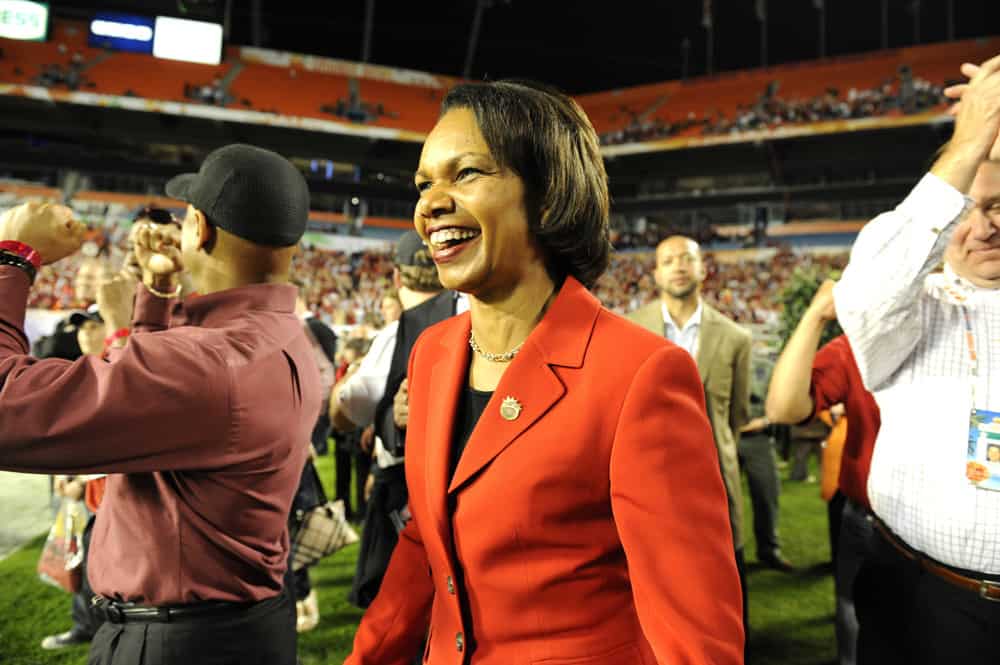 Rice was born and raised in Alabama, but she became a Browns fan while watching games with her father growing up.
Rice first became immersed in the political scene when she was an assistant professor of political science at Stanford.
After serving as Provost of the university from 1993-1999, Rice quickly rose through the ranks of Washington politics.
From 2001-2005, she was the National Security Advisor for the U.S.
Then, in 2005, Rice was named U.S. Secretary of State, a position she held until 2009.
She has since returned to Stanford and served on the Political Science faculty as well as the Graduate School of Business.
As a Paul Brown fan, Rice was very upset the day she found out the team had fired the team's founder.
During a 2010 interview, Rice explained that she was so upset that she went to her room and tore down all her Browns posters.  "I was really, really angry," she said, laughing.  She also pointed out that she was eight at the time.
In 2012, Rice wore a Josh Cribbs jersey in a campaign for NFL women's apparel.
Condoleezza Rice admits being a #Browns fan through a new #NFL gear ad. Very admirable.. Imagine her in the #DawgPound pic.twitter.com/irMz0m9g

— InTheStandsRadio (@InTheStandsPXP) August 15, 2012
4.  Hank Aaron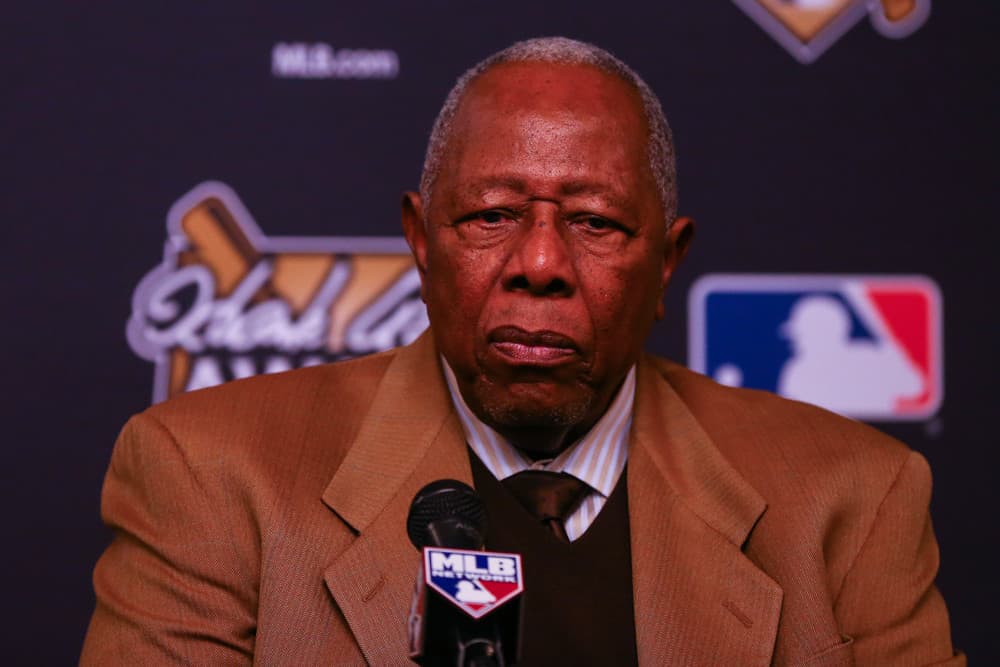 Like Rice, Aaron was born and raised in Alabama, but he has been a Browns fan for decades.
He broke into Major League Baseball in 1954 and finally hung up his cleats in 1976.
Along the way, he set numerous professional baseball milestones.
Aaron was a 25-time All-Star, a World Series champion in 1957, a three-time Gold Glove winner, two-time NL batting champion, four-time NL home run leader, four-time NL RBI leader, and had over 3,700 hits.
In 1974, he broke Babe Ruth's all-time home run record with his 715th against the LA Dodgers.
Aaron retired with 755 total home runs.
When Cleveland drafted Ozzie Newsome in 1978, Aaron became an immediate fan of the Browns due to his and Newsome's shared Alabama upbringing.
Throughout the years, Aaron has attended numerous Browns games and can usually be found sitting in the Dawg Pound, which is his favorite spot for watching games.
During the Believeland documentary, Aaron was interviewed about his love for the team.
3. Stipe Miocic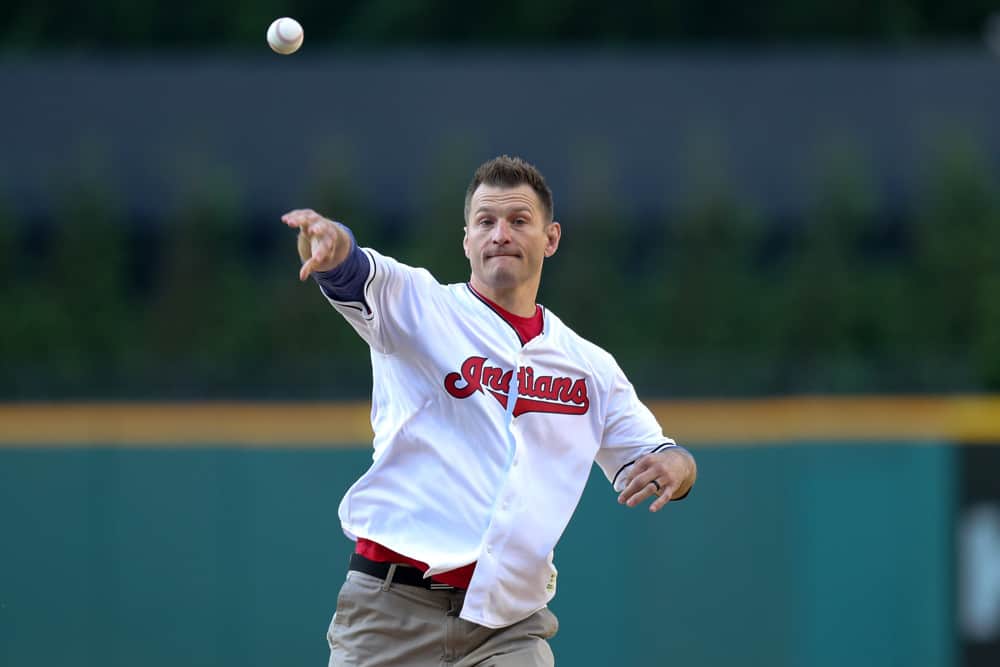 Miocic was born and raised in Euclid, Ohio.
He was a multi-sport athlete at Eastlake North High School and played baseball in college.
Miocic played well enough that he received interest from various Major League Baseball teams.
While in college, Miocic started training as a wrestling partner to various MMA style athletes.
He quickly became hooked on the sport and, after receiving training as a boxer, Miocic joined the Ultimate Fighting ranks.
After signing a contract with UFC in 2011, he quickly became one of the best fighters in the organization.
Fighting in the heavyweight division, Miocic currently has a record of 19-3-0.
Since he is a native of the area, Miocic has been a lifelong fan of Cleveland sports.
Browns rooting for Cleveland native Stipe Miocic as he faces Fabricio Werdum for UFC heavy weight title. https://t.co/Ilcw23JmBr

— SportsCenter (@SportsCenter) May 15, 2016
The Browns have recognized him during games he has attended and he has lauded the team on his Twitter account.
If you would have told me a few years ago that I would be on the field before a Cleveland Browns game pumping up… https://t.co/HUuPrHBGHI

— Stipe Miocic (@stipemiocic) October 10, 2016
2. Elvis Presley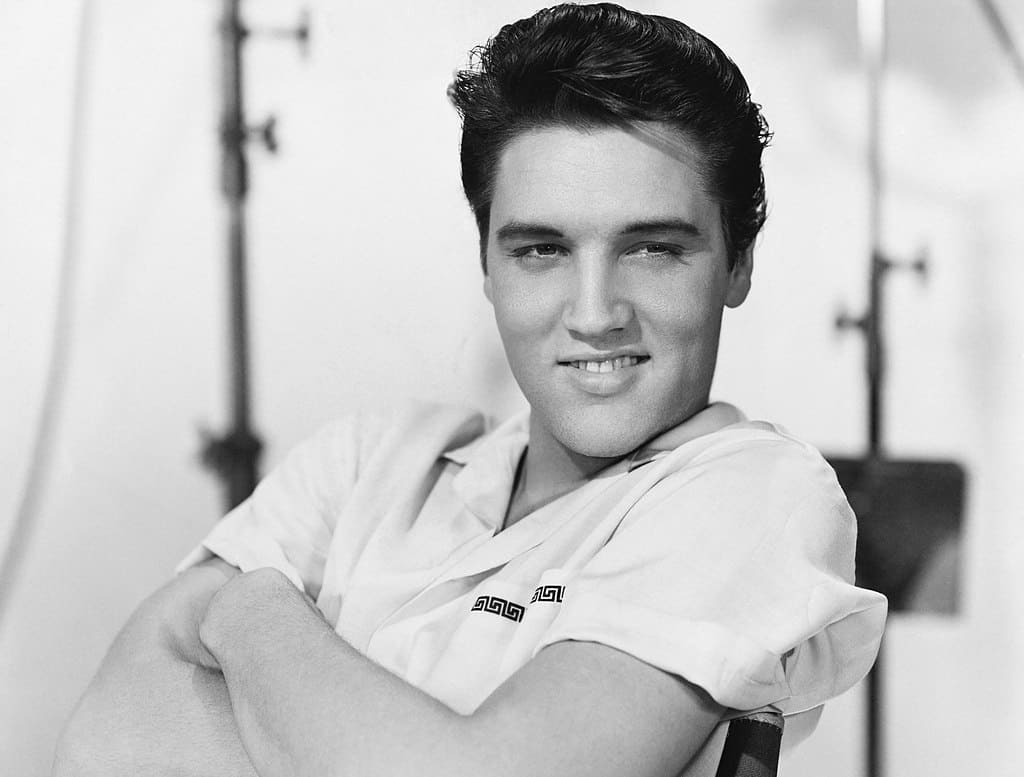 Even longtime Browns fans might be unaware of this affiliation.
"The King" was a huge fan of the team due to his friendship with several players, even though he was from Mississippi and Tennessee.
Presley became a household name when he burst onto the music scene in the early 1950s.
He was on top of the charts for years and was bequeathed with "The King of Rock and Roll" moniker.
In the late 1950s, Presley began appearing in films and was credited with over 30 title appearances.
During his career as a musician, Presley received countless accolades.
He is a three-time Grammy winner, a recipient of the Grammy Lifetime Achievement Award, and has the most Recording Industry Association of America gold and platinum awards, the most albums charted on the Billboard 200 and the most number one albums and number one singles charts in the United Kingdom.
While growing up in Memphis, Presley met and befriended Gene Hickerson.
Hickerson attended Ole Miss on a football scholarship and was eventually drafted by the Browns.
While playing for Cleveland, Hickerson would frequently send game film to Presley, who would break down the film as if he were a coach.
As a fan of Cleveland, Presley enjoyed watching Jim Brown play and would chat up Brown whenever they were in the same building.
Elvis Presley and Jim Brown

On the set of Roustabout, 1964 pic.twitter.com/s6VctrlAiu

— 'It's the pictures that got small' (@RomanPBone1) February 27, 2020
Presley was also known to design football plays and it is well known that he wished he could have made a living in the NFL.
ELVIS AND FOOTBALL FANS
This unique photo of #Elvis includes hand-written football plays & notes by the King himself! pic.twitter.com/Oe9XJ64FTG

— Tupelo Mississippi (@MyTupelo) July 31, 2014
1.  John "Big Dawg" Thompson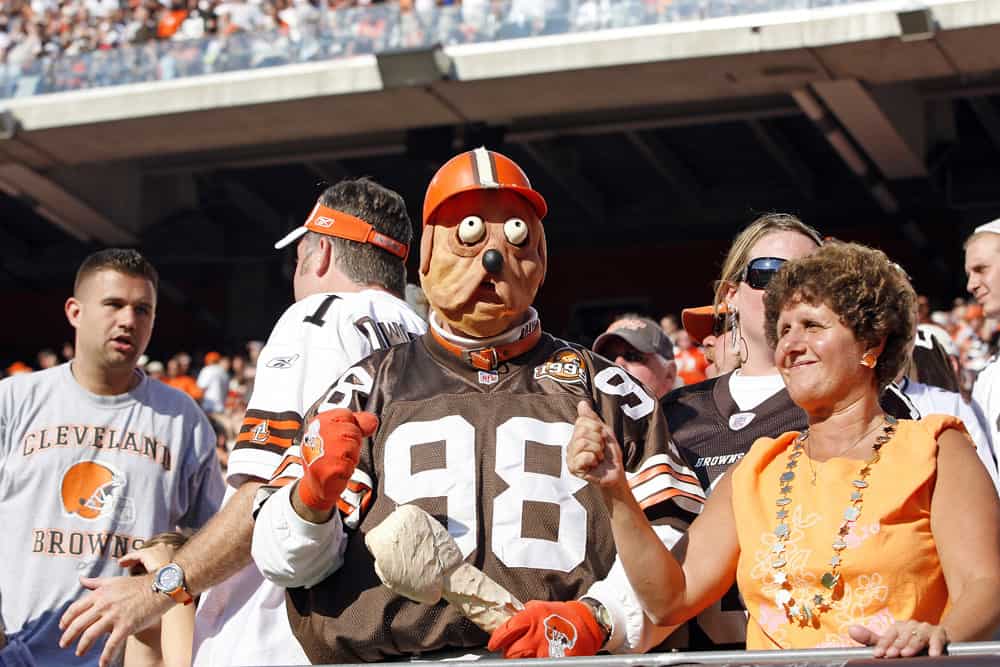 It's hard not to think of a Browns game without the image of Thompson appearing in one's head.
John "Big Dawg" Thompson. He's been hit or miss over the years but he's the super fan I always think of. https://t.co/FzDBDWwFWh pic.twitter.com/wUDYRTzpho

— sstarow1 (@sstarow1) November 6, 2019
For years, Thompson could be found in the front row of The Dawg Pound.
For every game, he could be seen in the usual garb, replete with his oversized number 98 jersey, rubber dog mask, team color hard hat and carrying a large, rubber, orange bone.
Thompson even appeared on the cover of the April 19, 1999 issue of Sports Illustrated along with Browns 1st Round draft prospects Akili Smith and Tim Couch.
Today in 1999, the cover of Sports Illustrated featuring Tim Couch & Akili Smith. The Browns would select Couch, passing on QBs such as Donovan McNabb & Daunte Culpepper. #TodayInSports #NFLDraft @OldTakesExposed #OTD pic.twitter.com/EOq3pcLT27

— #TodayInSports (@TodayInSports3) April 19, 2019
In 2004, Big Dawg went through a sizable reduction.
After undergoing bariatric surgery, he cut over 300 pounds from his frame.
However, even without his ubiquitous girth, Thompson continued to support the Browns with unbridled enthusiasm.