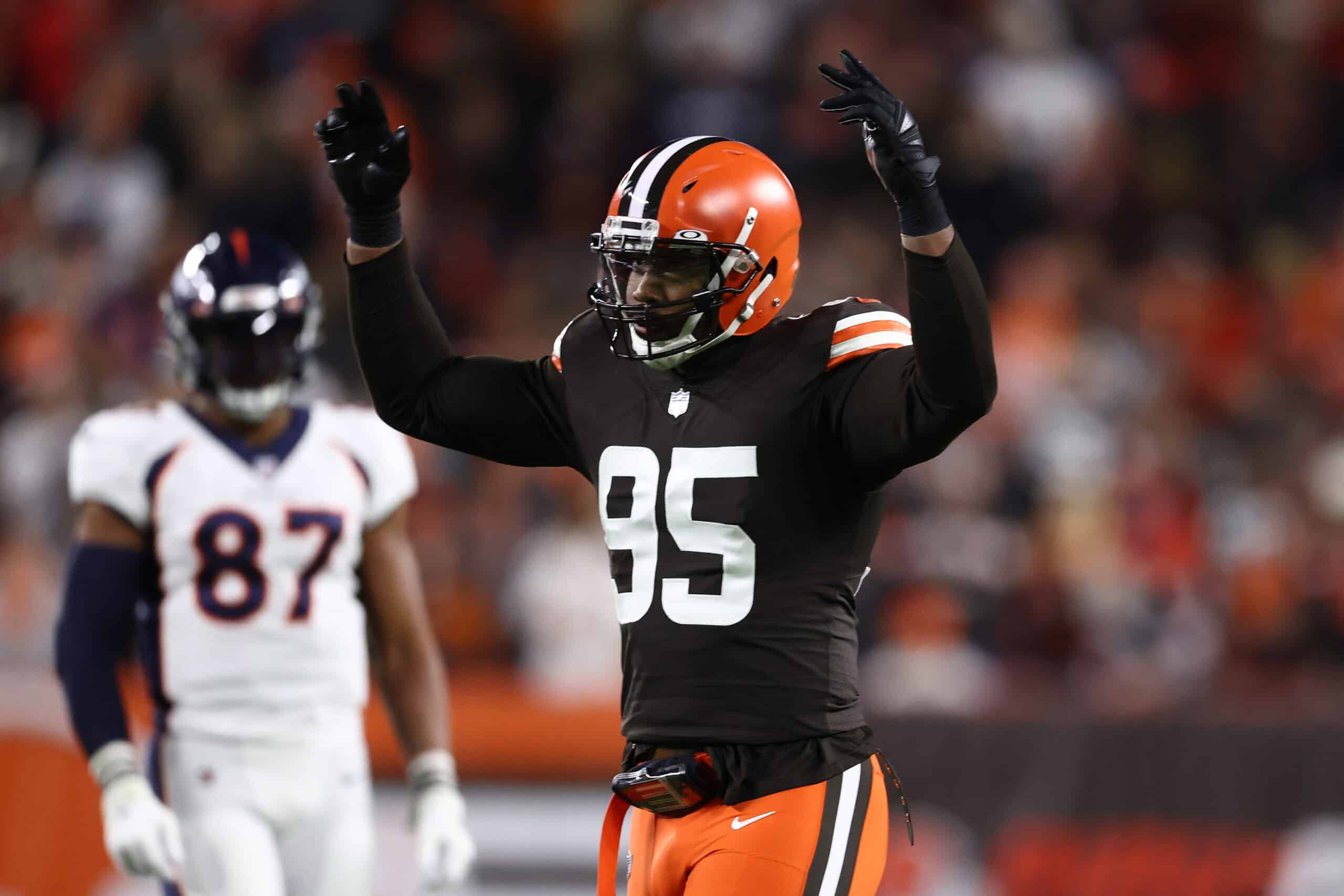 Myles Garrett teased fans during the week about his Halloween costume.
And the Cleveland Browns star edge rusher didn't disappoint.
Garrett arrived at FirstEnergy Stadium this morning as the "Sack Reaper."
He wore a grim reaper costume adorned with the names of every quarterback he's sacked over the years.
The Sack Reaper @Flash_Garrett | #Browns pic.twitter.com/joiBCESzxI

— Cleveland Browns (@Browns) October 31, 2021
Here comes the Grim Reaper, aka known as Myles Garrett. (And yes, that is the list of QBs he's taken down on the back.) #Browns #Halloween pic.twitter.com/8lm87w9Gil

— Aditi Kinkhabwala (@AKinkhabwala) October 31, 2021
Myles Garrett with a list of all the quarterbacks he's sacked on his costume today 😅

(via @NFL)pic.twitter.com/8qfFVi1X6c

— ESPN (@espn) October 31, 2021
Ben Roethlisberger's name stands out in the left lower corner of the 3-column list.
And his Flash Garrett symbol in the middle of the cape punctuates the message.
Can the sack reaper claim a quarterback's soul twice?
Well, there might be more than one reason if this is Roethlisberger's last visit to Cleveland.
Garrett Keeps With His Halloween Theme
Myles Garrett seems like one of those folks who enjoy getting into the Halloween spirit.
He adorned his front yard with gravestones in advance of the holiday.
And each headstone wore the name of the same quarterbacks listed on his reaper cape.
While he might have regretted some fans' reaction to his home decor.
Myles Garrett really decorated his front yard with QB gravestones for Halloween ☠️ pic.twitter.com/HBCj4Sd4ru

— Pickswise (@Pickswise) October 14, 2021
He took the time to pose for reporters in his sack reaper outfit before getting ready for today's game.
His bright orange face seemed appropriate for a Browns player.
But there were many who thought he should pass up his scythe for a helmet.
Bad taste or not, it was a popular social media comment along with many Mason Rudolph mentions.
Harbinger of Things To Come?
Myles Garrett and the rest of the Cleveland Browns need little motivation for their big Halloween game.
A loss to the Steelers leaves them in last place, a half-game behind the Steelers.
With a win, Cleveland pulls within a half-game of the idle Ravens.
And they can hope for an upset from the Jets to drop the Bengals into a second-place tie.
Myles Garrett shows up for work in this costume. Check out the cape graveyard! #Browns #BrownsSteelers pic.twitter.com/BEIItTZCxA

— David Spano (@DaveSpa57) October 31, 2021
But it appears the AFC North could be the most competitive division race in the NFL.
And regardless of the current standings, division wins are vital to any title hopes.
As far as sacks, Garrett is on a better-than-a-sack-per-game pace coming into Week 8.
And Roethlisberger might be one of the least mobile targets he will see this season.