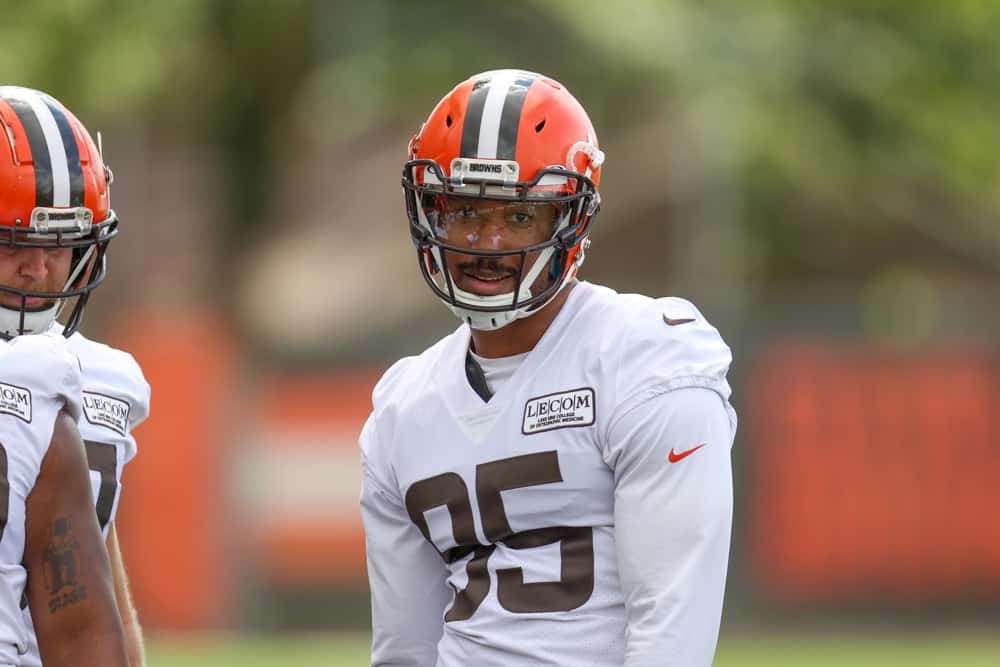 Myles Garrett's social media posts are almost always positive, congratulatory, or entertaining.
This season, the Cleveland Browns had a couple of less-than-stellar social media moments.
But they can use Garrett's interactions as a model of how to stay relevant without controversy.
And that made his most recent tweet seem a little out of character- even while it said "Myles" all over it.
Goodluck with that… https://t.co/5myUmNSFvl

— Myles Garrett (@Flash_Garrett) March 6, 2022
New York Giants superfan, "the License Plate Guy" put up a video of a prospective tackle, Trevor Penning.
Along with a gaga emoji and a "beast mode" subtitle, it showed Penning at the senior bowl practices.
Penning throws a couple of pass rushers to the ground, although one of them rolls up on Penning's quarterback.
Correction to measurements of UNI OT Trevor Penning (first-round projection) at the NFL Combine, according to @TheDraftNetwork:

Height: 6-7
Weight: 325
Hand: 10 1/8
Arm: 34 1/8 pic.twitter.com/5tqZ6PAKaX

— FCS Football (@FCS_STATS) March 4, 2022
To which a certain All-Pro NFL record-setting edge defender replied, "Good luck with that…"
Perhaps Myles Garrett spotted some of the technical flaws in Penning's game on the video.
But Penning followed up a high-energy senior bowl with a superb NFL Combine showing.
Will Penning Meet Garrett On An NFL Field? 
Trevor Penning is one of those players who will have beaten a difficult path if he makes it in the NFL.
Not only did he play at a small college (Northern Iowa), but he has no tape against top-level opponents.
Still, it is hard to ignore a 6'7″ 325-pound man who runs a 4.89 40-yard dash with a 111″ standing long jump.
Penning's NFL Combine performance earned him the "physical freak" label from Pro Football Network.
Northern Iowa OT Trevor Penning had a strong showing at the 2022 NFL combine, earning an "elite" 90 athleticism score.

Penning enters the draft with the highest overall draft score (85) by an FCS tackle since Arkansas-Pine Bluff's Terron Armstead (86) in 2013.#NextGenScores pic.twitter.com/92CUJUo0Dq

— Next Gen Stats (@NextGenStats) March 5, 2022
But he knows he has to fight the "but who did he play against" biases of NFL analysts.
So he showed up at the senior bowl trying to attract more attention, almost looking for fights with established rushers.
And it appears to have worked, as Penning's draft value shot upwards into round-one- top 20 per PFN– territory.
Penning is big, fast, strong, and plays with a mean streak that NFL coaches should be able to harness.
One Way To Avoid Taking on Garrett
Penning will do well to view the next post on Myles Garrett's timeline.
That's his re-tweet of a Cleveland Browns' "top moments of 2021" highlighting Garrett's game versus Chicago.
Garrett went over, under, around, and through offensive lineman on his way to the team's single-game sack record.
It provides a vivid example of the difference between senior week and NFL-level challenges.
2021 Top Moments: @Flash_Garrett breaking the franchise single-game sack record 😤 pic.twitter.com/KktlwWT0Ev

— Cleveland Browns (@Browns) February 21, 2022
Bill Callahan is probably salivating at the thought of coaching a raw athlete like Trevor Penning.
But the Browns are not likely to snag the young prospect at 13.
And that is a shame since Penning could sit and learn behind Jack Conklin for a year.
Instead, it looks like Browns fans will wait to see what kind of luck Penning has against Garrett in the future.