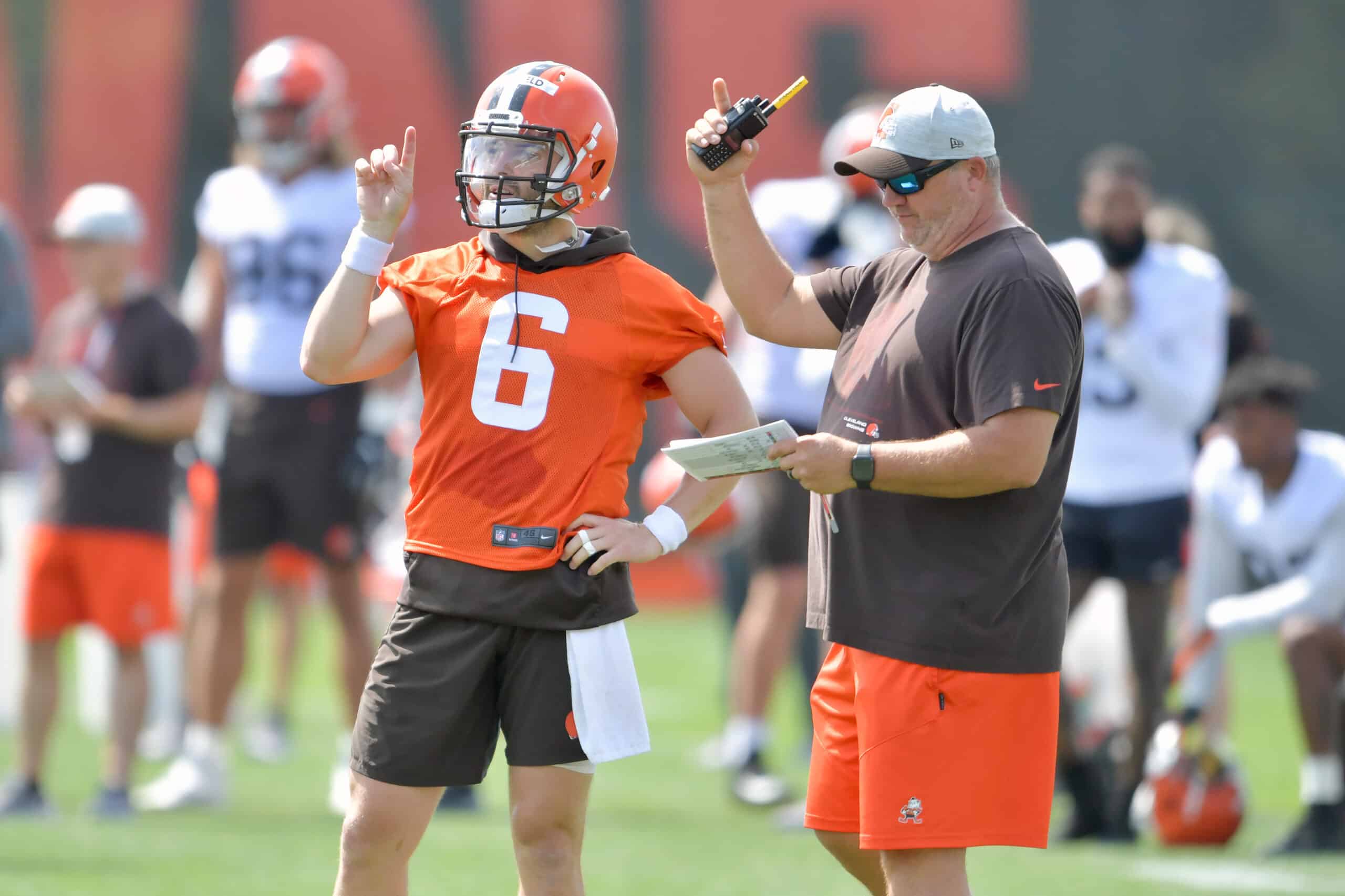 Day 6 of Cleveland Browns training camp marked the first practice in pads.
Coach Kevin Stefanski set the stage when he said:
"The pads are coming on, so it should be a spirited practice. It's emotional. I think the guys understand that we need to practice hard but we also have to take care of each other. We've talked about it, and then we're just going to have to do it."
Here are the news and notes from Day 6.
1. Linebacker Love
Mack Wilson intercepted Baker Mayfield.
Wilson's role in the upcoming season has been questioned so he needs to prove himself at camp by making plays like these.
Mack Wilson INT pic.twitter.com/iWdWpTylEa

— Jake Trotter (@Jake_Trotter) August 3, 2021
Rookie Jeremiah Owusu-Koramoah was activated from the Reserve/COVID-19 List before practice began.
This was his first appearance at training camp.
#Browns LB Jeremiah Owusu-Koramoah is back in individual drills today after coming off COVID-19 reserve pic.twitter.com/Ih7D4eutyD

— Mary Kay Cabot (@MaryKayCabot) August 3, 2021
Though Anthony Walker will miss time because of a left knee injury, the positive news is that it will not require surgery.
Browns dodge bullet, LB Anthony Walker's injured knee won't require surgery. Could be back before end of training camp.

— Jake Trotter (@Jake_Trotter) August 3, 2021
2. The Battle For WR3 Heats Up
Donovan Peoples-Jones has been solid and ready to compete for the job throughout training camp.
He had another big catch on Day 6.
Baker connects with DPJ in 11-on-11 with pads. #BrownsCamp pic.twitter.com/0VkynUzike

— cdotcombrowns (@cdotcombrowns) August 3, 2021
Rashard Higgins is vying for the job also, and he is extremely motivated for the Week 1 rematch with the Chiefs.
Rashard Higgins on the third wr battle: "I feel like we're all out here to get better. There's no competition. I'm gonna root on for the next man and he's going to root for me."

— Nick Karns (@karnsies817) August 3, 2021
#Browns WR Rashard Higgins said his big goal is to play every position after playing mostly X last year after OBJ suffered torn ACL. Higgins said Cleveland has the team it needs to achieve goals, but it needs to put it all together. He added it'll be good to face KC again Week 1.

— Nate Ulrich (@ByNateUlrich) August 3, 2021
Rashard Higgins "I've watched the Kansas City game a bunch of times for motivation."

Kevin Stefanski was asked how many times he's watched the game.

"More than Rashard."

— Nick Karns (@karnsies817) August 3, 2021
3. Clowney Is Here
Jake Trotter: "If the defensive players were allowed to hit the Qb, Jadeveon Clowney might have had 20 sacks today. He was in the backfield on like every play. pic.twitter.com/yocFnCliP9

— Nick Karns (@karnsies817) August 3, 2021
Some #Browns Jadeveon Clowney getting after it on the 1st day in pads pic.twitter.com/SQeoxo7N9W

— Mary Kay Cabot (@MaryKayCabot) August 3, 2021
4. Best RB Duo In Football Getting Work In
Nick Chubb and Kareem Hunt hanging together while special teams are on the field. #Browns pic.twitter.com/UUxO6hxxYC

— Jeff Schudel (@jsproinsider) August 3, 2021
Hunt, who has been advocating for the Browns to extend Nick Chubb, got his wish.
He had a humorous reaction when asked how he feels about the extension being a done deal.
Kareem Hunt says that he's expecting wagyu steaks to his house by Thursday, courtesy of Nick Chubb and his new contract extension. #Browns pic.twitter.com/wwg2oj596o

— clevelanddotcom (@clevelanddotcom) August 3, 2021
For those living outside the Cleveland area wondering when you will see Browns players and team coverage on NFL Network during the network's extensive around the league camp coverage, the answer is Wednesday, August 4 (finally).
Baker Mayfield will be interviewed by the NFL Network at 6 pm EDT from Browns camp.
Stay tuned for this and other exciting highlights on Day 7.