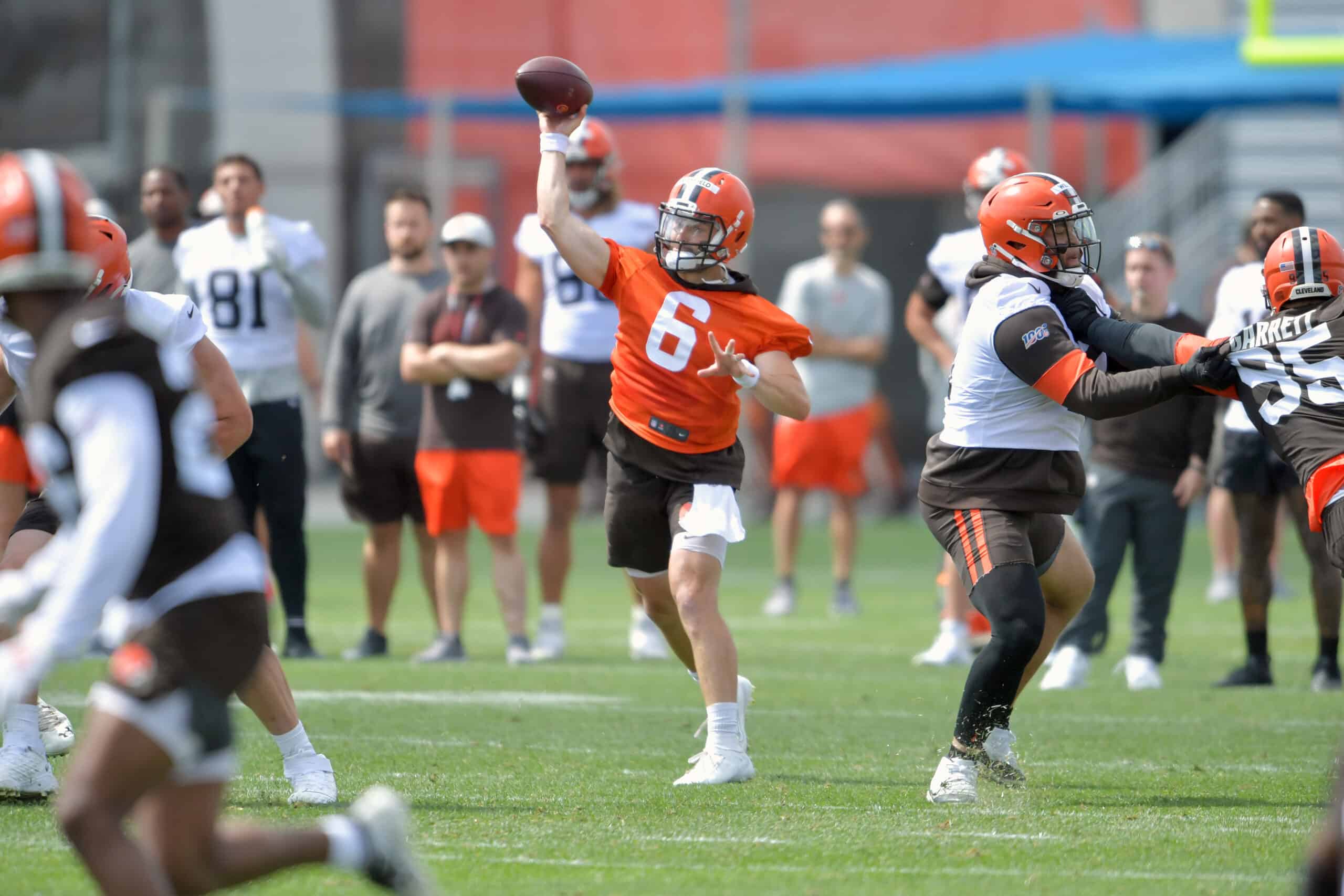 Cleveland Browns quarterback Baker Mayfield was seen throwing at Browns practice yesterday.
This is the first time we have seen him in action since the Week 6 Arizona Cardinals game.
Recall that his non-throwing shoulder injuries got worse during that game.
He is now dealing with a fractured shoulder bone and a torn labrum.
BAKER MAYFIELD SHOULDER INJURY UPDATE. @danorlovsky7 @espn @ESPNNFL @bakermayfield @espn @Browns @SportsCenter @OU_Football @cbfowler #PhysicalTherapy #shoulderinjury #BoomerSooner pic.twitter.com/Z60Y1gFqUp

— Marty Jaramillo (@MartyJaramillo) October 22, 2021
The school of thought right now is to see if he can heal the fracture since surgery is not required and gut out the season with the labrum protected by a harness.
The labrum requires surgery and a 4-6 month recovery period.
#Browns Baker Mayfield will need 4-6 to months to recover from his left shoulder surgery if it doesn't get worse, surgeon tells clevelanddotcom. Source says current fracture is non-displaced; that part can heal on its own https://t.co/9kVUTn4ugr

— Mary Kay Cabot (@MaryKayCabot) October 22, 2021
All of this makes Mayfield's work at practice more interesting to the casual viewer.
ESPN's Dan Orlovsky is more than a casual viewer.
He is a former NFL quarterback.
Orlovsky saw positive things from Mayfield's work.
Here is what Orlovsky noted after seeing the video.
Footwork
Orlovsky thought Mayfield's footwork looked better than in recent games since he sustained the injuries.
He was moving and flowing, and his feet were in sync.
His feet are staying apart which according to Orlovsky is better.
Left Arm
Orlovsky also felt that Mayfield was bringing in the left arm closer to his body.
Maybe he is getting more accustomed to the brace or it is more comfortable and secure there; no one knows.
.@danorlovsky7 thinks Baker Mayfield is good to go in Week 8 after breaking down his practice footage 👀 pic.twitter.com/3C7Gi8F8Av

— NFL on ESPN (@ESPNNFL) October 27, 2021
Throws
The throws Mayfield was making were not little chip shots.
They were 20+ yard throws; arm strength in his throwing arm has never been an issue.
Orlovsky points out that his arm and footwork, aka his throwing mechanics, looked good in the video.
One Big Caveat
Orlovsky laid out the one caveat that is the primary concern for the Browns and its fans.
How will Mayfield do if he gets hit?
CBS Sports Jason La Canfora reported that doctors will not clear him to play unless it is obvious he can protect himself from further injury.
When can Baker Mayfield return? https://t.co/J7G3stwSdX

— Jason La Canfora (@JasonLaCanfora) October 24, 2021
He cannot instinctually brace himself before falling to the ground in a blind hit; that would make everything worse.
Conclusion
We don't know exactly what will happen with Mayfield the rest of the season.
He doesn't know either.
Mayfield is a competitor and wants to play; that is obvious.
Taking practice throws to evaluate his strength and pain is a good thing for Mayfield and the Browns.
Hopefully, everyone involved in this decision-making process is keeping in mind that Mayfield is young and has a lot of football ahead of him.
Risking a more devastating injury or longer recovery timeline is not good for Mayfield or the team.
In the meantime, the Browns are preparing for a tough Week 8 game against the Pittsburgh Steelers.
Within the next day or so, we should have official word who the Browns will start at quarterback; Mayfield or Case Keenum.
Hopefully, we see a healthier Mayfield at some point in this season when he is somewhat healed, but in the meantime, it would be shocking if anyone other than Case Keenum gets the ball on Sunday.