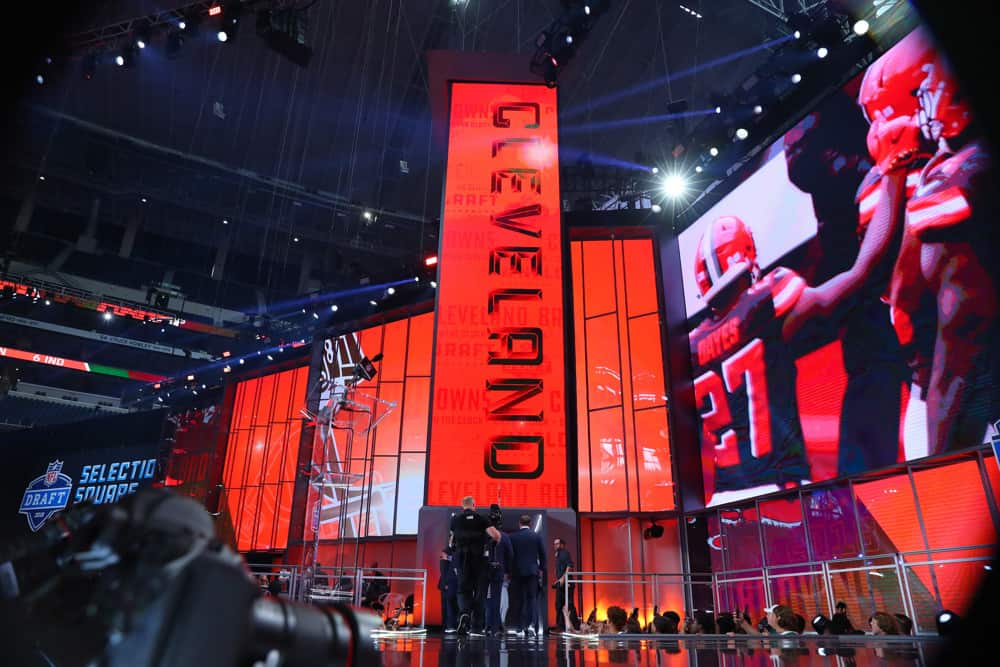 Cleveland Browns fans have been waiting months for details about the 86th annual NFL Draft scheduled for April 29, 2021 through May 1, 2021 in Cleveland.
The NFL released a report with its preliminary plans including many in-person events.
Take a look at what the 2021 NFL Draft will look like when it comes to Cleveland at the end of April!

Lake Erie will serve as the backdrop for the NFL Draft Main Stage, while an interactive theme park will be open to the public just outside of FirstEnergy Stadium.

Photos: NFL pic.twitter.com/rJUleoVYWA

— clevelanddotcom (@clevelanddotcom) March 22, 2021
NFL Executive Vice President of club business and league events, Peter O'Reilly said:
"We are thrilled to be heading to Cleveland for the NFL Draft, which has become one of the most highly anticipated events in sports. Just months after executing a safe and successful Super Bowl LV, we look forward to bringing the excitement of our Draft traditions to fans in collaboration with the Browns, Destination Cleveland, Greater Cleveland Sports Commission, the City of Cleveland, and all of our local Cleveland partners."
Logistics For Fans
The Rock & Roll Hall of Fame, FirstEnergy Stadium and the Great Lakes Science Center are open during the three day event.
Red carpet festivities and musical performances are planned for the R&R HOF.
The general public, including those not fully vaccinated, may be eligible to attend the Draft Experience held in FirstEnergy Stadium.
A smaller population of media professionals than in pre-pandemic years will be housed at the Great Lakes Science Center.
The primary draft area is expected to be lakefront.
Mandatory mask wearing, capacity limits, and social distancing are in effect so it will not be the same crowded atmosphere that we were accustomed to before COVID-19.
NFL says can not yet say how many fans will be at live draft in Cleveland. Still working with local and national authorities on how many can be there safely. But the word "large" is being used to describe the event.

— Judy Battista (@judybattista) March 22, 2021
It has not yet been announced what the capacity limits for these venues will be.
Fans wanting to attend will need to download the NFL OnePass app from their app store.
Completion of a mandatory COVID-19 survey is required on the app.
Consistent with the Super Bowl, people with proof of complete vaccination are granted additional privileges including an opportunity for prime seating in the "Selection Square" area.
Player and Team Logistics
There will be a stage and a number of prospects will be invited to attend the draft live.
That number is expected to be consistent with previous years.
In 2018, 22 prospects were invited, and in 2019, 23 were invited.
Prospects not invited in person are receiving digital video kits from the NFL so fans can see them in their home settings.
Similar to last year, Commissioner Roger Goodell will interact with those players and families from their homes.
Team draft rooms can be located in the Cleveland area or remotely; that decision can be made by the individual teams.
The NFL is expected to continue updating the arrangements in the coming weeks.
David Gilbert, President and CEO of the Greater Cleveland Sports Commission, on upcoming NFL Draft: "Thrilled that the Draft will be large, safe and in-person. We'll be 'NFL Central' that week"

— Tony Zarrella (@Tony_Zarrella) March 22, 2021
Greater Cleveland Sports Commission CEO David Gilbert adds a cautionary note:
"Not everybody who wants to get in will be able to get in."
Gilbert is trying to temper expectations because the event is largely being held outside and the number of vaccinated Ohioans is increasing daily.