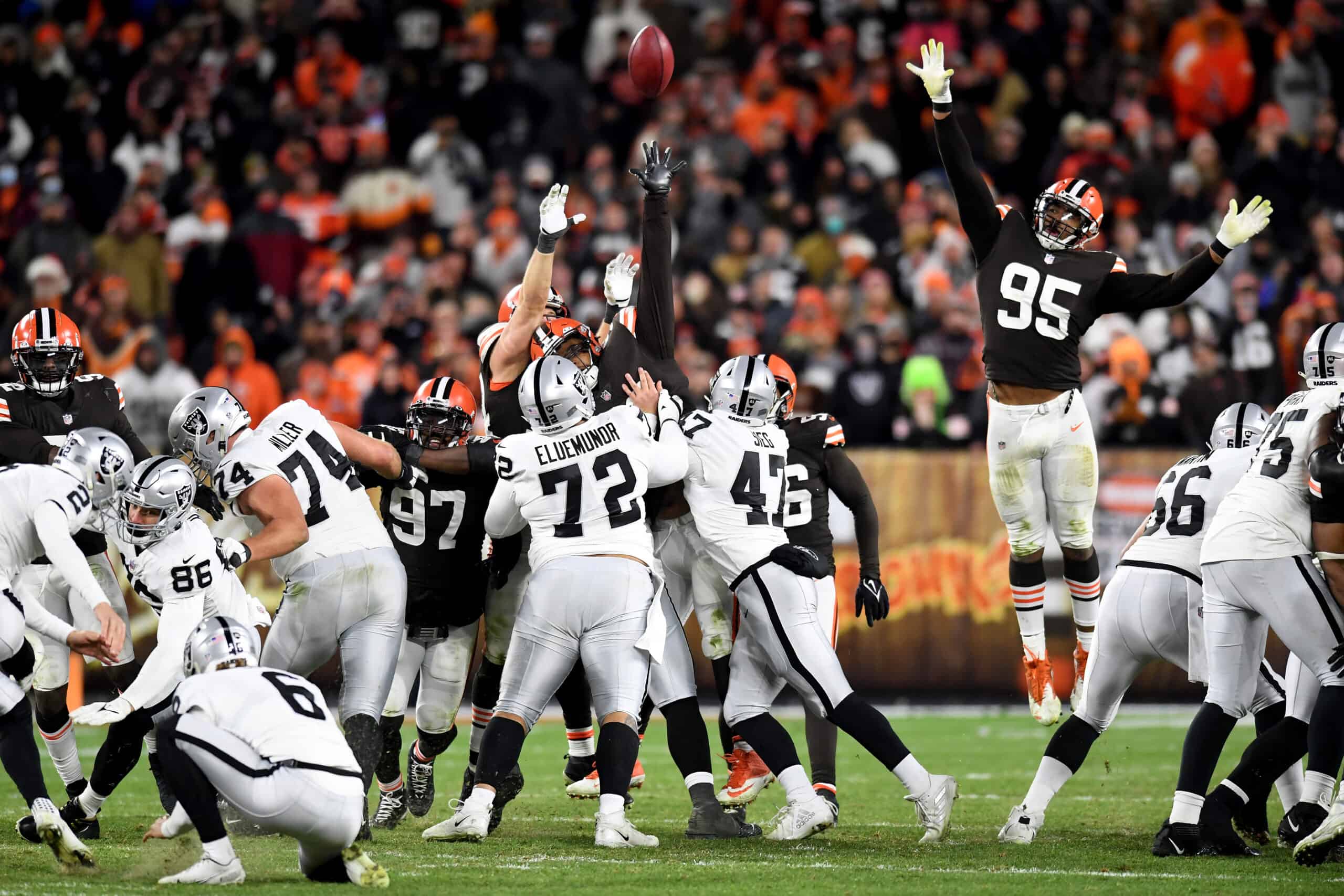 Stop me if you have read this script before: the Cleveland Browns dropped a heartbreaker to the Las Vegas Raiders by the score of 16-14.
Social media was even more interesting this evening as Browns players on the Reserve/COVID-19 list were on Twitter cheering on their teammates.
In the end, it was not enough to lift the Browns to victory.
Here is how the NFL world reacted to the loss.
1. Loss Makes Road Ahead Even Tougher
The Browns' last three games were already difficult.
They have Green Bay, Pittsburgh, and Cincinnati.
Winning today would have obviously been beneficial staring at this schedule.
#Browns can't afford another loss if they want a shot at the playoffs. Mathematically, they can lose one more with different scenario's occurring. But essentially Browns need to go out and beat Aaron Rodgers next weekend and then beat the #Steelers and #Bengals. Tough road ahead.

— Noah Weiskopf (@BrownsWithNoah) December 21, 2021
Essentially, they need to win out and may still need help to get into the playoffs.
A tough proposition but still possible.
Week 16:
GB over CLE
KC over PIT
BAL over CIN

Week 17:
KC over CIN
LAR over BAL
CLE over PIT

Week 18:
PIT over BAL
CLE over CIN

A very realistic path to a #Browns not only a playoff birth, but division crown as well.

Season isn't over yet.

— Christian Riley (@CornerCommishCR) December 21, 2021
2. Play Calling Did Not Give Mullens His Best Shot
Many stared at their television screens thinking that play calling is still an issue.
Baker Mayfield was criticized before talking about conservative play, and it was definitely a big part of the game plan today.
At some point, they should have taken more chances tonight (starting in the first half) and put the ball in Mullens' hands.
IMO we just overprotected Nick Mullens w/ play calling. He was playing very well and they should have given him more opportunity. #browns 🙁

— Evan Taylor (@EvanTaylor09) December 21, 2021
Play calling is an issue for us, it's obvious! We are far too conservative and predictable regardless of who is the QB! It was a valiant comeback effort and I enjoyed us fighting back even tho we came up short! #Browns pic.twitter.com/PQm8uFTlF1

— Shawn T (@msshawnt) December 21, 2021
Once again the #Browns coaching staff got way to conservative at the end of a game

They played not to lose instead of trying to win

So frustrating !

— Mike (@MIKE_BROWNS_UK) December 21, 2021
Mullens played a good game and handled the pressure of the moment very well.
Nick Mullens is so legit! Played a hell of a game under immense pressure #Browns

— LeRoze🌹 (@The_Real_LeRoze) December 21, 2021
3. Disappointment And Disgust Were The General Themes
Mainly sad posts filtered the social media airwaves.
Browns fans are deflated, understandably so.
The joy and relative ease of last season has been erased by nothing but challenges and very difficult circumstances practically from Week 1.
I'm going to bed before I start looking at mock drafts for the #Browns future big-time wide receiver

— Anthony Alford (@AnthonyAlford92) December 21, 2021
Sad to say this aged well #Browns https://t.co/l4QgtdoIfo

— Jack (@leekinthyme) December 21, 2021
Time to break out the Beer 🍺… #Browns

— Kolton (7-6) #BeatLV (@EpixNebula) December 21, 2021
4. Special Teams Problems Again
The missed field goal was costly.
McLaughlin made the first attempt when time out was called but could not put it through the second time.
It is an area that fans believe should be addressed in the offseason.
I'm fully on board with drafting a kicker and punter in the draft. I'm so tired of mediocre play from special teams. Field position and missed field goals have cost the #Browns this year.

— Aaron Bitikofer (@AaronFromDover) December 21, 2021
FIRE MCLAUGHLIN. #Browns https://t.co/aryseWqahn

— Walker Montgomery (@WalkMontgomery) December 21, 2021
This team entered the season with so much expectation and has fallen short.
Today was another winnable game that they let get away.
COVID-19 or not, the problems we saw today have been there all year long.
Time will tell if this team can pick themselves up and finish strong.