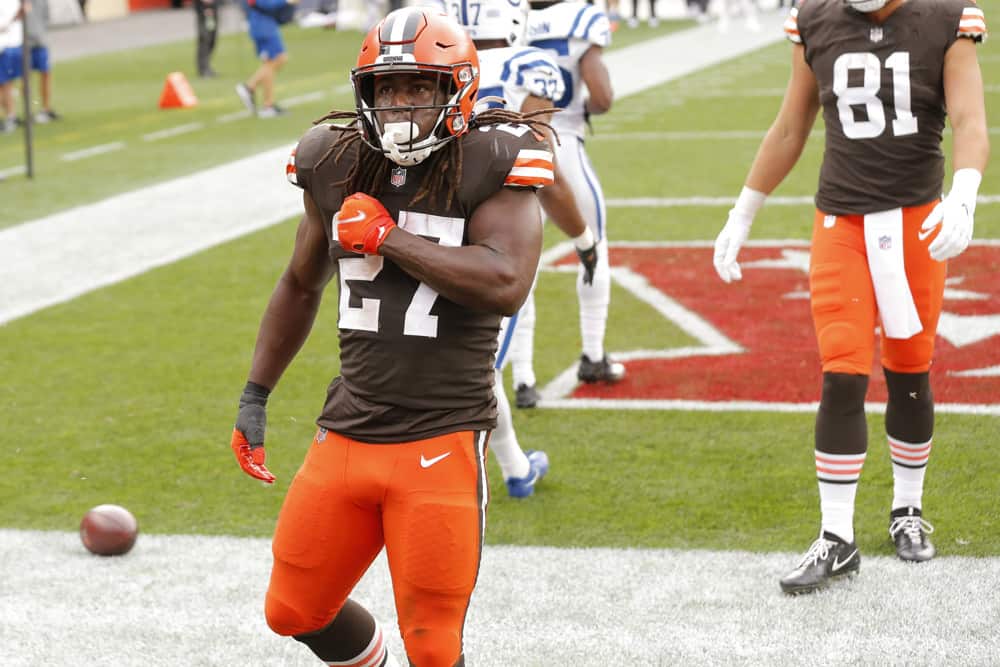 Steve Palazzolo, senior analyst for Pro Football Focus (PFF) was a recent guest on the Bull & Fox show.
The Cleveland Browns were of course a major topic of conversation.
Here are the highlights of those discussions.
1. Assessing Browns vs. Raiders game
Aside from the crazy weather and strong winds that gusted during the game, Palazzolo addressed Baker Mayfield's performance.
He believed Baker played well overall.
Coach Stefanski agreed with this sentiment.
#Browns HC Kevin Stefanski on Baker Mayfield's play: "I thought he handled the conditions pretty well." Says offense "wasn't precise enough scoring only 6 points."

— 92.3 The Fan (@923TheFan) November 1, 2020
The five dropped passes were costly.
He completed 12 out of 25 passes; however, if the drops did not happen, he would have completed 17 out of 25.
That's a sizeable difference.
Though he believed Baker played well, he said the Browns have to find a way to win games like that.
A deeper dive into Baker's abilities showed that Palazzolo is on the fence as to whether Baker is a franchise quarterback.
He noted that there is a difference between being satisfied with a capable starter or having a Top 10 quarterback who can carry the team.
Palazzolo said Baker was Top 10 during his rookie year but hasn't regained that status since.
2. Grading The Browns Defense
Palazzolo called them middle of the road with an overall ranking of 17th.
He said this is about what he expected from the Browns defense at the beginning of the season.
Aside from Ronnie Harrison, Denzel Ward, and Myles Garrett, there have not been outstanding performers.
.@denzelward, everybody 😳

📺: #CLEvsCIN on CBS pic.twitter.com/fo6MZrHkxg

— Cleveland Browns (@Browns) October 25, 2020
He noted that seems to be the norm for NFL defenses this year; there are two or three stars.
And the rest of the players are average.
3. Evaluating Upcoming Browns' Opponents
Specifically, Palazzolo talked about the Texans and Eagles.
In general, he believes both teams are better than their win-loss records indicate.
DeShaun Watson is carrying the Texans; he needs a supporting cast to help that team win.
Deshaun Watson is the second QB in the Super Bowl era to start his team's first 8 games of a season, win 2 or fewer of them, and have a 105+ passer rating over that 8-game span.

Whoever is coaching the #texans in 2021 sure has a center piece to build around. Also a lot to build

— James Palmer (@JamesPalmerTV) November 9, 2020
Carson Wentz is so woefully inconsistent that no one is sure what to expect from him week-to-week.
Carson Wentz leads the NFL in Turnover-Worthy Plays with 23.

No other QB has more than 13 pic.twitter.com/Jr4FsI1Tuv

— PFF (@PFF) November 2, 2020
He believes both games could be close and tight ones for the Browns.
If the Browns want to make the jump into playoff conversations, they need to win these games.