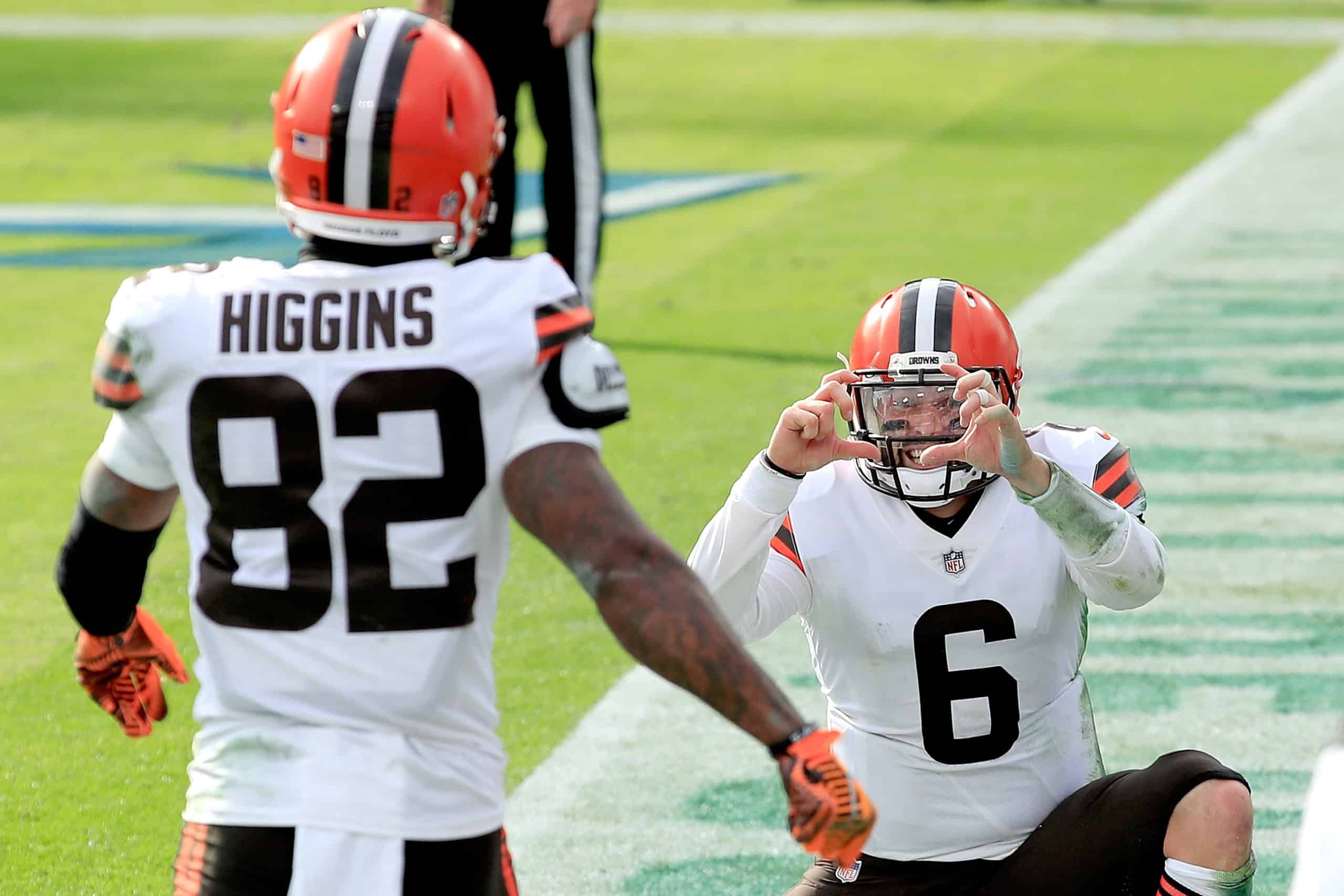 Cleveland Browns wide receiver Rashard Higgins' absence from practice multiple days this week was for the best reason ever.
Higgins and his fiancée welcomed son Sevin Malick Higgins on Thursday morning, September 2.
Judging by his social media announcement about the birth, he is already assuming the role of doting father.
My king

I waited for this day my entire life and seeing you enter the world was the best thing I could every witness. Thankyou for being the best part of my life.

Sevin Malick Higgins 🖤 pic.twitter.com/KOFREdrynN

— Mr.BetterThan (@CALLME_WOOD) September 3, 2021
Higgins Is Having A Great 2021 Offseason
Rashard Higgins has used his social media account to share the personal life-changing news that has been happening in his life in 2021.
We were treated to the gender reveal and a surprise engagement back in April when Higgins and his then girlfriend were vacationing in Turks & Caicos.
To the love of my life @Deane_babyy I can't wait to start this new journey with you.
I Love you unconditionally 🖤 pic.twitter.com/Zgscbs47dR

— Mr.BetterThan (@CALLME_WOOD) April 9, 2021
Will Higgins Be WR3?
While his personal life could not be better, there are persistent questions about Rashard Higgins' role with the Cleveland Browns.
The biggest of those questions is will he be WR3?
From all appearances, Higgins did okay in training camp.
However, his teammate Donovan Peoples-Jones played lights out and may very well have stolen the WR3 job from Higgins.
Higgins Vs The Chiefs – Take 2
No matter where Higgins falls on the wide receiver depth chart, fans hope he gets redemption in Week 1 against the Chiefs.
Many fans are still upset about the fumble-touchback play that changed the course of the Browns vs. Chiefs divisional playoff game.
It appeared to be helmet-to-helmet contact that was not penalized.
What a bad break for the #Browns — the worst rule in football means that Rashard Higgins' fumble results in a touchback and #Chiefs football 🤬

(Also, isn't this a helmet-to-helmet hit?)

— Billy Heyen (@BillyHeyen) January 17, 2021
We know Higgins has relived that play more than once since he admitted to watching the game film more than once.
Rashard Higgins "I've watched the Kansas City game a bunch of times for motivation."

Kevin Stefanski was asked how many times he's watched the game.

"More than Rashard."

— Nick Karns (@karnsies817) August 3, 2021
Higgins is a fan favorite so hopefully his 2021 highlight reel begins in Kansas City with many catches and touchdowns similar to these captured on video from training camp.
QB Baker Mayfield to WR Rashard Higgins
(Via #Browns) pic.twitter.com/4GuMPDUTmC

— Brad Stainbrook (@BrownsByBrad) August 11, 2021
Here is #Browns WR Rashard Higgins contested TD catch. pic.twitter.com/igFCzagc8X

— MoreForYouCleveland (@MoreForYou_CLE) August 19, 2021
In case you are living in a cave, the Browns are now just 9 days away from this rematch with the Kansas City Chiefs on September 12 at 4:25 pm EDT.
We cannot wait.