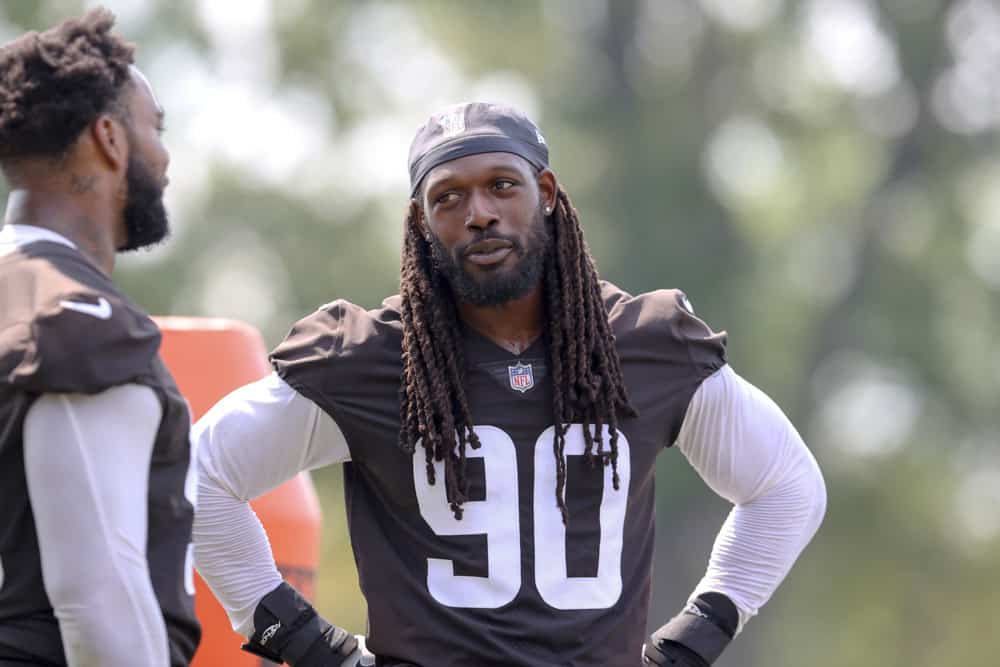 The Cleveland Browns were without defensive end Jadeveon Clowney in the Week 5 loss to the Los Angeles Chargers.
This was concerning because indications prior to the game were that Clowney, despite dealing with an elbow issue, was going to play.
Fast forward to kick off, and Clowney was dressed in street clothes on the sidelines.
What happened and when did it happen?
Coach Stefanski provided an answer in his Monday press conference.
Stefanski said that Clowney experienced knee pain in pregame warmups.
He was ruled out because of the knee and not his previous elbow issue.
Knee soreness, not elbow injury, kept Jadeveon Clowney out on Sunday. https://t.co/lzOrHBqtnk

— ProFootballTalk (@ProFootballTalk) October 11, 2021
The particulars of this are unknown.
However, Clowney only played 8 games in 2020 with the Titans because of a knee injury.
Hopefully, the two injuries are not related.
Clowney Was Missed
In the offensive shootout that ensued on Sunday afternoon, Clowney was certainly missed.
The defense in the 4th quarter looked gassed and missed the extra power he adds.
Clowney has made his presence known in 2021.
#Browns Jadeveon Clowney through four games in 2021:

Pressure rate: 17.4%

Previous career-high: 12.2% (2017)

8th in pass-rush productivity

6th in total pressures pic.twitter.com/AK1Wdkhiuw

— Sam Penix (@Sam_Penix) October 5, 2021
It is too soon to know if he will be available for the Week 6 game against the Arizona Cardinals.
Myles Garrett is also battling through some nagging injuries so having both healthy would be a great asset to the Browns sooner rather than later.
#Browns DE Myles Garrett: "I'm going to keep on grinding, keep on pushing."

Says Jadeveon Clowney "will be back soon"

— 92.3 The Fan (@923TheFan) October 11, 2021
Takk McKinley Started In Clowney's Place
Two Words: Takk McKinley

Currently, he's at 18% (111) of his snap count in 2018 (618) and has 1.5 sacks.

If he should stay on track of sacks to snaps with the same snap count, he will end up with about 8.3 sacks.. more than than the career best 7 he had in 2018.  #Browns pic.twitter.com/gFuQokoV6t

— Jessica 🏈🏈🏈Let's go Browns!!🏈🏈🏈 (@jeckon76) October 5, 2021
McKinley also has been dealing with ankle and knee issues, but he got the start against the Chargers.
He is getting better and better as the season goes on.
#Browns defense roughed up Justin Herbert in that last series. Garrett sacks him and Takk McKinley gave him a shot as he threw the ball.

— P.J. ZIEGLER (@PJFOX8) October 10, 2021
Browns Defense In Week 6
There is no rest to be had for these guys.
They must figure out a way to shut down Kyler Murray and the 5-0 Arizona Cardinals.
Prior to Week 5 against the San Francisco 49ers when the offense scored only 17 points, the Cardinals have put up no less than 31 points each week.
The Browns D needs to be rested, healthy, and prepared for this challenge.