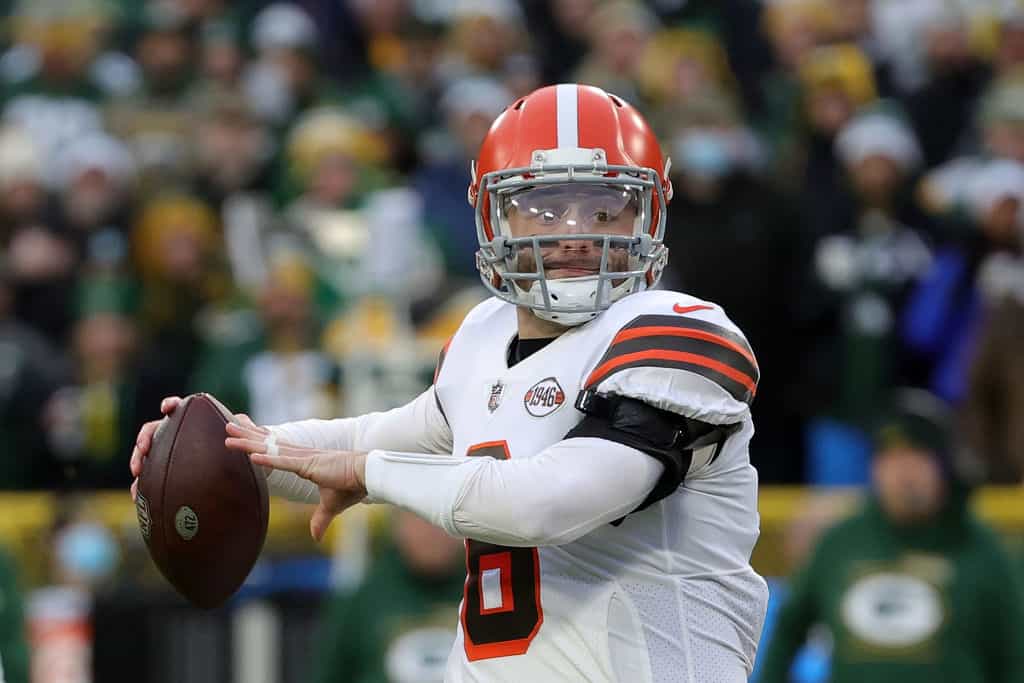 Another day, and another rumor, opinion, or hot take on the pending status of Baker Mayfield.
This time it is the Pro Football Network's Tony Pauline offering his insight on the Cleveland Browns quarterback.
And it is his opinion that Mayfield is no sure bet to be the Browns quarterback in 2022.
Pro Football Network's Tony Pauline with the latest on the #Browns and Quarterback Baker Mayfield. pic.twitter.com/yv3znlYqHq

— Tyler Johnson (@T_johnson_TJ) February 26, 2022
People close to the situation tell me it's by no means a forgone conclusion that Baker Mayfield will be the starting quarterback for the Cleveland Browns next season. Among many things, Mayfield struggled with an injury to his non-throwing shoulder, which he had surgically repaired just a few weeks ago.
The intriguing part of Pauline's statement is the "many things" he failed to share in his NFL rumors article.
Insinuating Mayfield's surgery is the Browns' issue is somewhat disingenuous since it affects a non-throwing shoulder.
Baker Mayfield, QB (Questionable): Mayfield (shoulder) is ahead of schedule in his rehab from shoulder surgery he underwent in Jan. 2022, Mary Kay Cabot of the Cleveland Plain Dealer reports. #nfl #injuries #espn

— theffrobot (@theffrobot) February 28, 2022
Mary Kay Cabot recently reported Mayfield is "ahead of schedule" on his rehab and is probably the 2022 starter.
Although she hedged her bets, admitting the Browns will check all other options during the offseason.
One thing the pair agreed on is the Browns are unlikely to draft a quarterback with their 13th pick.
So Really… What's New? 
Baker Mayfield's best decision over the extent of his Browns career was to leave social media last month.
Besides the fierce debate between his supporters and detractors, there's a new opinion on his future daily.
Neither Pauline's nor Cabot's statements move the needle much.
Cleveland's company line is they expect Mayfield to start and to bounce back from a disastrous 2021 season.
But of course, Andrew Berry will do his due diligence in checking out all other possibilities.
14 QBs were drafted in the top 5 between 2009 and 2018.

Baker Mayfield is the ONLY ONE who remains on the team that selected him. pic.twitter.com/npMmv1576D

— NFL on CBS 🏈 (@NFLonCBS) February 24, 2022
Could you imagine if Russell Wilson tells the press he would have preferred Cleveland if they only called him?
Or if Aaron Rodgers tells Mary Kay Cabot he wished he could have played for the Browns before he retired?
Cleveland is going forward assuming Mayfield is their starter.
And in a perfect world, he will bounce back and have a typical even-year season.
While each 300-yard passing game and missed third-down conversion renews the debate about his extension.
Is Mayfield The Browns Best Hope? 
Andrew Berry and Kevin Stefanski insist Baker Mayfield is their starting quarterback for 2022.
While some players would have a difficult time playing out the final year of a deal, Mayfield is probably okay with it.
After all. he didn't earn a huge extension with his 2021 performance, and a 2022 playoff berth will earn him millions.
But is there a better option lurking in free agency or on the trade market?
#NFLRumors The Browns are expected to have an interest in Raiders Marcus Mariota for competition for Baker Mayfield.#ClevelandBrowns pic.twitter.com/Y9hJPD3x0i

— NFL Rumors (@nflrums) February 27, 2022
According to Pauline,
"If the Browns choose to move on from Mayfield, it will come via trading for a proven veteran. The team won't replace him with a rookie through the draft, as the franchise believes it is built to win now."
It makes sense for the Browns to kick the tires on the big 3 trade targets- Rodgers, Wilson, and Deshaun Watson.
Jameis Winston is intriguing, but the next available tier includes a few players trying to be the next Ryan Tannehill.
If Berry can land Mitch Trubisky or Marcus Mariota cheap enough, they can compete with Mayfield.
With so many teams looking for a starter though, it is possible their prices will be inflated, leaving Mayfield in place.