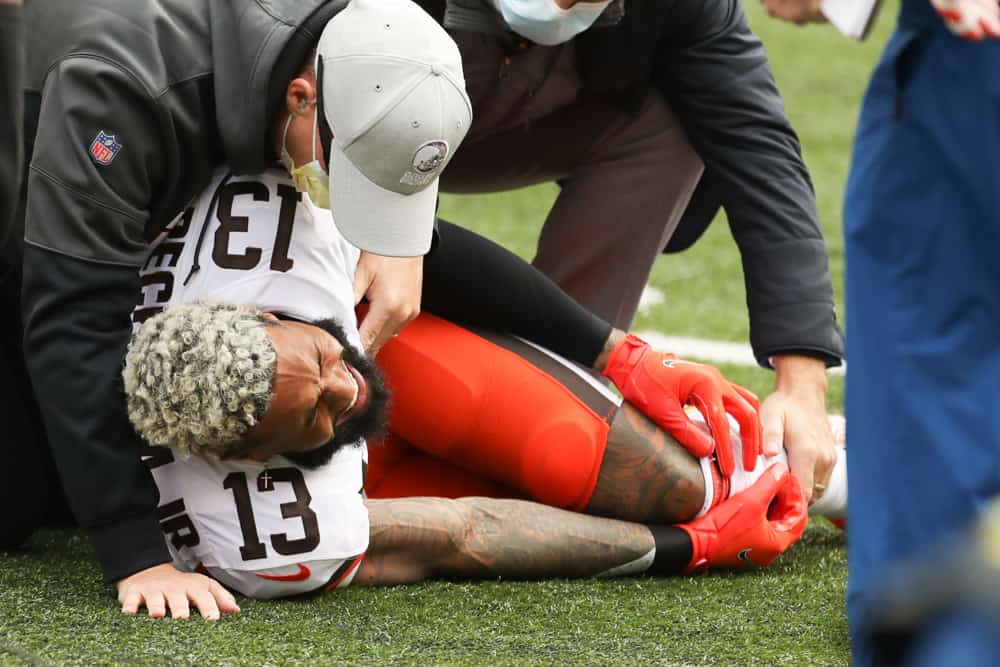 Cleveland Browns WR Odell Beckham Jr. suffered a knee injury early in today's game against the Bengals.
He left the game in the 1st quarter and did not return.
While it is unknown how severe the injury is, NFL Network's Ian Rapoport is reporting it could be pretty serious.
#Browns WR Odell Beckham, who was knocked out of today's game early, is feared to have suffered a major knee injury, source said. He'll have an MRI in the morning and perhaps there will be some better news, but early indications aren't good.

— Ian Rapoport (@RapSheet) October 25, 2020
The Play
OBJ's injury occurred on a Mayfield interception when he gets tangled up in a sea of players.
Baker Mayfield gets picked off on his first pass of the game for the 2nd week in a row

Odell Beckham Jr. limped to the locker room trying to make the tackle

— Eric Rosenthal (@ericsports) October 25, 2020
In his postgame interview, Baker Mayfield talked about OBJ's injury.
"I told [Odell] I love him and he told me to go be great."

Baker Mayfield discusses the conversation he had with OBJ at the half after the @Browns' last second win over the Bengals. pic.twitter.com/qkNfTq2z9K

— NFLonCBS (@NFLonCBS) October 25, 2020
OBJ Injury History
Though he is a fantastic player, OBJ has had his share of injury woes.
In 2017, with the Giants, he had a fractured ankle.
The following year, in 2018, also with the Giants, he suffered a bruised quadriceps.
Last season, in 2019, with the Browns, he had a core muscle injury that required offseason surgery.
Though not injury-related, he was sidelined part of last week with an illness that kept him out of practice for a couple of days.
Between Jarvis Landry's broken rib, Austin Hooper's recovery from an appendectomy, and a potentially serious knee injury for OBJ, the Browns will need the young receivers (Higgins, DPJ, and Bryant TE) to step up just as they did today.
Let's hope it is not as severe as expected, and OBJ is back on the field again very soon.