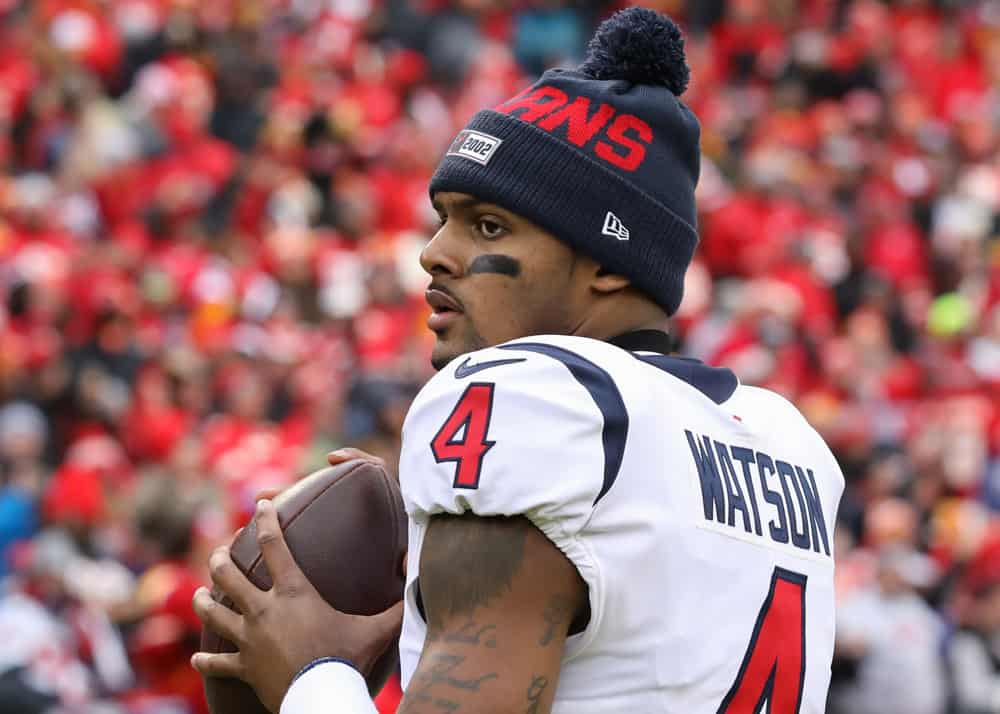 Andrew Berry and the Cleveland Browns gave up a lot to make Deshaun Watson their quarterback.
NFL transactions reported the deal took 6 Cleveland draft picks to complete.
And then there is the matter of $230 million to juice what was already a new and expensive Watson contract.
OFFICIAL: We have acquired 3-time Pro Bowl QB Deshaun Watson in a trade with the Texans

— Cleveland Browns (@Browns) March 20, 2022
But Houston Texans GM Nick Caserio wanted much more.
According to John McClain of the Houston Chronicle, Caserio wanted players as well.
"(Caserio) asked for players, the team said no," McClain said. "What are they going to do, say OK, we're not going to do it?
Rumors were flying about Kareem Hunt, Greg Newsome III, Jeremiah Owusu-Koramoah, and others.
Final terms for the #Browns Deshaun Watson trade look a bit different.

Cleveland adds a fourth-round pick in this year's draft to their trade package and gets a 2024 sixth-round pick from the Texans rather than a fifth-rounder. pic.twitter.com/DEAIswU9WC

— Camryn Justice (@camijustice) March 21, 2022
There were teams ready and willing to sweeten Houston's pot with starting assets.
But Berry drew a line to protect the roster he assembled so carefully over the past two years.
After all, the point was to add a franchise quarterback to a playoff-caliber roster, not an incomplete one.
Berry Knew When The Advantage Shifted
Watson appeared to be in the driver's seat as far as choosing his future teammates.
He picked 4 teams out of 13 interested parties to compete for his services.
Caserio set a steep minimum price of 3 first-round draft picks, other picks, and starting players.
That got them past Houston's screening process and bought them an interview with Watson.
"Supposedly" the #Jets offered 3 1st & 1-2 2nds & Zach Wilson for Watson #Browns offered
(2) 1s
(1) 5rd
Kareem Hunt
Greg Newsome
Baker Mayfield.
The #Texans said "NO".

— Bryant McFadden (@BMac_SportsTalk) March 14, 2022
But once Cleveland blew away the competition with their contract proposal, Berry had an edge versus Caserio.
Refusing to accept the Browns' offer could force the Texans to start the trade process over with Watson in charge.
There are no reports that Berry pulled players back, but it surprised all parties that Cleveland lost no starters.
And the recent addition of a sixth draft pick indicates Caserio wanted something more than what he got.
How Berry Protected The Browns and Watson 
Watson originally ruled out Cleveland first from among the four teams that interviewed him.
But Berry never gave up and pulled a wild card at the last minute.
At issue is the potential suspension of Watson when the NFL completes its investigation into his personal conduct.
Such a suspension is not predicated on criminal charges, but on violations of NFL policy.
Important contract note for Deshaun Watson, who got a 5-year, $230M contract. His base salary for 2022 is $1M, which means if he's suspended, it'll come out of that base.

— Ian Rapoport (@RapSheet) March 18, 2022
Berry offered a huge signing bonus and a minimal salary for the 2022 season.
This means a suspension this season costs Watson only about $60,000 per game lost.
But it also protects the team by saving enough salary cap space to hire a quality backup to start those games.
And it also might allow the team to re-sign Jadeveon Clowney and another player to bolster their defense.