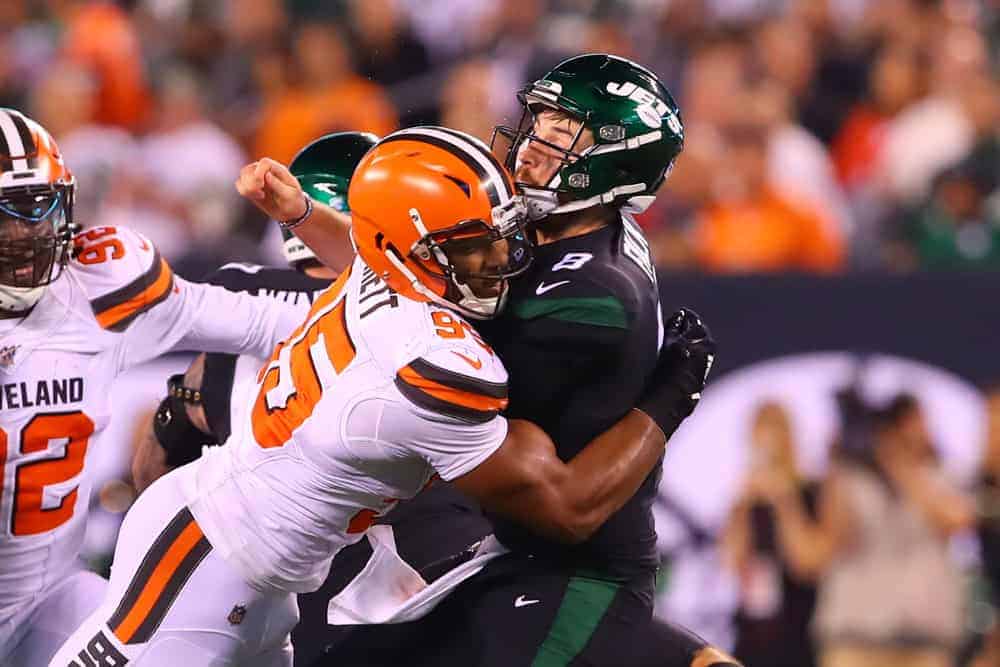 Myles Garrett has his sights set on the Cleveland Browns single-season sack record.
But despite what the NFL records say, he should aim higher than the 14 registered to Reggie Camp in 1984.
That's because a pair of Pro Football Reference researchers have been doing a little digging.
ICYMI, we added a ton of sack data going back to 1960, 22 years before they started being officially recorded https://t.co/CuvMtx7ReT

— ProFootballReference (@pfref) July 13, 2021
John Turney and Nick Webster watched a lot of football over the past 30 years.
And they logged thousands of NFL sacks that occurred before the sack became an official stat in 1982.
According to their research, Camp's 1984 effort ranks no better than the Browns' fifth-best season sack total.
Former defensive end Bill Glass beat that total 3 times, including an unofficial team record of 16.5 sacks in 1960.
Y.A. Tittle of the NY Giants gets hammered by Bill Glass of the Cleveland Browns in 60s NFL action pic.twitter.com/EvaXQv3S06

— Sports Days Past (@SportsDaysPast) June 8, 2017
The great Jack Gregory tied Glass' second-best season with 15.5 sacks in 1970.
Glass added 15 sacks in 1966, on his way to the unofficial 91st-best career total of 87 recorded sacks.
Cleveland traded Gregory to the New York Giants in 1972, where he ended his career with 106 career takedowns.
Myles Garrett's New Sack Target 
Pro Football Reference's folks spent 30 years researching what is basically a conversation piece.
The NFL will not recognize sack totals before 1982 regardless of their efforts.
Their admission that they did not capture 100% of the sacks cements the fate of their data.
Incomplete TV and film coverage contributed to some gaps, especially in the early 1960s.
But their work will spark conversations and debate, much like pre-official stats across all sports.
That's Jack Gregory #81 who had 14 sacks for Browns in 1970. Who's #88? pic.twitter.com/LNVDFwikCQ

— Greg Aiello (@gregaiello) October 13, 2014
That includes tackles, a statistic widely shared even though the NFL does not recognize an official tackle record.
And if you are Myles Garrett, you are gearing up to eliminate any debate over Cleveland's best pass rushers.
Garrett will certainly aim to tally a sack-per-game this year in a bid to set the team's single-season record.
But it might take closer to 24 sacks to really settle the matter.
After all, Glass set his record in a 12-game season, a pace that equals 23.4 sacks across 17 games.
Former Brown Owns Unofficial NFL Season Sack Record 
Michael Strahan might owe Bret Favre a dinner for his official single-season sack record of 22.5.
And the three former players with 22.0 sacks still think they had the best sack seasons in history.
But former Cleveland Brown, Al "Bubba" Baker, appears to have topped them all.
Baker was still a rookie wearing a Detroit Lions uniform when he tallied 23 quarterback sacks in 1978.
Later in his career, Baker would add 14 more sacks over 3 seasons as a Cleveland Brown (1987,89-90).
Ex- Browns and Lions DE Bubba Baker does pregame radio. Says key to being good pass rusher is being so relentless the quarterback wonders if you're parked in his driveway. https://t.co/7GOHjcy2UC pic.twitter.com/NYCRGaLy5e

— PatMcManamon (@PatMcManamon) November 12, 2017
His years in Northern Ohio helped Baker wind up with the 21st-highest career sack total of 131.
Right behind Baker, tied for 22nd-best, is former Vikings' great Jim Marshall.
Some might not remember that Marshall earned his first 2.5 sacks as a Cleveland Browns rookie.
Reggie Camp never had another double-digit sack season, but his 1984 campaign is tied for the 204th-best ever.
Myles Garrett's 2018 season now comes in as part of a crowd at no. 237 all-time.