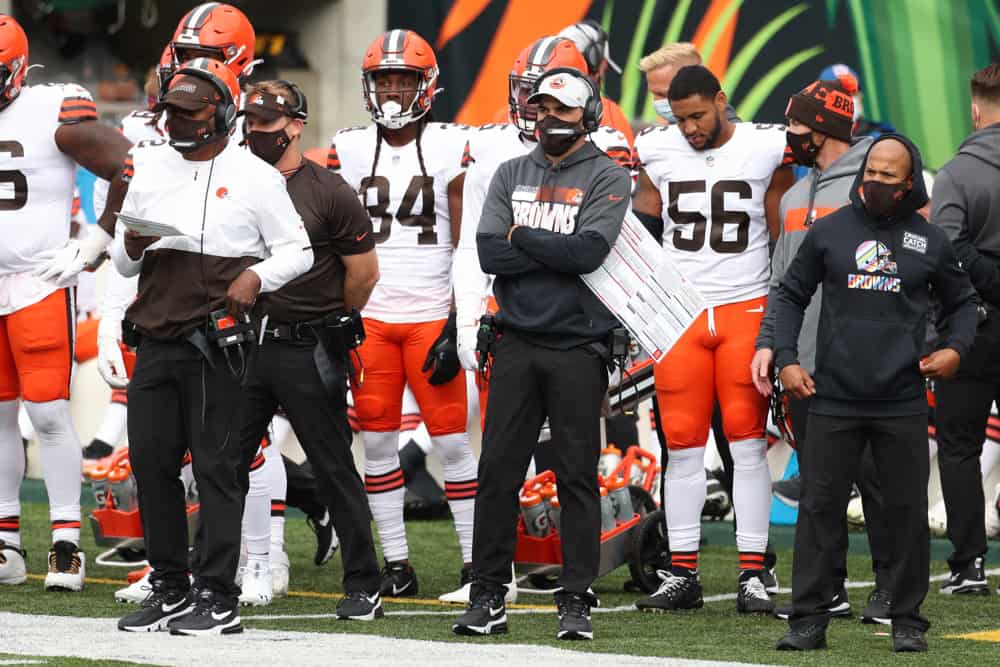 Kevin Stefanski said something this week eerily similar to many former Cleveland Browns coaches.
His words deflected the inference of a question from some random reporter during minicamp.
Perhaps the question caught Stefanski off guard after a playoff-worthy 11-5 season.
#Browns HC Kevin Stefanski: "I'm on the hot seat. We're all on the hot seat. You've got to fight for everything. We're earning it everyday. That's no different for myself, all of our players."

— Keith Britton (@KeithBritton86) June 16, 2021
But coach speak is coach speak, and so he told reporters,
"I'm on the hot seat. We're all on the hot seat. You've got to fight for everything. We're earning it every day. That's no different for myself, all of our players."
Of course, he wasn't actually defending his own position, but that of his defensive coordinator, Joe Woods.
Nobody thinks Stefanski is under too much pressure after his Coach of the Year efforts of 2020.
But it is a popular narrative that the Browns' defense underperformed in an otherwise great season.
And now that Andrew Berry gifted Woods with a new roster of players, maybe Woods is on notice?
#Browns DC Joe Woods on if he thinks he's on the hot seat this season: "I'll be honest with you. It's the NFL. I've been on the hot seat for 30 years."

Added that he's excited for this season.

— Camryn Justice (@camijustice) June 17, 2021
Woods answered the same question for himself, showing the same coach-speak skills of his boss,
"This is the NFL. I've been on the hot seat for 30 years 'cause every year you get contracts, but you keep your job based on how your position or your unit performs,"
But how about that; Should Joe Woods be on the hot seat in 2021?
No- Joe Woods Should Not Be On The Hot Seat
Everybody knows Andrew Berry ignored the defense in favor of rebuilding the offense last season.
Except for those who acknowledge that narrative is not actually true.
Cleveland added 6 defensive free agents, and used 3 of their first 4 draft picks on the defensive side last year.
On top of that, they landed the top undrafted free agent in cornerback AJ Green.
Kevin Stefanski on the defense: "I wouldn't put a percentage on how much of the Joe Woods defense you saw last year. I can say, year one to year two you evolve. Offensively, defensively we're doing it. We're so much father ahead than we were last year."

— Nick Karns (@karnsies817) June 16, 2021
At this point last season, we expected Cleveland to deploy a lot of nickel looks in an aggressive defense.
But by the end of August, Greedy Williams and Grant Delpit were out of the lineup, and Andrew Billings opted out.
As the season went on, Karl Joseph, Myles Garrett, Denzel Ward, and others would miss games.
It seemed Woods was remaking his defense on the fly, with several players in altered or extended roles.
John Johnson is a huge get for Browns' DC Joe Woods. He said last offseason he wanted to lean on Dime (and perhaps 3-safety looks), but injuries crushed that plan in 2020. Johnson could also be joined by 2020 2nd rounder Grant Delpit if he gets healthy.

— Mike Clay (@MikeClayNFL) March 15, 2021
And the Browns still finished in the middle of the pack with the 17th most total yards and 20th most points.
Berry all but acknowledged the roster was flawed when he let 8 of Joe Woods' starters leave after the season.
Cleveland enters the 2021 season with more speed, more youth, and more promise.
And Woods gets a well-deserved mulligan for last year's mediocre result.
Yes- Joe Woods Should Be On The Hot Seat in 2021 
Whether he wants to admit it or not, Joe Woods should feel more pressure this year.
Thrust into the spotlight by Berry's high-profile free agent and draft moves, there are high expectations to be met.
And Woods is not only re-validating his own credentials this time around.
He also has Andrew Berry's reputation as a talent-evaluator in his hands.
#Browns DC Joe Woods on defense jelling with so many new faces: As long as we can establish our scheme and guys can execute, it won't be as much as a problem think it will be

— Nate Ulrich (@ByNateUlrich) June 17, 2021
To that end, Berry provided his defensive coordinator with a luxury he didn't have last year- depth.
Woods has an interesting mix of proven veterans, rookies, and young players due to step up fighting for positions.
At least 12 players have a legitimate shot to win one of 8-10 defensive line spots.
Woods wants to use his preferred nickel defense with a big helping of dime packages.
#Browns DC Joe Woods said with this revamped defensive roster he'll be able to run the dime package more, especially on third downs.

— Camryn Justice (@camijustice) June 17, 2021
During one of his seasons at Denver, Woods deployed the dime 400 times, compared to 16 last year.
But he has to find the right combination from a wealth of defensive backs and linebackers to make it work.
With so much focus on the Browns' offseason defensive-minded overhaul, Woods has to make this roster work.
Because if he can't mold this group into a solid defense, his seat will get hotter every week.