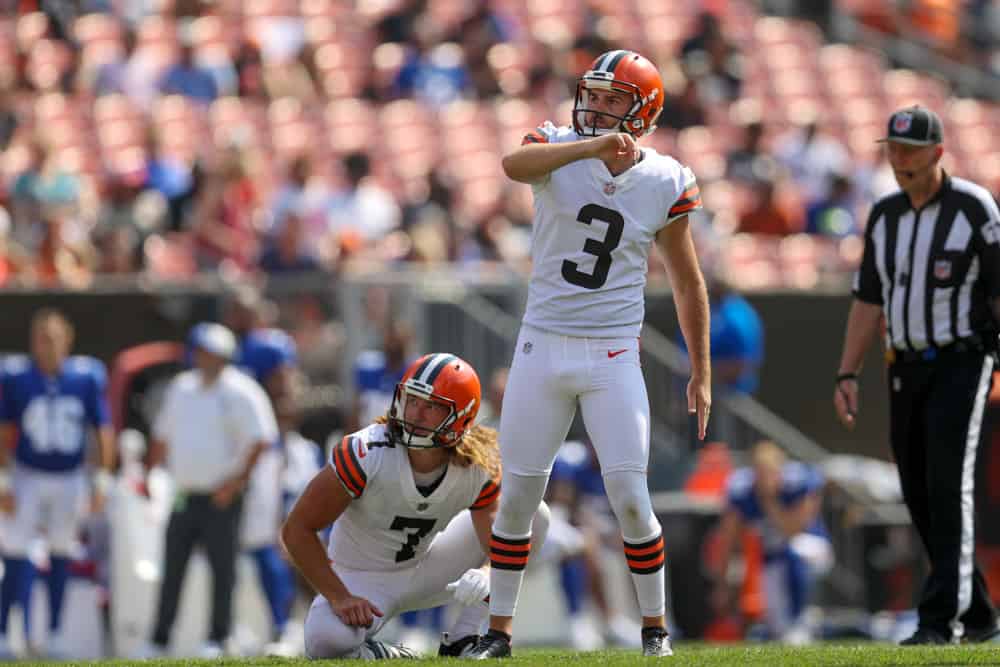 NFL fans typically don't care about the kicking situation of their team unless it's an issue.
While the Cleveland Browns aren't panicking over who will be kicking their field goals this season, it's a position in question right now in northeast Ohio.
About a week ago, Cody Parkey was released from the team on injured reserve after a leg injury.
That left Chase McLaughlin as the lone kicker on the Brown's roster.
Should Browns fans feel comfortable with McLaughlin potentially starting this season as the team's primary kicker?
Preseason Performance
McLaughlin's preseason finale against the Atlanta Falcons did not go well to say the least.
#Browns kicker Chase McLaughlin misses PAT badly wide right. Andrew Berry has decision to make.

— Scott Petrak ct (@ScottPetrak) August 30, 2021
#Browns kicker Chase McLaughlin missed 56-yard field goal to end first half. Ball hit crossbar

— Nate Ulrich (@ByNateUlrich) August 30, 2021
The missed 56-yard kick is one you can live with as long as there is some consistency with closer distances.
Unfortunately, on Sunday night for McLaughlin, consistency was nowhere to be found as badly missed a PAT attempt.
Now, he did also make a PAT as well as a 32-yard kick in Sunday's win.
#Browns K Chase McLaughlin with a PAT and 32-yard FG tonight.

— Scott Petrak ct (@ScottPetrak) August 30, 2021
Following the win, head coach Kevin Stefanski did not commit to one direction or another with the kicker position.
He did, however, credit McLaughlin for accepting the challenge of trying the 56-yard kick.
"I think it's a pretty cut and dry, make or miss in this league… but that's not easy. I mean that's a challenging kick (in reference to the 56-yard miss) and I wanted to give him a swing at it… He's done a nice job in camp and we value those reps."
Good Enough to Stay?
This preseason, McLaughlin finished 4-5 on his field-goal attempts and 4-5 on PAT attempts.
The shanked PAT on Sunday deservedly raised some eyebrows. However, outside of that, he was an objectively solid kicker throughout the preseason.
The league average for made field goal attempts in 2020 was 84.6% per Pro Football Reference.
Even though his preseason percentage would technically fall below that, I'm fine with a 56-yard attempt being the reason he didn't hit that average.
The problem is that in his short career, McLaughlin has been a below-average kicker.
His made attempt percentage sits at 78.6%.
His 2020 stats mirrored his current preseason, making four of his five total attempts.
McLaughlin is nowhere near one of the best NFL kickers and frankly could be out of the league in a few years.
Unfortunately for the Browns, there's not exactly a sea of available elite kickers to pick from.
Veterans Dan Bailey and Stephen Gostkowski remain available but have clearly left their better years behind.
A number of younger options, such as Joey Slye or Eddy Pineiro, remain available.
However, they're still available for a reason.
Ultimately, it may not matter who starts this season as the Browns' kicker. They may not end the season in that same position.
Just last year, Austin Seibert started the campaign as the Browns' number one option before Cody Parkey eventually took the keys.
We'll see how the position is handled as we creep closer to the regular-season opener.
McLaughlin seemed like a lock up until his performance against the Falcons.
Those misses may not cost him quite yet. However, it certainly shortened his leash.