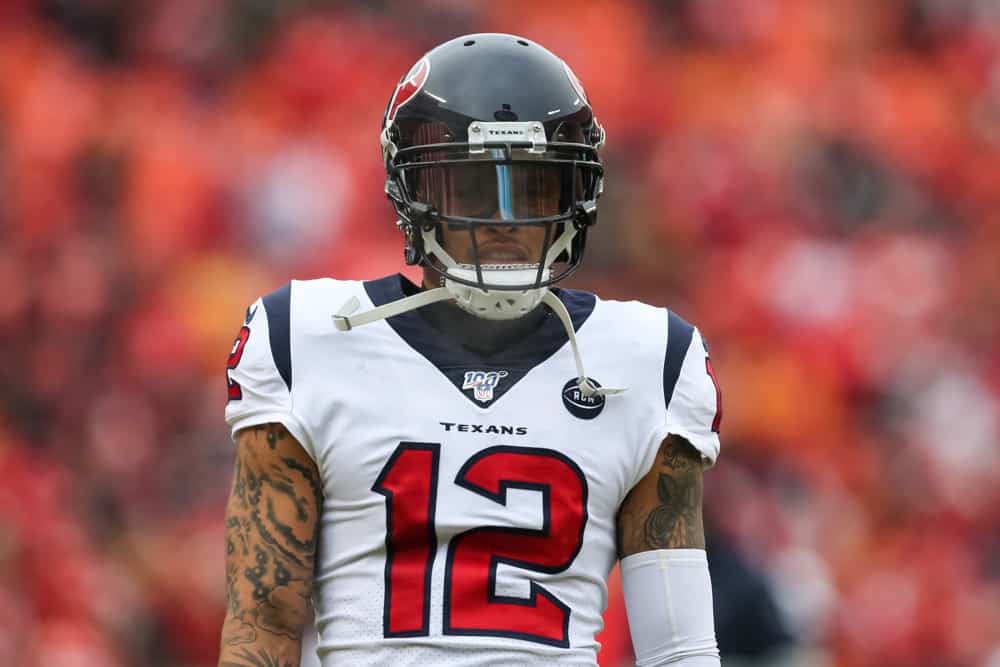 In a somewhat surprising move, the Houston Texans decided to waive wide receiver Kenny Stills.
He was acquired by Houston last August, but will now be subject to waivers.
The Houston Texans are releasing WR Kenny Stills in a mutual parting, sources tell ESPN. A veteran WR in Stills now available to sign and help a playoff team for the stretch run.

— Cameron Wolfe (@CameronWolfe) November 27, 2020
The veteran wide receiver is putting together an awful 2020 campaign, but could help a contending team.
There are plenty of teams chasing a playoff spot that could use a guy like Stills on their roster.
There will likely be a handful of teams interested in Stills, but the Cleveland Browns should throw their hat in the mix.
Stills Rough 2020 Campaign
The 28-year-old receiver does have a decent track record, but has struggled this season.
Through 10 games, Stills has 11 receptions, 144 yards and one touchdown with Houston.
He was ruled out for the Thanksgiving Day game and cut the following day.
Texans are releasing Kenny Stills in a "mutual parting," per @CameronWolfe pic.twitter.com/NVRmZ46izj

— B/R Gridiron (@brgridiron) November 27, 2020
Stills didn't have much of a role in Houston anymore, so the two sides decided to part ways.
He is scheduled to earn $7 million this season, so he would get a prorated amount from the team that claimed him on waivers.
He's not exactly a star receiver, but could upgrade a few teams that are contending for a playoff spot.
Stills In Cleveland
The Browns passing attack has not been the same since Odell Beckham Jr. went down with a season-ending injury versus the Cincinnati Bengals.
The offense lacks a downfield threat and Stills could be an option.
Both Jarvis Landry and Rashard Higgins have been capable of carrying their weight, but the Browns still need more talent.
The Browns offense is beginning to lean on the running game a bit too much.
They don't want to become a one-dimensional team, but running back Nick Chubb is an absolute stud.
Nick Chubb goes beast mode 😤

(via @NFL)pic.twitter.com/4dUo89f64I

— Bleacher Report (@BleacherReport) November 22, 2020
It really wouldn't hurt the Browns roster whatsoever if they signed Stills.
He can make a few plays for Cleveland and give this team a downfield spark.
However, the Browns probably won't be very high on the waiver list since the team is 7-3 on the year.
Although, only teams in contention are expected to go after Stills since he is on a one-year deal.
It'll be interesting to see if Cleveland decides to make a move and bring in Stills to add some depth for a postseason run.