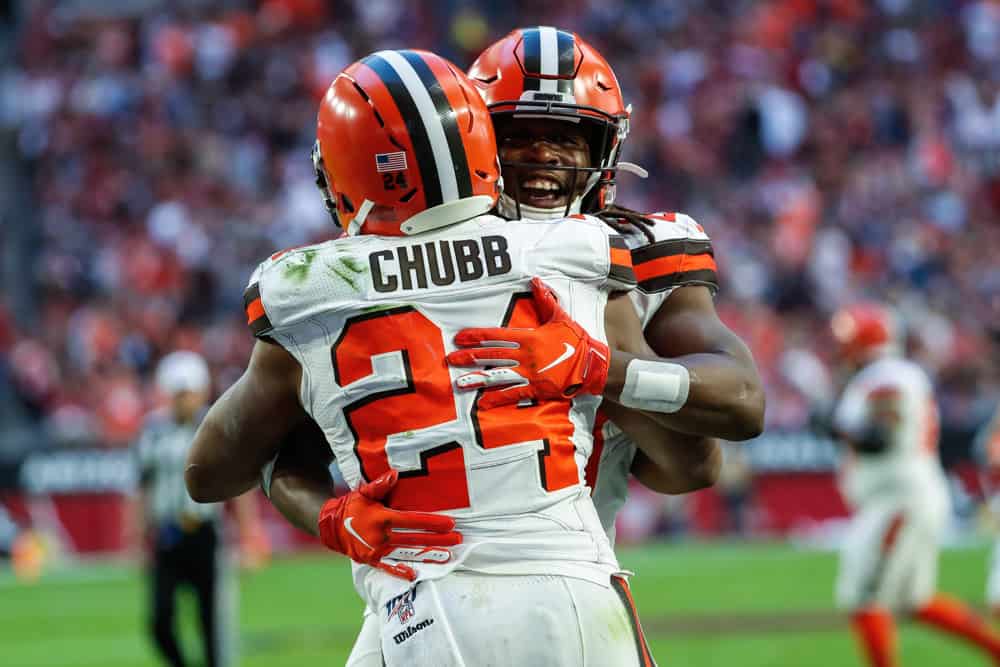 The Cleveland Browns have the luxury of having two extremely talented running backs.
Both Nick Chubb and Kareem Hunt have established themselves as reliable options early in their careers.
The Browns are thankful that they have both of them in the backfield for at least one more season.
Chubb is coming off a fantastic sophomore campaign where he almost won the rushing title.
Whereas, Hunt wasn't as effective last season, but actually won the rushing title during his rookie season.
There is no doubting that the Browns have a dynamic duo, but which running back is more valuable to the Browns offense?
Chubb's Case
The 24-year-old was solid as a rookie in 2018, but blew those stats out of the water last season.
Chubb rushed for 1,494 rushing yards on 298 attempts with eight touchdowns through 16 games in 2019.
He would've won the rushing title if it wasn't for Tennessee Titans back Derrick Henry's 32-carry, 211-yard performance in the regular season finale.
Chubb was elusive to opposing defenses all year long and was a big reason why the Browns offense was successful at times.
No running back forced more missed tackles on rushes and receptions in 2019 (79) than #Browns Nick Chubb pic.twitter.com/sLWn6GoOuO

— PFF CLE Browns (@PFF_Browns) July 3, 2020
Pro Football Focus has Chubb ranked No. 6 in breakaway percentage among backs.
Basically, it's a stat that shows which runners earn the highest percentage of their yardage on big plays.
Chubb was healthy and effective throughout the season and might only get better with Kevin Stefanski's new zone-blocking scheme.
Hunt's Case
Last season, Chubb was the workhorse and ran away with the starting job without much of a fight.
Hunt's stats from last season aren't great, but to be fair he was limited to eight games.
He is currently holding PFF's fourth-best elusive rating in his rookie year in 2017.
Hunt was the site's sixth-highest graded runner his rookie season and seventh in 2018.
Sadly, Hunt was only able to play half of season last year because of the suspension, but he made it count when he was on the field.
#Browns RB Kareem Hunt's ranks from the time he returned to the team in 2019 (Wk10-17):

▪️Forced missed tackles on receptions: 15 (2nd)
▪️Elusive rating: 119.2 (3rd)
▪️Receiving grade: 83.4 (4th) pic.twitter.com/xYHbDkl5YB

— PFF CLE Browns (@PFF_Browns) July 4, 2020
Last season, Hunt rushed for 179 yards on 43 attempts and hauled in 37 receptions with 285 yards.
He is someone that has been useful in both the rushing and passing game throughout his first three seasons in the league.
That is the type of versatility that sets him apart from Chubb who is more of a one-dimensional running back.
The Verdict
Both running backs have been excellent in their young careers, but Chubb is the winner here.
Chubb has proven to be one of the best runners in the league and has remained healthy throughout his career thus far.
He is quickly climbing the list of best running backs in the NFL right now.
Hunt is a useful option for the Browns offense, but is better fit behind Chubb.
Last season, Hunt managed to finish third on the team in receptions and receiving yards despite missing the first half of the year.
However, Hunt is not a trustworthy long-term option because of his off-the-field issues.
The reason he landed in Cleveland was because of the Kansas City Chiefs cut him due to his troubles.
This scheme fits perfectly for a running back like Chubb, but Hunt will be involved in the offense.
It's unclear if the Browns plan on bringing back Hunt after the season, but Cleveland will at least get one more season of the double-headed monster at running back.