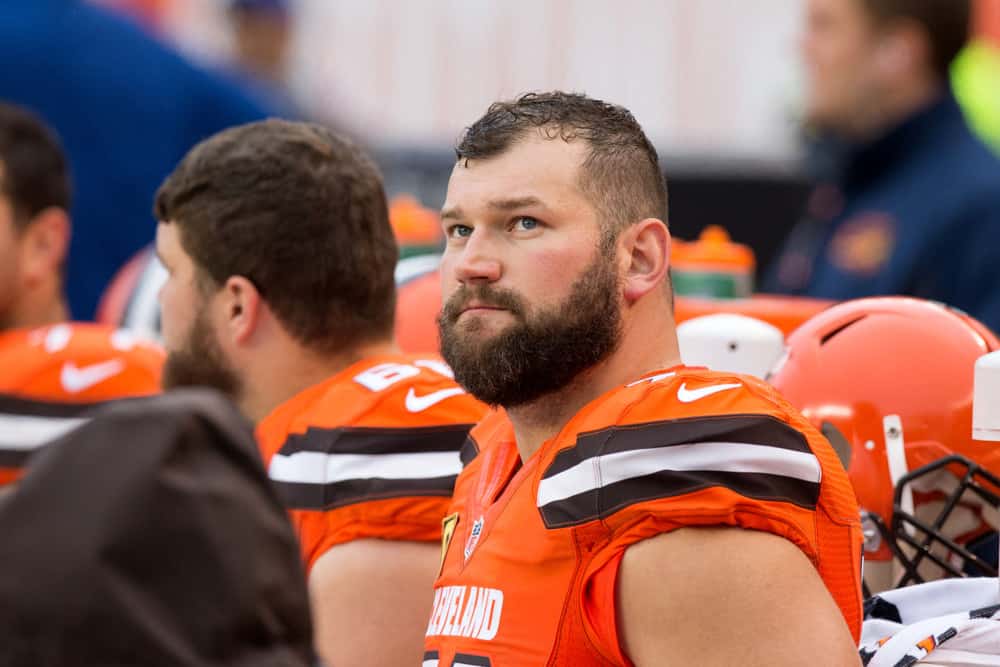 Joe Thomas is proving to be a titan in retirement and full of surprises.
Fresh off his impressive run on NBC's The Titan Games, Joe is diving into another enterprise.
@Browns Joe Thomas wanting to buy a share of the New York Mets is the strangest thing I've seen today.

— Dean Schleicher (@DeanSchleicher) July 13, 2020
Thomas is among the group of investors who recently submitted a bid to purchase the New York Mets.
A world-class entertainer and professional athletes are members of this dream team investment group.
Investment Group
The leading investors are Jennifer Lopez and Alex Rodriguez who are putting up $300 million of their own money in the initial $1.7 billion dollar bid.
This is the power couple's second attempt to buy the Mets.
This time around, they have recruited friends and former athletes to throw their hats (and loose change) into the ring also.
NFL members of this group include Brian Urlacher (Retired – Chicago Bears) , DeMarco Murray (Retired – Current Running Backs Coach at University of Oklahoma), Travis Kelce (Member of Super Bowl Champion KC Chiefs), and Cleveland Browns legend Thomas.
NBA members are Bradley Beal (Washington Wizards) and Mason Plumlee (Denver Nuggets).
And they are leaning on established NFL owners for advice how to proceed.
Jennifer Lopez and Alex Rodriguez are still interested in buying the New York Mets … and they're reaching out to the Kraft family for advice. @MereGorman has more. pic.twitter.com/ra54D5ZkeM

— NESN (@NESN) May 30, 2020
Buying the "Amazins" Ain't Easy Or Cheap
J-Lo and A-Rod's first attempt to buy the Mets at a paltry $1.5 billion was unsuccessful back in May 2020.
At that time, they were partnered with billionaire investor Wayne Rothbaum who incorrectly believed the COVID-19 pandemic would create a fire sale situation so the asking price would be somewhere in the $1 billion range.
He was completely incorrect.
The Wilpon famiy, current owners of the Mets, was hoping to get $2.5 billion for the team.
All ended well because reportedly Rothbaum wanted more control than J-Lo and A-Rod may have been comfortable with if the sale had gone through.
In the end, hedge fun billionaire Steven Cohen bid $2.6 billion for the team, but the deal fell through because Cohen tried to change a key term of the deal.
That key term was allowing Fred Wilpon to control the team during a 5 year transition team.
Buying the Mets – Take 2
Steve Cohen is still in the running the second time around.
Cohen is worth $13 billion so he has much deeper pockets than J-Lo and A-Rod who are reportedly worth $750 million.
Currently, Cohen is the high bidder at $2 billion; however, the Wilpon family would like to sell to J-Lo and A-Rod's groups if the bids are close.
It is unclear if the Wilpons believe $3 million is close enough.
And the second time around they've decided to sell full control upfront, hence no transition period.
Whichever bid is selected by the Wilpons is subject to the approval of 3/4 of MLB team owners.
Given A-Rod's checkered MLB history with steroid usage, who knows how that will go?
Another offer is anticipated from New Jersey Devils and Philadelphia 76ers owners David Blitzer and Josh Harris who are established NHL and NBA team owners.
As a result, Blitzer and Harris are believed to get the most buy-in from MLB owners if the offers are equitable.
One thing is for certain, Joe Thomas has many tricks up his sleeve.
His retirement has been as enjoyable to watch as his playing days.
Even if this deal falls through, we look forward to seeing what else he gets into.