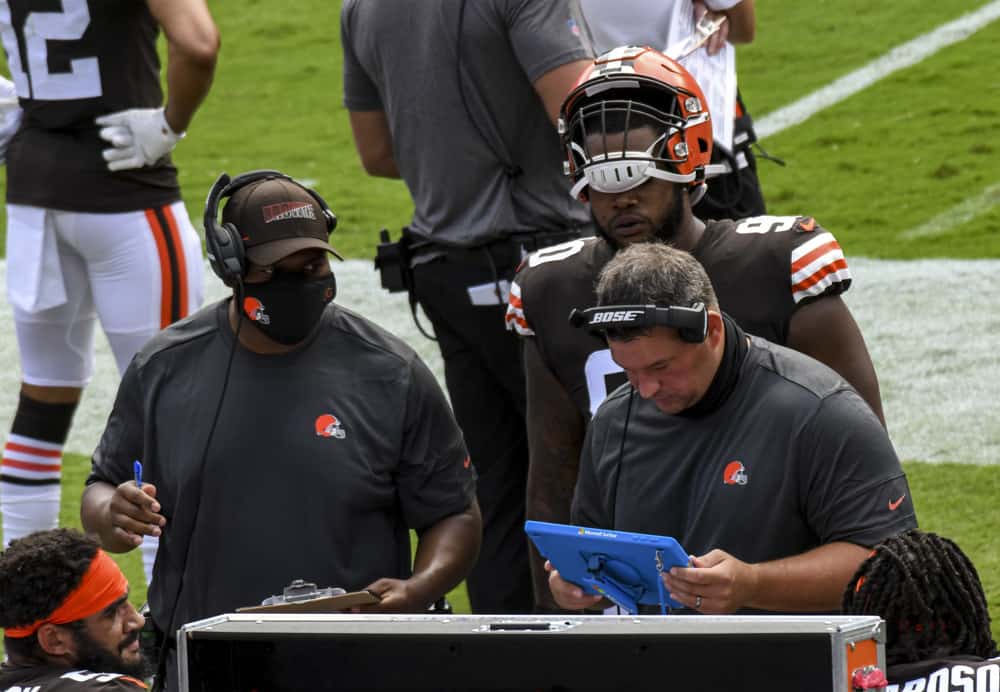 The Cleveland Browns and QB Baker Mayfield will have a new play caller on Sunday night.
Coach Kevin Stefanski has called the plays for every game this season.
Afflicted with COVID-19, the next man up for play calling is offensive coordinator Alex Van Pelt.
While the timing isn't optimal, of course, it is not all doom and gloom.
Here are three reasons to have confidence in Alex Van Pelt's play calling.
1. He Is A Former Quarterback.
Mayfield has to be a little relieved that the substitute play caller is a former NFL quarterback.
There is no one better to step in for Stefanski than a former NFL QB.
He understands the position, the timing, the reads, and all the other nuances in a personal way because he lived them.
Coach Stefanski has talked about AVP's work with Mayfield this year.
In a December 23 press conference he said:
"I don't want that to be overlooked. I think AVP does an outstanding job with our offense in total…I think it goes a long way when you have a guy that's played the position, played in the NFL. Backup quarterbacks have made some great coaches over the years.  It's because these guys understand how to prepare…AVP is a part of every single decision…He's been a huge help to me."
2. He Has Called Plays In An NFL Game Before.
In 2009, Alex Van Pelt called plays for the Buffalo Bills.
If you're wondering, the Bills went 6-10 that year, and Van Pelt and the entire coaching staff found themselves out of work at the end of the season.
His record with a different pool of players is not the important point; it's the fact that he's done it over an extended period of time.
He understands the pace of the game and how quickly decisions must be made.
When asked how he feels about calling plays on Sunday night, AVP said:
"Obviously, it will be a little different. … Nobody calls it the same.  Hopefully, it will be very similar. We've had a lot of success offensively. My hope is, by the end of the game, there's not too many times where he's [Stefanski] yelling at his TV going, 'What the heck are you doing?'"
Alex Van Pelt plans to 'stay true' to Kevin Stefanski's beliefs as offensive play-caller

📰 » https://t.co/711vxIeU8F pic.twitter.com/Km7btkrNwl

— Cleveland Browns (@Browns) January 8, 2021
3. He Has Spent 16 Weeks Beside Stefanski.
It's not Week 1; Coach Stefanski's system has been in place for months.
Van Pelt has had time to study his tendencies and review his decision-making in specific situations.
This is not the same as cramming for an exam the night before it is given.
Alex Van Pelt has been in meetings and working side-by-side with Coach Stefanski for months.
#Browns Baker Mayfield expects a seamless transition with Alex Van Pelt calling plays pic.twitter.com/OQSRJN0bPH

— Mary Kay Cabot (@MaryKayCabot) January 7, 2021
Furthermore, Stefanski's positive test result came out on Tuesday.
That means Van Pelt has spent a lot of long virtual workdays on Zoom with Stefanski preparing for Sunday.
Stefanski himself has said many times this season that the teams most adept at managing COVID-19 during the 2020 season will be the most successful.
We're about to find out on Sunday night just how adept the Browns are.