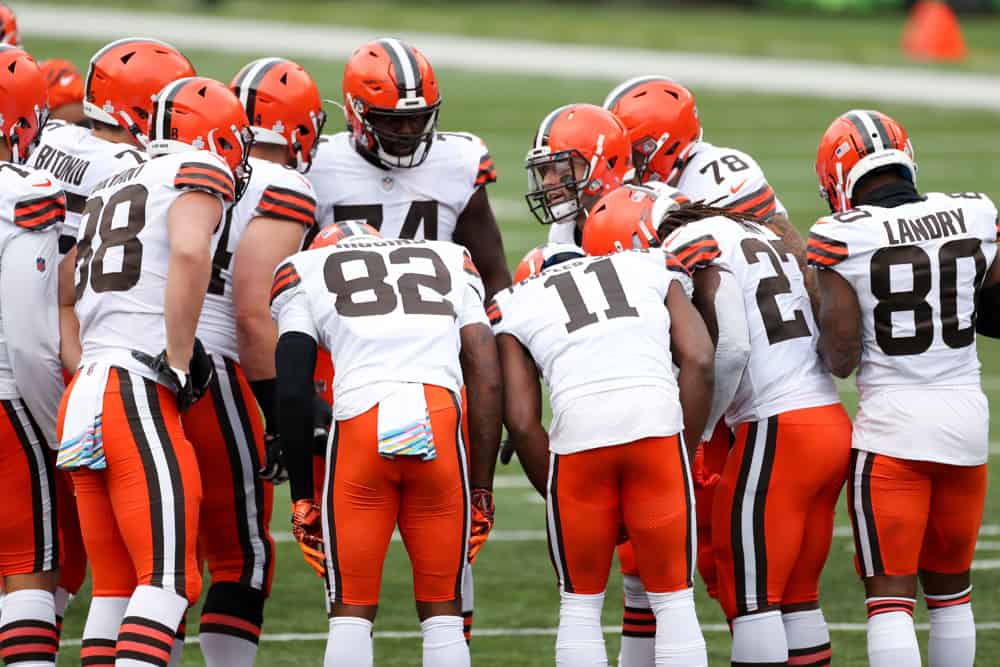 This will not be an easy challenge for the Cleveland Browns heading into Sunday's playoff matchup with the Pittsburgh Steelers.
Sadly, Cleveland will be without head coach Kevin Stefanski and a handful of other players.
Despite that, the Browns still have more than enough weapons to take down the Steelers.
This offense led by quarterback Baker Mayfield has looked strong during the second half of the season.
Although, there are a few players who do need to step it up in this critical playoff game.
Austin Hooper
One of the biggest splashes for the Browns this offseason was the signing of Pro Bowl tight end Austin Hooper.
This was a huge addition to the Browns roster and Hooper was given a massive contract from Cleveland.
QB Baker Mayfield was a primary reason why TE Austin Hooper signed with #Browns. The 4-year, $44 million contract helped too. pic.twitter.com/pXD44AbUeh

— Daryl Ruiter (@RuiterWrongFAN) August 5, 2020
Sadly, the 2020 regular season did not go as planned for Hooper.
Through 13 games, Hooper had 46 receptions, 435 yards, and four touchdowns with Cleveland.
Those are not the kind of numbers that you expect from a two-time Pro Bowl player.
Despite that, Hooper has made some big plays for the Browns this season.
Including, four receptions for 37 yards and one touchdown in the Week 17 win over the Steelers.
Baker Mayfield to Austin Hooper is HYOOGE to Cleveland(-10)…#PITvsCLE #Browns #HereWeGo #NFL
pic.twitter.com/Lk2sJ37UMK

— SBR Sports Picks (@SBRSportsPicks) January 3, 2021
Hooper is a big time red zone threat that needs to step it up in this playoff matchup.
The ability is there because Hooper put up fantastic numbers each of the last two seasons before joining Cleveland.
Honestly, the Browns need to get Hooper more involved in the offensive attack plan.
He was only targeted seven times or more in a single game just three times in 13 games.
Hooper has struggled for most of the season, but needs a breakout game here.
Kareem Hunt
The addition of running back Kareem Hunt was a smart move by this front office.
Obviously, the off-the-field issues were concerning, but there is no doubting his ability on the football field.
Cleveland decided to give Hunt a chance to prove he has changed and it paid off for them.
These two split carries… 🤯
👇 Final Regular Season Stats.

Nick Chubb 💪
– 1,067 yards
– 5.6 avg
– 12 TD

Kareem Hunt 💪
– 841 yards
– 4.2 avg
– 6 TD#Browns x #NFL pic.twitter.com/JWcTqcjP6u

— BROWNS OR DIE 💀 (@BrownsorDie) January 5, 2021
The two-headed monster of Nick Chubb and Hunt is just something else to watch.
Both players use different tactics to exploit opposing defenses and it works perfectly in this system.
Sadly, the last few games of the regular season were rough for Hunt.
During the last three games, Hunt had 21 rushing attempts for 69 yards and seven receptions for 52 yards through the air.
Those aren't completely awful numbers, but not something you want to see heading into a playoff game.
However, Hunt has been able to do damage even when the ball isn't in his hands.
Can we talk about Kareem Hunt's block on Baker's game-clinching run? pic.twitter.com/dxfOuU1a5m

— Dan Labbe (@dan_labbe) January 4, 2021
The Steelers run defense is strong and held Cleveland in check during their Week 17 matchup.
Although, the great thing about Hunt is that he can get it done both on the ground and in the receiving game.
Cleveland needs to get creative and do some trick plays or screens to get Hunt more involved.
Getting a big performance out of Hunt would go a long way to getting the win versus Pittsburgh.
This won't be an easy task, but the Browns have been waiting a long time to play postseason football.