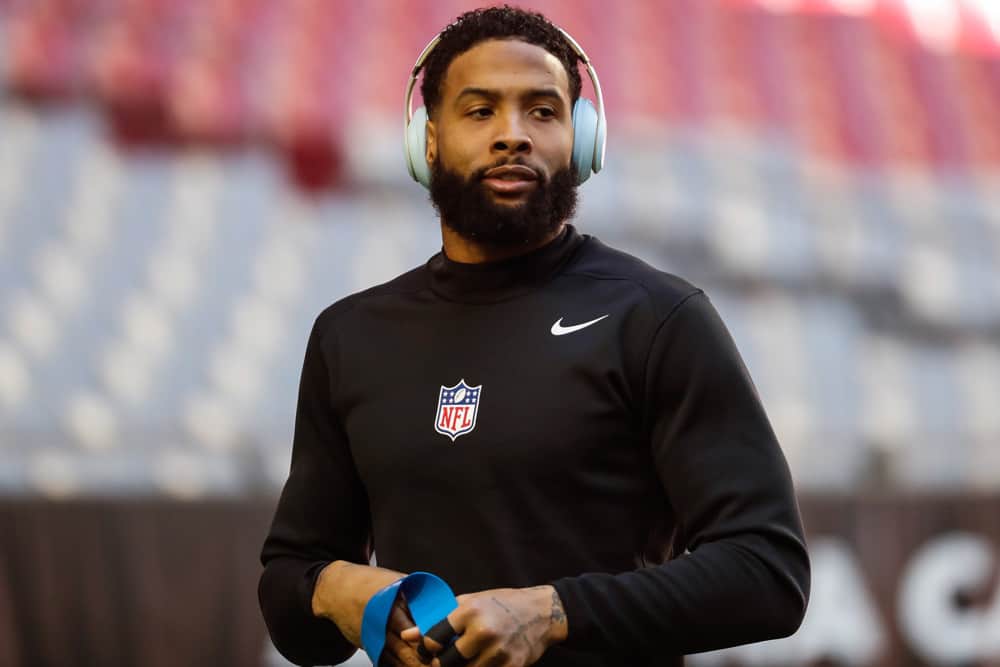 It was a difficult 2020 NFL season for Cleveland Browns star receiver Odell Beckham Jr.
On October 25, 2020, while trying to make a tackle after an interception in a game against the Cincinnati Bengals, Beckham suffered a torn ACL ending his season.
Although it has been a disappointing season on the field for Beckham, he has been comforted off the field by his girlfriend, Lauren Wood.
Who Is Lauren Wood?
OBJ girlfriend ain't fine because she got loose curls and she mixed with light skin

Lauren Wood fine because she fine.

Look at her face pic.twitter.com/5NRbledrAa

— SHOW Y'ALL RECEIPTS (Morpheus ∀ The BⒶsed Pluto ∀) (@TheBasedPluto) September 18, 2019
Lauren was born on March 13, 1993 in Texas.
She has two sisters.
Lauren first became known when she appeared on the MTV improv-comedy show, Wild 'N Out, in 2015.
She appeared in the sixth and seventh seasons of the show.  She was voted as the favorite girl on the show by fans of Wild 'N Out in 2015.
She has also appeared on the television show, Ballers, in 2019.
Lauren has over 1.4 million followers on Instagram.
When interviewed in 2018, Lauren said that the key to having followers is posting every day, having "constant engagement", and "giving tips" (in the areas of "fitness, fashion, health, natural beauty").  She described herself as both a model and an actress.
She has become an influencer for several companies, including Fashion Nova, Pretty Little Thing, Hot Miami Styles, and Novex Hair Care.
Lauren has also collaborated with other influencers.
She jumped out of an airplane, skydiving with Jena Frumes, and did a Best Friend Tag video with Jacky Oh.
She is an expert in fitness training, working on every part of her body with targeted exercise routines.
She also is concerned with safety during workouts, emphasizing the importance of both warming up before workouts and stretching after training.
Lauren has said that she is an excellent cook.
Her nickname is "Lolo".
In an Instagram post on July 14, Lauren expressed her desire to help others.
"I feel like a lot of people can agree with me when I say this, certain life events occur that trigger a deeper realization.  I love unplugging when necessary and with everything that's been happening in the world & timeout forced on us, it gave me a chance to really think about whats next for me.  Im blessed with health & people I love, but still feel unfulfilled, like I know I can do more.  I've been inspired by so many ppl and have been motivated lately to get back on social media, use my platform to spread love and do my part to impact people in a positive way.  Im focusing more on having a defined purpose for anything I do especially if the result is helping others."
In describing herself, Lauren cites Proverbs 31:30, which provides:
"Charm is deceptive, and beauty is fleeting; but a woman who fears the Lord is to be praised."
Before dating Beckham, Lauren dated basketball player Eric Moreland, who played in the NBA and currently plays in China.
She was also romantically linked to boxer Floyd Mayweather, NBA star James Harden, and actor Shemar Moore (with whom she has attended the ESPY Awards).
After privately dating for months, Lauren and Beckham publicly announced their relationship in connection with Beckham's 27th birthday on November 5, 1992.
OBJ and Lauren Wood all smiles in LA last night after leaving a private birthday party at 40 Love ❤️ pic.twitter.com/NhJYQ84Uoj

— Josh (@Yoshi_NY) June 28, 2020
NFL Cleveland Browns WR Odell Beckham and girlfriend Lauren Wood exchanged kisses as they departed the Los Angeles nightspot 40 Love Saturday. OBJ is headed into his second season for the Cleveland Browns this fall. pic.twitter.com/nV8vYAotRx

— Lilian Chan (@bestgug) June 29, 2020
Lauren posted pictures of the couple, including in bed together, and wrote:
"Happy birthday @obj!  Your soul is pure gold.  U know I can write lot about you, but I rather keep passing these love letters. . . . PS this blurry will always be my fave pic of us bc wtf is going on lol yumiii af."
Beckham commented back:
"YUMI . . . I'm riding wit u, I got ur back.  U kno what it is.  LOVE queen!"
Lauren And Beckham together in public
Lauren has been seen at Browns games watching Beckham, including with Beckham's mother, Heather Van Norman.
Odell Beckham Jr. & Lauren Wood Official? Model Poses With OBJ's Mom at Recent Game https://t.co/T4t4wOtqmM pic.twitter.com/USzxMx8sPO

— theJasmineBRAND (@thejasminebrand) November 12, 2019
Beckham's father, Odell Beckham Sr., and brother, Sonny, have also spent time with Lauren.
In December, 2019, Lauren and Beckham were spotted on a date at an Escape Room in Strongsville, Ohio.
Lauren and Beckham were together on New Year's Eve, celebrating the end of year 2019 and beginning of year 2020.
They also attended the Oscars together.
During the coronavirus pandemic lockdown in the spring of year 2020, Lauren and Beckham quarantined together in Los Angeles.
They posted videos together from their pool and home gym.
They also posted a clip of Lauren, as center, snapping a football to Beckham, who threw a pass across the length of a tennis court into a basketball hoop.
@obj dropping dimes 🔥🔥🔥 pic.twitter.com/d3QqNGGezg

— Heavy on Browns (@HeavyOnBrowns) April 17, 2020
The couple recently went on a getaway to Africa.
The question has been asked as to what will happen first – will Lauren get a ring from Beckham before Beckham gets a championship ring from playing with the Browns?
There is no doubt that Lauren's love and support, especially as Beckham goes through rehabilitation from his torn ACL injury in advance of the 2021 NFL season, will spur Beckham on the field and make it more likely for the Browns to win a Lombardi Trophy as Super Bowl champions.