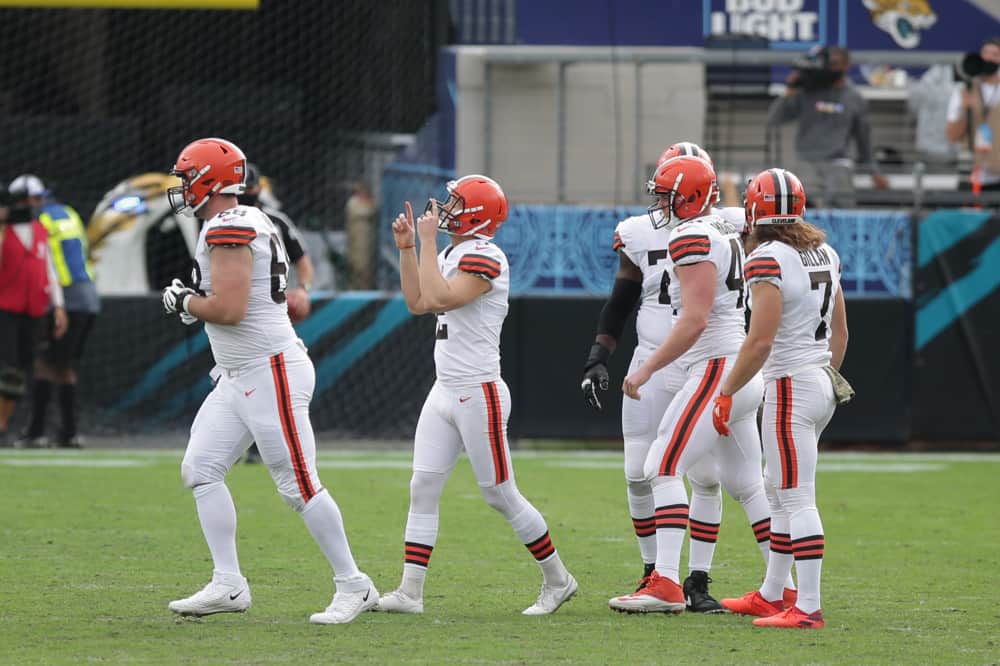 The Cleveland Browns did not soundly defeat the Jacksonville Jaguars yesterday.
A win is a win, even if it is a tight nerve-wracking 27-25 victory.
That being said, let's take a look at two Browns who had big games.
Their stock jumped up considerably after yesterday's performances.
1. Jarvis Landry – Wide Receiver – Offense
Was Jarvis Landry's stock ever down?
Honestly, it has been a little bit.
Ever since OBJ went out, the silent expectations were that he would pick up the slack.
Landry has worked his way back from offseason hip surgery that admittedly took more time and energy to recover from than the rest of us realized because he never misses a game.
#Browns Jarvis Landry said he's still getting healthy following hip surgery in February. He will feel better the further he gets away from surgery. Said use in games will be up to game plan of coaches.
Wasn't listed on injury report Wednesday.

— Scott Petrak ct (@ScottPetrak) September 10, 2020
And during the Colts game in Week 5, Landry suffered two cracked ribs.
So prior to yesterday, Landry's stats through 10 games were 38 receptions for 471 yards with no receiving touchdowns.
Against the Jaguars, he scored his first receiving touchdown of the season and had 8 catches for 143 yards.
Bless em'

Jarvis Landry scored his first TD of the season 🙌

— Everything Cleveland (@EverythingCLE_) November 29, 2020
It was Landry's first 100+ yard receiving game of the year.
The previous two games he had 5 catches for 52 yards.
We know Landry can play, but it appears he is healthy now and we should expect more big games from him.
On playing through the pain of cracked ribs, Landry said:
"It hurts, but depending on the play or whatever, at times, it's bearable.  But we've done a good job of making sure that I'm getting protection here throughout the week and then making sure that I cover it up and do whatever I need to do to play on Sundays."
Coach Stefanski talked about Landry after the game yesterday.
"He does whatever it takes to win. You can find a ton of clips of him blocking down the field and finishing his guys. When he gets his hands on the ball and he has strong hands — the one catch he made when we were backed up was incredible — he does a great job with the ball in his hands. He is a guy I really love to coach because he wants to be coached, he wants to be great and he also wants the team to win."
2. D'Ernest Johnson/Cody Parkey – Returner/Kicker – Special Teams
This may be a surprising choice, but D'Ernest Johnson took 3 kick returns for 93 yards against the Jaguars yesterday.
With an average of 31 yards per return, his stock is rising at just the right time.
Playing Tennessee next week, the Browns will need a short field and good field position to create more scoring opportunities.
As for Cody Parkey, he has been extremely consistent, missing only one extra point and two field goals in 2020.
Against the Jaguars, he made three extra points and two field goals, scoring 1/3 of the Browns' total points.
8th make of the season from 40+ for Cody Parkey.

Browns 20, Jags 19

— Andrew Gribble (@Andrew_Gribble) November 29, 2020
Everyone knows going into the playoffs, solid special teams play can make the difference between winning and losing.
Ironically, Cody Parkey has lived it when his "double doink" kick cost the Bears the wildcard win against the Eagles in the 2017 playoffs.
Maybe he will get to redeem himself in the playoffs for the Browns in 2020.
Honorable Mention – The Entire Cleveland Browns Defense
The grit and guts of the entire defense earns them honorable mention.
When everyone thought their stock would go down without Myles Garrett, Denzel Ward, and others, they managed to hold it together to gain 2 wins.
Were they perfect?
No, but they banded together, kept the ship floating, and patched the holes as they went along.
Olivier Vernon and Adrian Clayborn stepping up to the plate with Myles Garrett out. Back to back sacks. Love to see it. #Browns

— Camryn Justice (@camijustice) November 22, 2020
Garrett who watched from home while recovering from COVID-19 praised his teammates.
My dawgs balled out today 🤞🏾🔥 https://t.co/WXvLzj89dg

— Flash Garrett ⚡️ (@MylesLGarrett) November 22, 2020
Hopefully, all facets of the game will continue to play big as the Browns take on the Titans next Sunday.