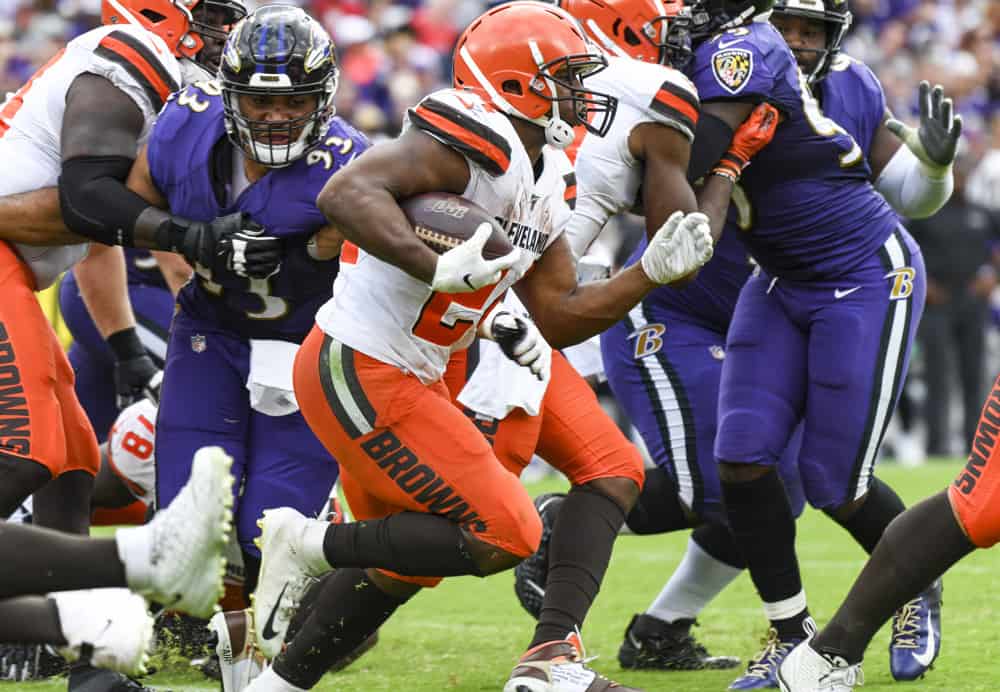 Baker Mayfield and Myles Garrett lead the Cleveland Browns into Baltimore to take on the Ravens this Sunday.
And it can't happen soon enough.
One of the strangest offseasons in history is behind us and fans are ready for some football.
The wait is almost over 🕑

📸's » https://t.co/3ELhvXbtzF pic.twitter.com/3BHAWr2KXu

— Cleveland Browns (@Browns) September 7, 2020
Even with Covid rules quieting bars and stadiums, kickoff brings a modicum of normalcy to a weird year.
And what can be more normal than every pundit and fan making bold predictions of what will go down?
Here are 3 bold predictions for the Browns versus Raven in Week 1.
1. All That Defense… And No Sacks
Myles Garrett became the highest-paid edge rusher in football this year.
Olivier Vernon is healthy and the Browns hired Joe Woods away from one of the strongest defenses in the league.
Baltimore added Calais Campbell and Derek Wolfe to rush the passer and got stronger in the draft.
Cleveland retooled their offensive line, but there are mixed expectations of their first game experience.
5 Days! #D4L #ClevelandBrowns pic.twitter.com/vARu6XWfHR

— Alicia wears a mask (@AliciaR101) September 8, 2020
But Kevin Stefanski's zone-blocking scheme coupled with plenty of motion and play-action will keep Mayfield upright.
Lamar Jackson is known to be a bit mobile, too, and his post-game jersey will be as clean as Mayfield's.
That's not to say either passer will have time for a cup of coffee while looking downfield.
But each offense has enough options for the quarterbacks to deliver the ball before they are taken down.
This doesn't mean Browns fans should worry about Garrett or their defense.
The sacks will come in future weeks.
2. Linebackers Stop Ravens Rushing Attack 
Much has been made about the dearth of linebackers on the Browns' roster.
Base nickel defense and heavy use of dime packages are what we expect from Joe Woods' unit.
But there are a few players who won't let us forget linebackers exist.
Middle linebacker B.J. Goodson returned to practice today. Jacob Phillips said Goodson is among the veterans from whom the rookie is taking "gems" as he listens and learns about four months after being drafted in the third round out of LSU. Photo courtesy of the Cleveland #Browns pic.twitter.com/dQz9JL3wrE

— Nate Ulrich (@ByNateUlrich) September 1, 2020
BJ Goodson had a very good camp and is chomping at the bit to hit somebody for real.
Cleveland's middle linebacker will rack up double-digit tackles and hold up against the pass.
Sione Takitaki and Tae Davis will get theirs as well.
Cleveland will mount a stifling ground defense on the way to a sub-100-yard rushing day for Baltimore.
Along the way, one of the linebackers will account for the Browns' first defensive takeaway.
3. Leading Receiver: Rashard Higgins 
Odell Beckham Jr, Jarvis Landry, Austin Hooper… who will lead the Browns in receiving come January?
Pundits and fans can continue that debate as the season continues on.
But today, it is Rashard Higgins.
Rashard Higgins: "There's no place like Cleveland."#Browns pic.twitter.com/xm78Ym5mFx

— Tom Withers (@twithersAP) September 7, 2020
The Ravens defense is determined to contain Nick Chubb and the Browns' three main receiving weapons.
They won't be able to shut down the offense completely.
Higgins might not have as many targets as any of the others.
But in a tough trench game, victory will come through the long ball.
And Mayfield will flash the connection he had with Higgins in his magical rookie season.
Three catches are enough to put the Browns' third wide receiver over 100 yards… and on top of the receiving chart.
And the Prediction You Want to Hear: 
Baltimore is the predetermined favorite with Week 1's second-largest point spread.
But don't let that fool you.
Cleveland is ready to put up a fight.
They will pull out a nailbiter in one of the most entertaining games of the weekend.
Baker Mayfield and company answer a lot of the preseason questions in a 23-20 victory.