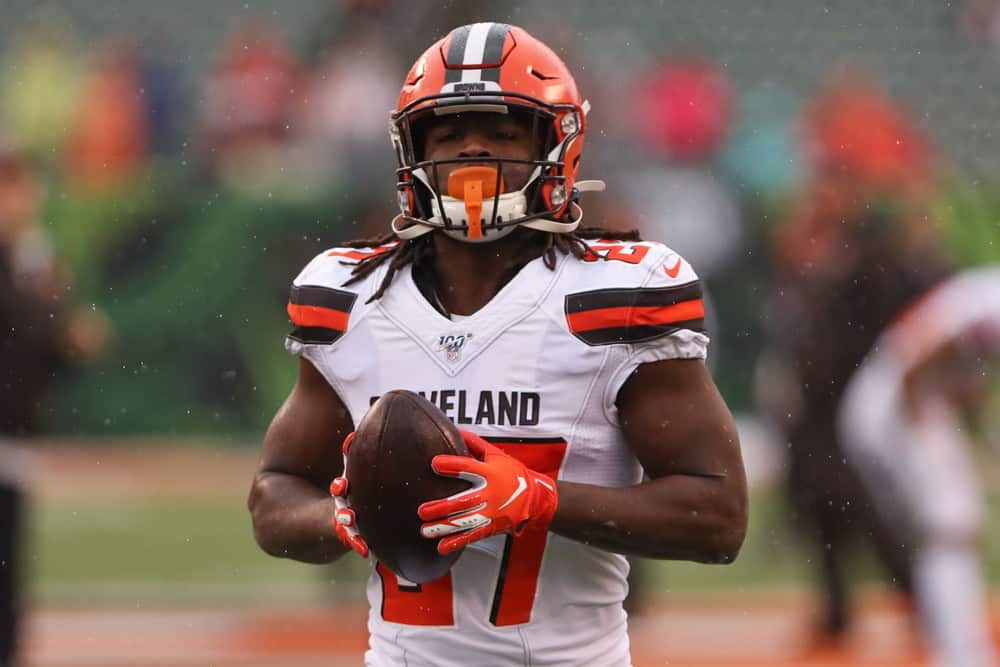 Andrew Berry has been all business this preseason, filling holes and locking up key players.
Add Kareem Hunt to the list of players guaranteed to be with the Cleveland Browns for a while.
The #Browns are giving RB Kareem Hunt a 2-year, $13.25M extension, source said. Cleveland keeps him for 3 years, Hunt gets paid.

— Ian Rapoport (@RapSheet) September 8, 2020
The former rushing champion signed a 2-year extension for $13.5 million today.
Tacked onto his current contract, the deal keeps Hunt on board through the 2022 season.
His deal includes $8.5 million in guarantees.
While the money might pale compared to Myles Garrett's extension, it meant just as much to Hunt.
He posted a heartfelt note on Instagram thanking the Browns management and the fans.
View this post on Instagram
Hunt played football at Willoughby High School in Ohio and went on to star for Toledo.
In his Instagram message, Hunt said,
"Cleveland has always been home to me and putting on the Orange and Brown has been THE dream growing up. Being able to make it official and play my heart out for the city I love for the next few years is a blessing."
What it Means to the Browns and Nick Chubb 
Kareem Hunt's role in Kevin Stefanski's offense has been widely discussed.
Stefanski toyed with the notion of playing him out wide like a receiver or sharing the backfield with Nick Chubb.
Regardless of where he lines up, Hunt figures to be a major part of the Browns attack.
Nick Chubb just missed winning the NFL rushing title in 2019.
But Kareem Hunt took that title as a rookie.
Hunt's role with the Browns saw him used as more of a pass-catching back under Freddie Kitchens.
Kareem Hunt getting resigned is more about Nick Chubb than Hunt.

Chubb a UFA in 2022. Hunt signed for 2022. Has proven he can be a lead back if Chubb goes down or gone.

Not saying Chubb resigning totally off the table but I would say this hurts his chances. pic.twitter.com/RcHFrug2mB

— Derek Brown (@DBro_FFB) September 8, 2020
But it would not be surprising to see Stefanski work him into the running game to spell Chubb.
Whether that leads to controversy or tension in the running backs room is to be seen.
Hunt's contract is definitely team-friendly and offers the Browns some leverage in any negotiations with Chubb.
Analytic experts have downgraded running back values and large contracts have not always panned out.
Cleveland would boast the most dynamic running back tandem for the next few years.
Andrews' free-agent signings have been short term to allow cap space for future extensions.
Nick Chubb's performance warrants a big chunk of that space.
But Chubb could also be allowed to play out his cheap rookie contract and become a free agent in 2022.