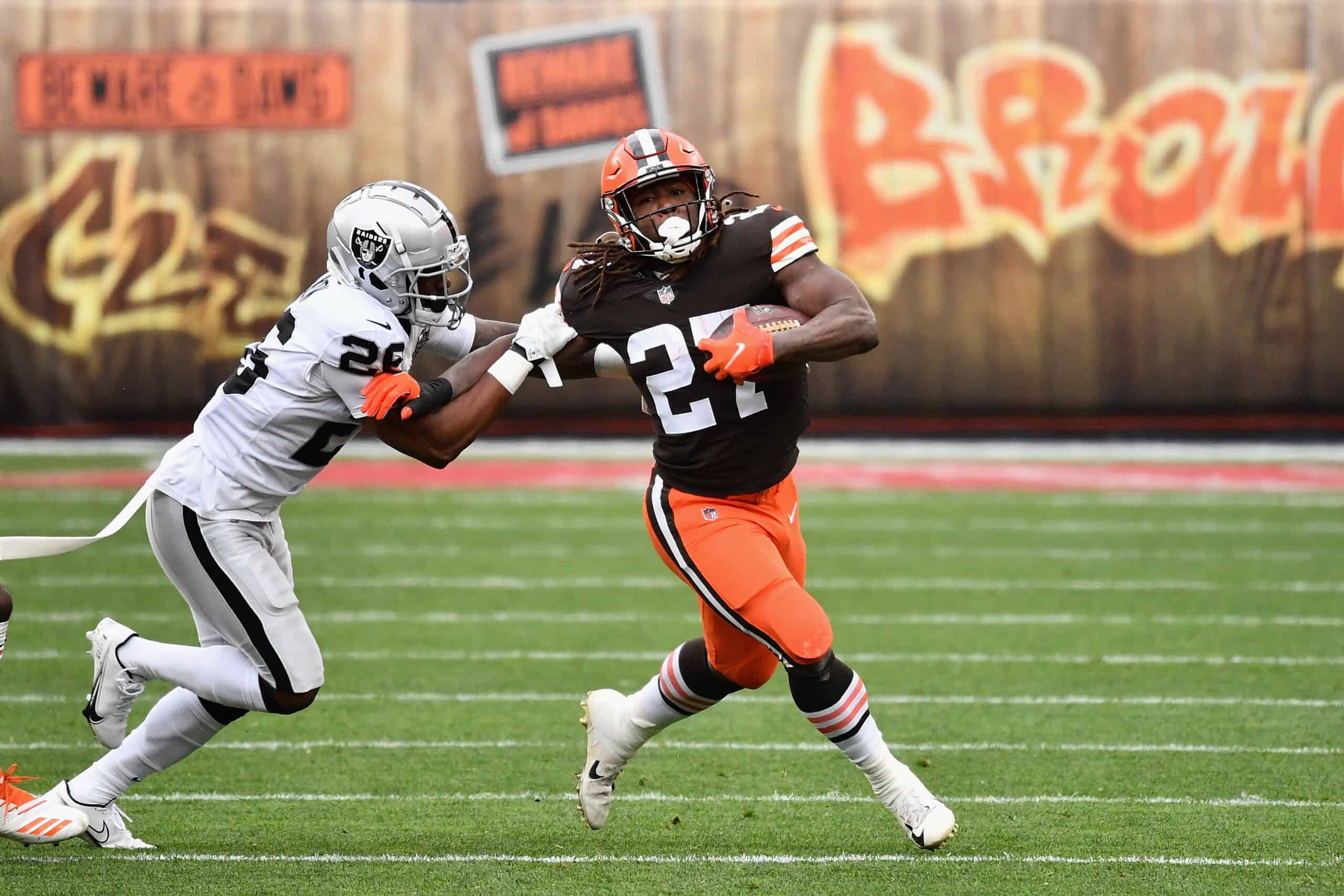 Not everything went their way as far as the AFC playoff standings go this weekend.
But Monday afternoon's game against the Las Vegas Raiders could put the Cleveland Browns in first place.
Baltimore's loss to the Green Bay Packers, coupled with wins by Cincinnati and Pittsburgh, create quite the logjam.
#Browns Will either be in 1st or 4th place in the AFC North after tomorrow's matchup vs. #RaiderNation

Find. A. Way.

— Cody Suek (@CodySuek) December 20, 2021
Beating Las Vegas creates a 3-way tie atop the AFC North between the Browns, Bengals, and Ravens.
Cleveland takes the 3-way tiebreaker with the best head-to-head record among the three.
Pittsburgh lurks just a half-game behind, close enough to take third place over the Browns if Cleveland loses.
Stefanski: "We are embracing this uncertainty."

📼: https://t.co/iS0HVhArEx pic.twitter.com/R9slqvklfi

— Cleveland Browns (@Browns) December 18, 2021
So far, the 2-day delay has not helped the Browns replenish their roster much for the 5 pm game.
The team activated Wyatt Teller Sunday, but nobody else among the list of Covid-positive players cleared protocol.
With a third-string quarterback, a ticked-off opponent, and a fill-in coach, anything is possible come Monday.
And that brings us to 3 bold predictions for the Browns-Raiders game.
1. Browns Have More Passing Yards Than Rushing Yards
Everybody knows Cleveland wins if they run a lot and then run some more.
And Las Vegas is not likely to stop Nick Chubb and D'Ernest Johnson even with a stacked box.
But Nick Mullens has been known to put up quite a few passing yards in his limited career.
In fact, in his first 16 NFL starts, only Patrick Mahomes threw for more yardage than Mullens.
Mullens: "We're here because our coaches believe in us, so it's our job to go prove them right."

— Cleveland Browns (@Browns) December 18, 2021
We don't expect that to be the strategy, with rushing plays easily outnumbering Mullens' pass attempts.
But he will hit a few big ones and a whole bunch of short ones to edge out the rushing game for total yards.
Chubb and Johnson might be on the receiving end of quite a few of Mullens' deliveries.
But it still adds up to 220 passing yards versus 190 rushing yards Monday.
2. Browns Replacement Players Have 2 Takeaways
Things have not been going well recently for Las Vegas.
They lost 5 of their last 6 games, falling behind Cleveland in the AFC Wild Card race.
Rumors were flying that Marcus Mariota could take the start from Derek Carr against the Browns.
But if Carr is feeling some pressure heading into the game, wait until he feels Myles Garrett heading his way.
#Browns LB Anthony Walker Jr. mentions M.J. Stewart Jr., Richard LeCounte III and Jovante Moffatt as replacements at safety with John Johnson III, Grant Delpit, Ronnie Harrison Jr. on COVID list.

— Scott Petrak ct (@ScottPetrak) December 18, 2021
Even without Jadeveon Clowney on the opposite end, Cleveland should be able to generate a pass rush.
And a team full of players filling in for others on the Covid list will fly around with nothing to lose.
We expect at least 2 turnovers for the defense as they continue to make up for their early-season woes.
And they are as likely to come from the likes of Richard LeCounte, Elijah Lee, and Porter Gustin as anyone else.
3. Browns Finally Score on Special Teams 
What better day is there for special teams to finally score than when their coordinator is the acting head coach?
Mike Preifer has been rotating returners like he's still trying them out.
Even with all the Covid list placements, he listed 4 players who might return kicks Monday.
So it could be Donovan Peoples-Jones, Jamarcus Bradley, D'Ernest Johnson, or Demetric Felton.
#Browns Mike Priefer said Demetric Felton, D'Ernest Johnson, Donovan Peoples-Jones and Ja'Marcus Bradley would all be ready to return kicks Saturday.

— Camryn Justice (@camijustice) December 15, 2021
But somebody is going to run back something for the Browns eventually.
And we think it happens Monday against the Raiders.
We'll take a blocked kick or punt return for a touchdown.
But it is more likely that one of the Browns' return men provides a game-turning moment.