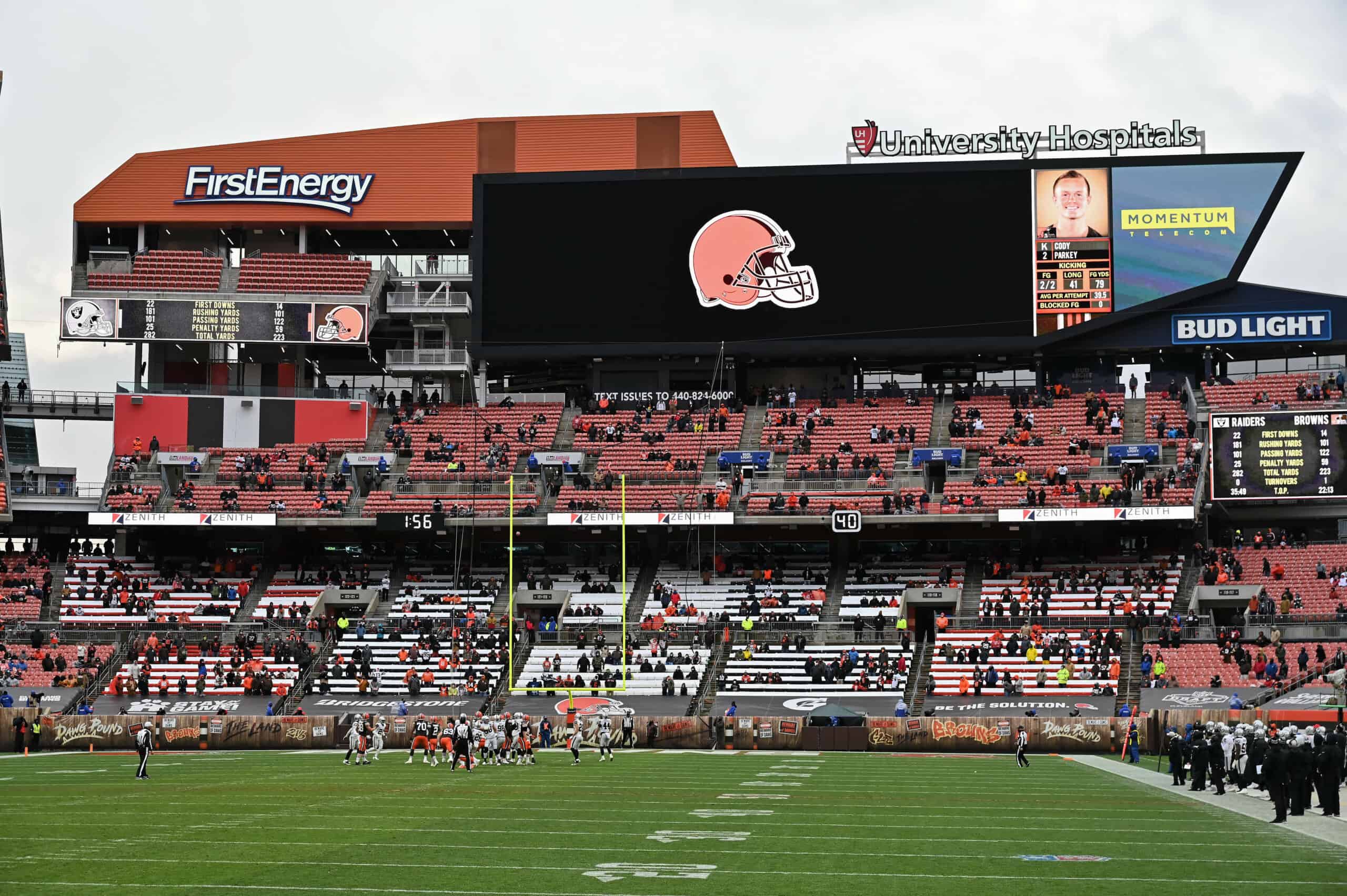 Both the Cleveland Browns and Las Vegas Raiders will be trying to improve their playoff chances when they meet up Monday.
The Raiders enter the game having won 3 straight games against the Browns.
The Browns enter the matchup coming off an important divisional win against the Ravens.
Who will prevail?
Let's take a look at our writer's bold predictions for this Monday's matchup.
Writer: Wendi Oliveros

It will be a challenge to figure out who will be healthy and eligible in the midst of this COVID-tastrophe for the Cleveland Browns on Monday against the Las Vegas Raiders.
It is the Browns vs. the Raiders and COVID-19, and no one knows who will be on the field wearing a Browns uniform at kickoff.
The only good way to end this very bad week is with a very unlikely Browns win in a game that will be ugly and close.
Keeping the Raiders' offense off the field is the key and grinding out a couple of scores could do the job.
Easier said than done, but nonetheless, I am going with a Browns win over the Raiders.
My Prediction: Browns 10, Raiders 7
Writer: Ben Donahue
In a somewhat shocking move, the NFL showed compassion and empathy by moving the Browns/Raiders game to Monday.
The Browns had over 20 players on the Covid list as well as head coach Kevin Stefanski.
Thankfully, the postponement of the game has resulted in Takk McKinley and Wyatt Teller becoming active by Sunday afternoon.
One can only hope that the NFL's new "cycle threshold" metric will see more players off the list by Monday's game.
Unfortunately, Kareem Hunt, Greg Newsome and Anthony Schwartz are on the injured list, meaning more reliance on Nick Chubb and, possibly, D'Ernest Johnson.
The Raiders trot out Derek Carr along with their 18th ranked offense.  Las Vegas did upend the Ravens, Steelers and Cowboys this season.
However, they have also lost five of their last six games.
Las Vegas' defense is absolutely awful and rank 31st in the NFL.
If the Browns don't get a few more of their starters back, this game will be a war of attrition.
Hopefully, what's left of the team can stave off most of the Raiders threats.
My Prediction: Browns 17, Raiders 13
Writer: Pat Opperman

On any given Sunday... or Monday!
Sometimes, life can be so ridiculously unfair and discouraging, all you can do is laugh.
And then go out and take advantage of an opportunity you might never get again.
Cleveland will run players on the field who previously hoped for a spot start in place of resting starters in Week 18.
They'll be on national TV with a chance to win a job next season, somewhere.
Oh! And they might help Cleveland take a big step toward the playoffs.
Richard LeCounte and Javonte Moffat pick off Derek Carr this week and Elijah Lee has 10 tackles.
Nick Mullens goes for 250 and 2 touchdowns to Lawrence Cager and Miller Forristall.
And THAT's why they play the game!
My Prediction: Browns 27, Raiders 25
Writer: Mark Bergin

So much for Saturday football…
The Browns and Raiders will play at 5 p.m. ET Monday after the NFL postponed the Week 15 game from the initial Saturday afternoon kickoff.
The NFL is giving the Browns and Raiders until 2 p.m. ET Monday to activate players off COVID-19 reserve.
It means the Browns could get back quarterback Baker Mayfield and 24 other players in advance of the game.
As of Saturday afternoon, the Browns COVID-19 reserve list has 11 starters, including Jarvis Landry, Wyatt Teller, Jedrick Wills Jr. and James Hudson III.
Some sportsbooks took this game off the board with the Browns' massive COVID-19 outbreak.
However, FanDuel lists Cleveland as 2.5-point favorites.
I know the Raiders have been in a tailspin since Jon Gruden resigned and the release Henry Ruggs III, but I honestly don't know which Browns will play.
The Browns might have to rely on quarterback Nick Mullens to start in favor of Mayfield and Case Keenum.
My Prediction: Raiders 24, Browns 20
Writer: Rocco Nuosci

COVID may have hit the Cleveland Browns roster a bit too hard this week.
With up to 22 players unavailable, including an array of starters, this is an uphill battle all the way for Cleveland.
At one point earlier this week, the Browns were five and a half point favorites on FanDuel.
Now, the line favors Las Vegas by three and a half.
That huge swing tells you all you need to know about where the Browns depth chart is at right now.
The absence of Baker Mayfield and Kevin Stefanski are two giants dents to Cleveland's gameplan.
Expect tons of Nick Chubb, especially with Kareem Hunt out due to injury.
The Raiders, who remain relatively untouched by COVID, should win this one.
The undermanned Browns will show fight as guys try to capitalize on the opportunity.
Ultimately, the brown and orange will fall short.
My Prediction: Raiders 14, Browns 10