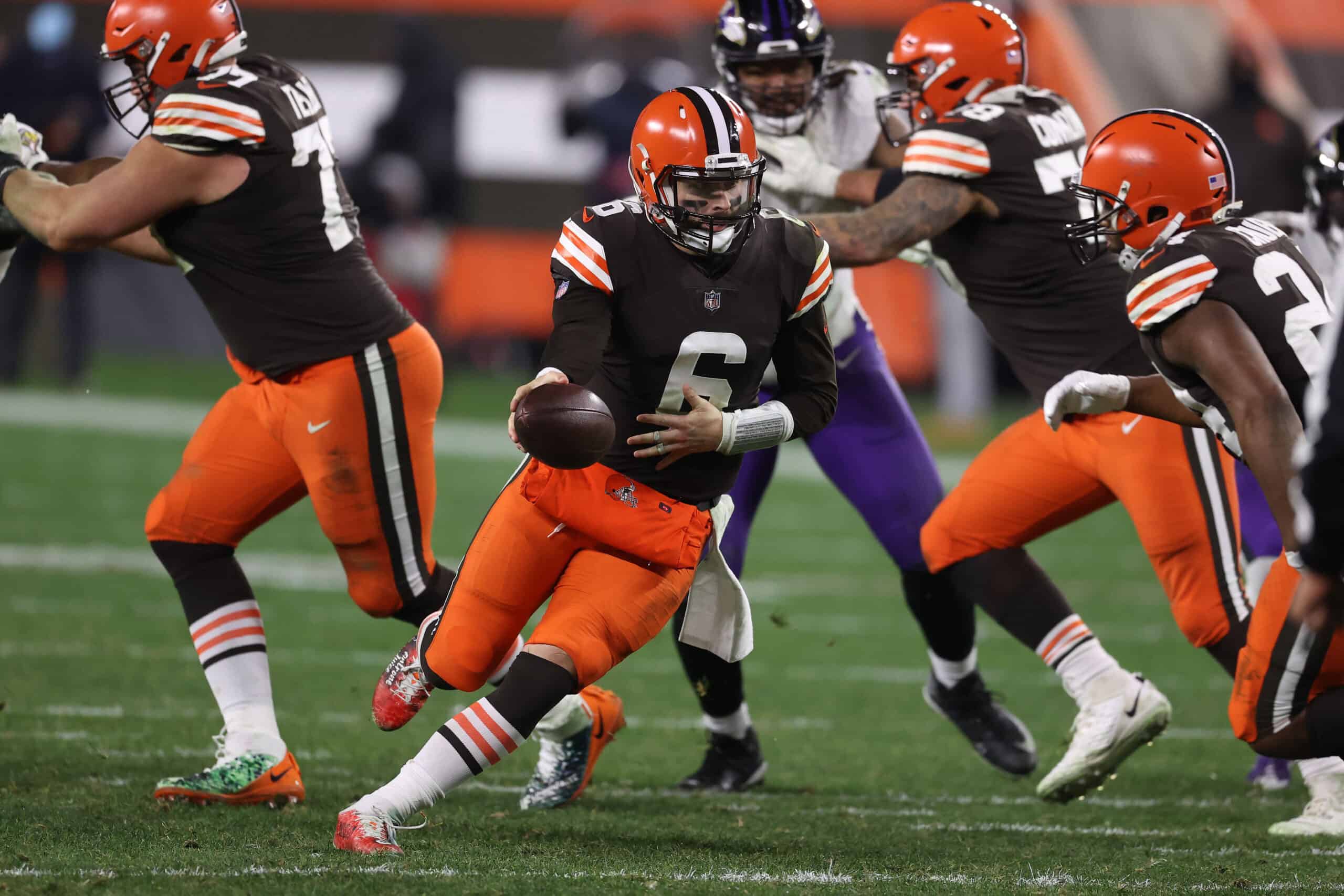 The Cleveland Browns and Baltimore Ravens will play twice over the next three weeks.
Interestingly, the Browns will have a bye week between the two contests.
The Cleveland defense will try to contain the Baltimore offense on Sunday Night Football:
The Browns' defense ranks as the fourth-best in yards allowed
The Ravens' offense ranks as the third-best in yards accumulated
However, points have not been a strong suit for either team this season:
15. Baltimore, 24.7 points per game
16. San Francisco, 24.6
17. Green Bay, 22.5
18. Las Vegas, 22.3
19. Cleveland, 22.2
Both teams finished with more points per game last season.
Could we see an offensive surge for both squads?
This Week 12 game could be the start of the surge:
1. This Game Will Be An Offensive Explosion
Both the Browns and Ravens have seen their offenses underachieve this season.
Maybe these teams can have some of the same offensive magic that they did in Week 14 last year:
Final Score: Ravens 47, Browns 42
Fourth Quarter: Browns 22, Ravens 13
Both teams scored at least six points in every quarter
Lamar Jackson: three total touchdowns
Nick Chubb and Kareem Hunt: two touchdowns each
Just one turnover combined
If we get to see Kareem Hunt, Jack Conklin, and Lamar Jackson on the field for the nationally televised game, there should be another offensive explosion.
Getting Hunt and Conklin back will be huge for the Browns.
Stefanski says OT Jack Conklin and RB Kareem Hunt should be back at practice this week #Browns

— Jake Trotter (@Jake_Trotter) November 22, 2021
Jackson's status seems to be improving as well, but we do not know yet if he will play Sunday:
Harbaugh said he was told Lamar Jackson is feeling better but he hasn't seen Him today.

— Jeff Zrebiec (@jeffzrebiec) November 22, 2021
Let us hope we get to see this game with the teams at full strength because we saw what happened when the teams were not:
Browns 13, Lions 10
Ravens 16, Bears 13
2. Baker Mayfield Has A Bounceback Game
This is a bold prediction: Mayfield is throwing for three touchdowns this week against the Ravens.
He has not done so since his first postseason victory against the Pittsburgh Steelers in January.
This will be the bounceback game for Mayfield.
This needs to be at least a decent game from the Browns quarterback.
In Mayfield's last five games, he has led the Browns to more than 14 points just once.
He needs to get this offense going again.
If he does, then the Browns will be 7-5 and very happy going into their bye week.
3. Kareem Hunt Has A Stellar Return
D'Ernest Johnson filled in for the injured Hunt, but it is time for the Browns' actual No. 2 running back to shine.
Nick Chubb and Hunt need to be the two-headed monster again.
They need to run all over the Ravens at M&T Bank Stadium.
That will happen.
The Browns have the league's best rushing offense:
No. 1 in yards
No. 1 touchdowns
No. 1 in yards per attempt
They put together another 200-yard performance and the Browns get their second winning streak going this season.