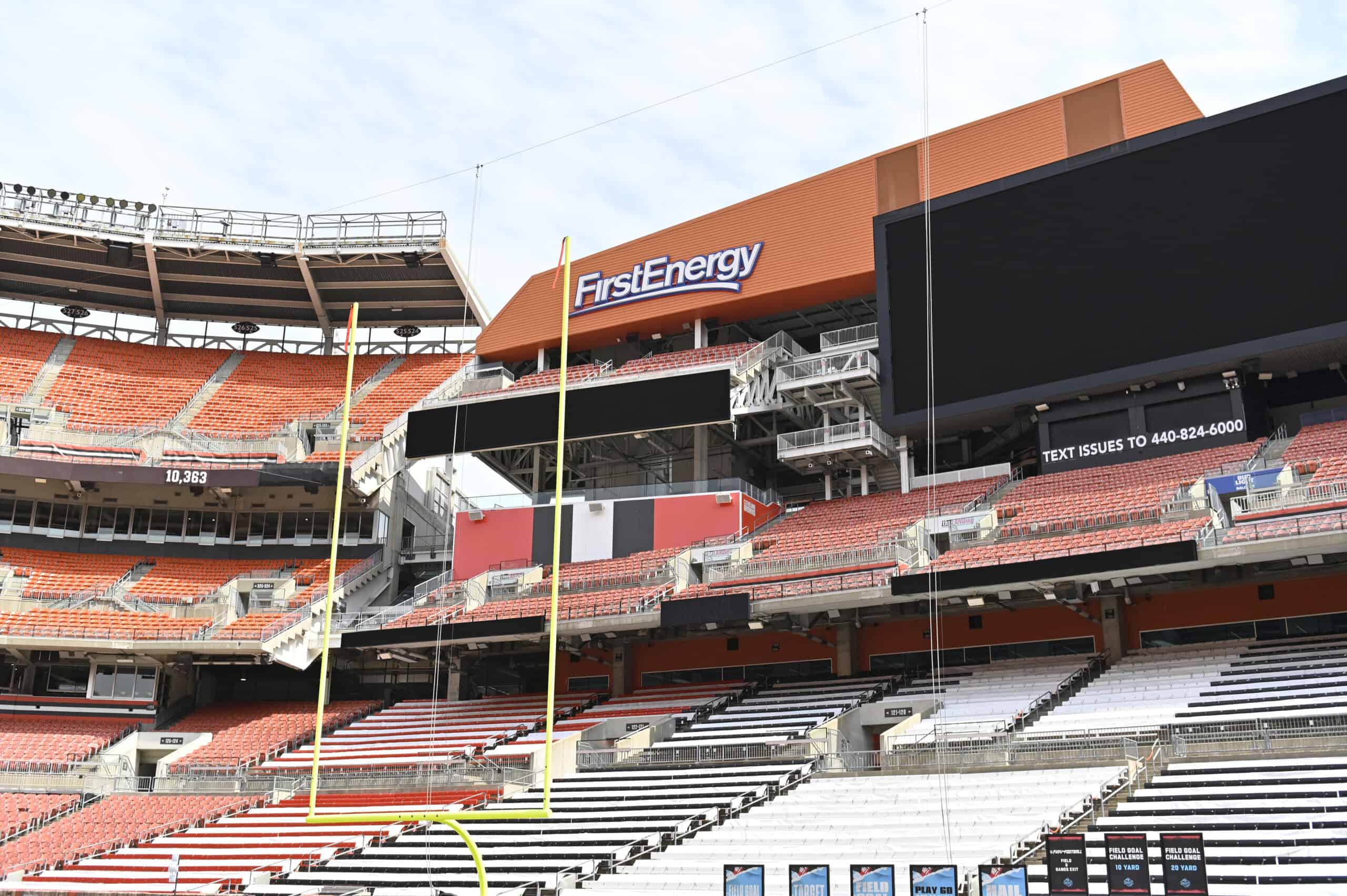 It's about that time of year again for the Cleveland Browns.
They're out there between practices distributing turkeys and helping those less fortunate.
And come Thursday, they'll kick back with family and loved ones to reflect on the question of the day.
Our players and staff giving back to the community for Thanksgiving at the Food Bank. #give10 | @BrownsGiveBack pic.twitter.com/j7Y6h1WrUc

— Cleveland Browns (@Browns) November 23, 2021
That question being, of course, "Why do we have to watch the Detroit Lions every year?"
And while Baker and Myles and Nick banter back and forth about that,
Here are 7 reasons for the Browns and their fans to be thankful this year.
1. Browns Can Be Thankful For Their Health 
Okay… so limbs are still falling off Baker Mayfield.
But Cleveland could have their entire running back contingent and the Week 1 starting offensive line back by Sunday.
Kareem Hunt and Jack Conklin were activated Wednesday and returned to practice.
RB Kareem Hunt and T Jack Conklin have been designated to return

— Cleveland Browns (@Browns) November 24, 2021
Both are expected to be available against the Ravens, meaning the line and backfield are at full strength.
Wide receivers Jarvis Landry (knee), Donovan Peoples-Jones (groin), and Anthony Schwartz (concussion) are questionable.
But it's not like the Browns are using their wide receivers much anyway.
2. Browns Can Be Thankful For The Schedule 
Technically speaking, the Cleveland Browns have the league's most difficult schedule from here on out.
But there are a few advantages, such as their upcoming home and home series against the Ravens.
Because it is not a home-and-home to Baltimore.
The bad news for the Browns: They have the toughest remaining schedule in the NFL, based on opponents' winning percentage.

The good news: the second, third and fourth toughest remaining schedules belong to the rest of the AFC North.

— Ben Axelrod (@BenAxelrod) November 22, 2021
While Cleveland enjoys their bye week between the contests, Baltimore travels to Pittsburgh for another division game.
Speaking of which, AFC North teams play 16 of their collective 27 remaining games against each other.
And that means the division title is up for grabs; well within reach of even the team sitting in last place.
3. Browns Can Be Thankful For the Guardians 
No, we're not talking about the baseball Guardians, nor the roller derby Guardians.
We're talking about Nick Chubb's Guardians of the Gateway to a rushing title.
Anthony Berry extended both Joel Bitonio and Wyatt Teller a few weeks back.
Browns Offensive Line:

-Jedrick Wills – signed through 2023
-Joel Bitonio – signed through 2025
-JC Tretter – signed through 2022
-Wyatt Teller – signed through 2025
-Jack Conklin – signed through 2022#Browns

— Hayden Grove (@H_Grove) November 10, 2021
And he structured the deals in such a way as to maintain current spending levels for several seasons.
In other words, the players got paid without impacting the Browns' 2022 or 2023 salary caps much.
And that means JC Tretter and Jack Conklin can probably stick around if they want to be here beyond 2022.
4. Browns Can Be Thankful For Myles Garrett
Cleveland's defense has been the subject of much criticism this season.
But there has been one constant that gives fans hope for a big play on every snap.
Myles Garrett is locked up for a few more years, and that is something to be thankful for.
Highest-graded defender in the red zone:

Myles Garrett – 93.3 💪 pic.twitter.com/SR2fiI81bE

— PFF (@PFF) November 21, 2021
He is on pace for a new NFL sack record and ranks among the leaders in QB hits and pressures.
PFF ranks Garrett at the top of all defenders on 3rd and 4th down plays, as well as in the red zone.
And there is no indication he'll slow down soon.
5. Browns Can Be Thankful For the Cincinnati Bengals
Cincinnati is a much better football team than they were in recent years.
Joe Burrow and Jamarr Chase spark their offense and the defense is greatly improved.
But the Browns will continue to beat them every chance they get.
PHOTOS: Browns beat down Bengals, 41-16 https://t.co/sN8QY4RhYa

— News 5 Cleveland (@WEWS) November 7, 2021
Over the 4 weeks surrounding Week 9, Baker Mayfield and the Browns put up just under 12 points per game.
In the middle of that offensive malaise, Mayfield dropped 41 on the Bengals without breaking a sweat.
They can keep on impressing with the draft and free agency, but the Bengals are our eternal get-right opponent.
6. Browns Can Be Thankful For The Kid's Table 
Andrew Berry's two drafts have been widely lauded with words like "steals" and "sleepers."
And a quick glance at the Browns' roster bears out those comments.
Every player drafted not only holds a spot on the Browns roster.
I think Andrew Berry has secretly signed up to the full @PFF package

"The Cleveland #Browns are the only team with an A+ NFL Draft grade in both 2020 & 2021"

— Paul Brown 🇬🇧 Browns fan🏈 London News 🎥Vlogger (@PaulBrown_UK) May 4, 2021
But many play important roles or will play those roles in the near future.
Greg Newsome, JOK, Demetric Felton, Donovan Peoples-Jones, Grant Delpit, Jedrick Wills…
It is the kind of roster building that sustains teams over a period of time.
7. Browns Can Be Thankful For the Grownups
Andrew Berry gets a lot of praise for his team-building.
But there are a lot of other executives and teams working in Berea keeping things on track.
When is the last time we heard about arguments or clashes behind the scenes?
Paul DePodesta explains what he does as #Browns Chief Strategy Officer. pic.twitter.com/nzyWXgAzNx

— Jeff Schudel (@jsproinsider) January 14, 2020
Even when it was obvious there was something to debate, no dissension leaked out from the front office.
Paul DePodesta's system and leadership style took a while to gain control of matters.
But Jimmy and Dee Haslam are as calm and unobtrusive as Browns fans have ever seen them.
And that is something to be thankful for.