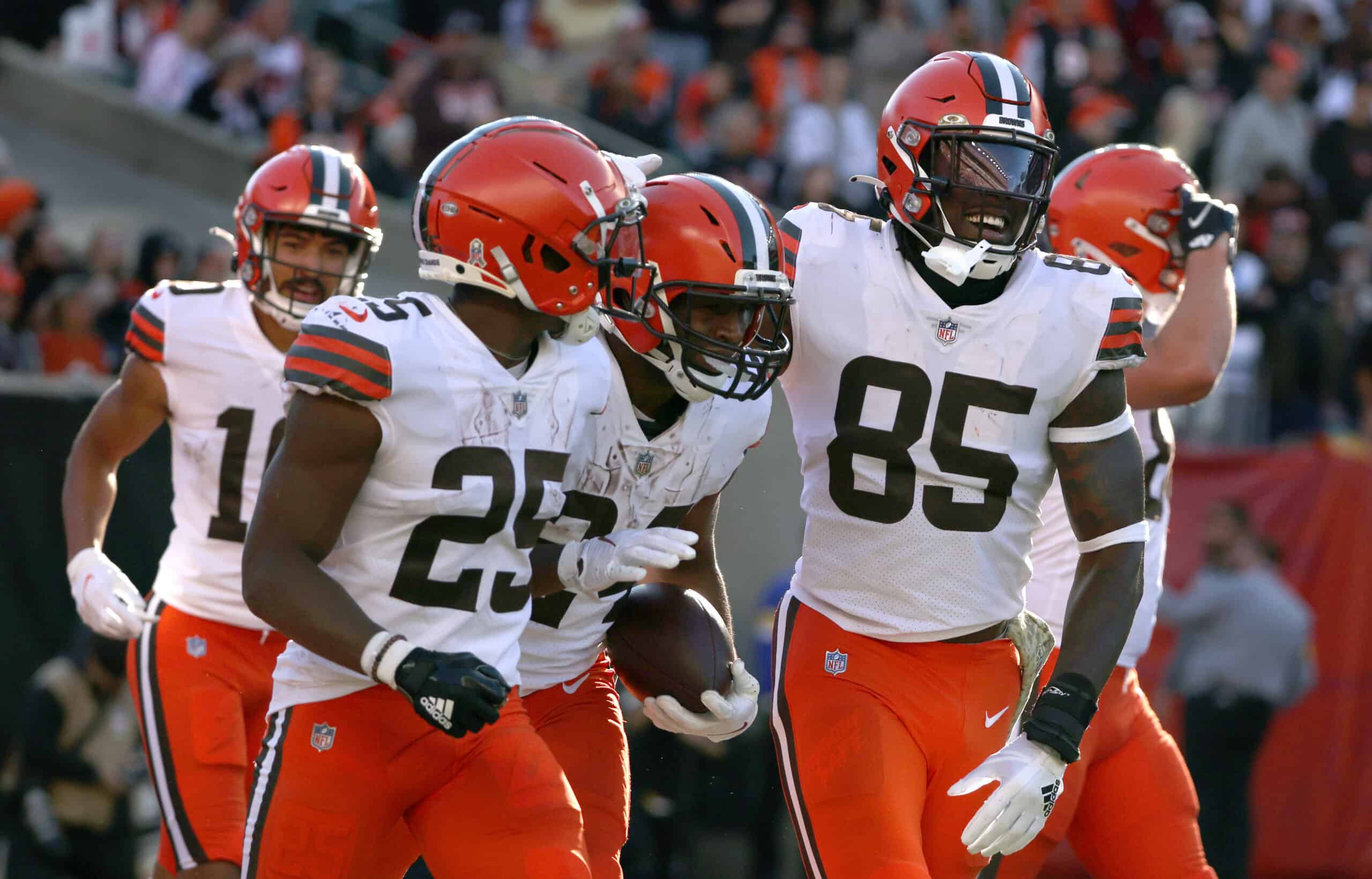 The 5-5 Cleveland Browns are certainly the favorites over the 0-8-1 Detroit Lions in their Week 11 matchup.
The Lions are not to be taken lightly as they nearly beat the Pittsburgh Steelers in Week 10; that game ended in an overtime tie.
Particularly in 2021, any given Sunday the unexpected can happen in the NFL.
Here are three Browns players who could have big games against the Lions.
1. Nick Chubb
The Lions defense ranks fourth in number of rushing yards allowed.
In 9 games, they have given up 1,221 yards which is an average of 135.7 yards per game.
If Nick Chubb is at full health, meaning he has no lingering COVID-19 issues, he should have a big game against this defense.
In the event Chubb is limited because of just coming back from COVID-19, both he and D'Ernest Johnson should collectively run over and through the Lions' defense.
Chubb spoke about his COVID-19 experience after Friday's practice.
"I didn't really have any symptoms. I felt bad maybe one day, but other than that, I felt great…[Last week was] pretty boring. I didn't really do anything. Just hung out at the house."
Chubb also added that he is prepared for a full workload.
"I'm ready for whatever."
It's freezing here in Berea, and this is what Nick Chubb wore to practice. He said he'll be ready for anything Sunday, with the forecast calling for rainy, cold weather for #Browns vs. #Lions pic.twitter.com/dlwYPfxGi6

— Nate Ulrich (@ByNateUlrich) November 19, 2021
2. Rashard Higgins
Donovan Peoples-Jones reaggravated his groin injury.
It is unclear if he will play; however, fans have been waiting all season for Rashard Higgins to have a huge game.
They may get their wish against the Lions.
Higgins has only had 26 targets through 10 games.
He has 14 receptions for 168 yards and 1 touchdown on the season.
His highest yardage gained was against the Minnesota Vikings in Week 4, and that was only 63 yards.
It is difficult to understand why Higgins is MIA this year.
He signed a 1-year contract to stick around for the 2021 season.
Higgins and Mayfield have always had the chemistry that most agreed eluded Mayfield and Odell Beckham Jr.
Why isn't Higgins getting more targets?
Hopefully, I can stop asking that question tomorrow when Higgins has a huge game.
#Browns Alex Van Pelt said that Rashard Higgins' opportunities will come and with Odell Beckham Jr. being gone now, those opportunities should be more frequent.

— Camryn Justice (@camijustice) November 11, 2021
3. Myles Garrett
Sack totals through Week 10:

Seahawks: 15
Chiefs: 14
Myles Garrett: 13
Falcons: 11 pic.twitter.com/6AXazfMGQN

— PFF Bet (@PFF_Bet) November 16, 2021
Garrett has 13 sacks in 2021.
The entire Lions defense has 14 sacks this season.
Remember what Garrett did to Chicago Bears Justin Fields in his first NFL start?
The opportunity is there for Garrett to have a huge game against Lions backup quarterback Tim Boyle.
Assuming that the defense has sound plans and schemes for the game, Garrett should have a huge performance in front of the home crowd.
Conclusion
On paper, the Browns are the more talented team.
Rarely this season have we seen a total team effort that was a dominating performance from start to finish.
If the Browns are adequately prepared, something that was not apparent last week against Coach Bill Belichick and the New England Patriots, this team should have one of those gratifying total team efforts that makes everyone happy when Victory Monday rolls around.
If the Browns come out flat and off to a slow start, there could be trouble.