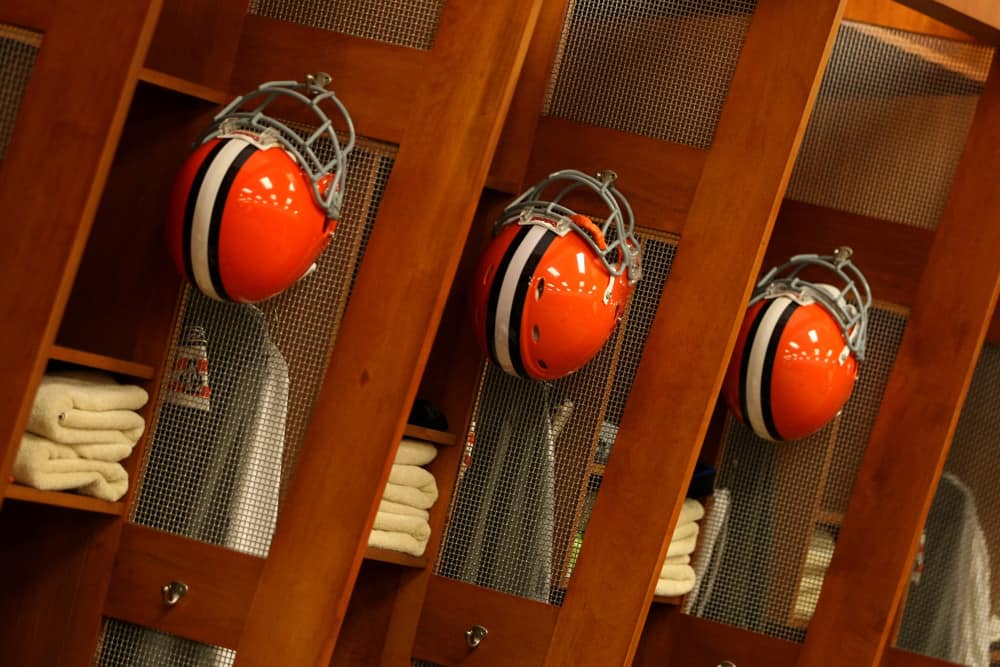 There are high hopes for the Cleveland Browns after a undesirable finish to last season.
The team is working hard during training camp and is ready to prove they can do better.
Sadly, there aren't any preseason games this year, which means players will have less chances to impress the coaching staff.
The injury bug has bitten the Browns fairly hard during training camp, but it hasn't been all bad.
When one player goes down it gives someone else a chance to step up and make an impact.
There have been some surprise names that have really been impressive during training camp this year.
3. Porter Gustin
The Browns signed defensive end Porter Gustin as an undrafted free agent out of USC last season.
The 23-year-old was mainly signed as depth, but put together solid numbers in college.
He recorded 21.5 sacks and 33 tackles for a loss during his 34 careers games at USC.
Last season with Cleveland, Gustin finished with 13 tackles, one tackle for loss, and one sack in six games.
However, Myles Garrett has missed some time during camp, which has given Gustin a chance to step up.
Gustin has been impressive during the live scrimmages and has pushed himself in front of Chad Thomas on the depth chart.
One big moment was when Gustin rushed past left tackle Jedrick Wills for what would've been an easy sack on quarterback Baker Mayfield.
He probably won't see much action on the field during the regular season, but Gustin has quickly made a name for himself.
Gustin could be next in line if anyone goes down on the defensive line at some point during the season.
2. B.J. Goodson
The Browns lost two of their starting linebackers from last season due to free agency.
They went out and signed B.J. Goodson who has four seasons of experience under his belt.
Most recently, Goodson played with the Green Bay Packers where he recorded 37 tackles in 15 games.
That's not too impressive of a stat line, but Goodson has been solid for the Browns during training camp.
He has stepped up and been a leader for the young guys after Mack Wilson went down with an injury.
Middle linebacker B.J. Goodson returned to practice today. Jacob Phillips said Goodson is among the veterans from whom the rookie is taking "gems" as he listens and learns about four months after being drafted in the third round out of LSU. Photo courtesy of the Cleveland #Browns pic.twitter.com/dQz9JL3wrE

— Nate Ulrich (@ByNateUlrich) September 1, 2020
Goodson has made some impact plays during camp and even picked off Mayfield once.
He's mainly a run-defending linebacker, but his coverage has looked good during training camp.
At first glance, the signing of Goodson didn't seem like much, but he could be a key leader for this defense.
General manager Andrew Berry deserves credit for signing Goodson this offseason.
1. Harrison Bryant
Rookie tight end Harrison Bryant has been one of the most surprising stories during camp.
Bryant fell to the fourth round despite an impressive 2019 campaign, but is showing why he should've been taken earlier in the draft.
He already won the Maurice Bassett award for being the most impressive rookie through training camp.
It'll be interesting to see if he can surpass David Njoku on the depth chart before the season begins.
Njoku struggled heavily early in camp, but has played better lately.
The Browns are likely going to keep Njoku ahead of Bryant to start the season, but you never know.
Bryant has been catching everything and running perfect routes during scrimmages.
Worst case, the Browns have a very talented third option at tight end.
Cleveland is going to find ways to get Bryant involved, because someone who that kind of ability needs to be on the field.
His outstanding play during training camp has opened new doors for him as he begins his career with the Browns.