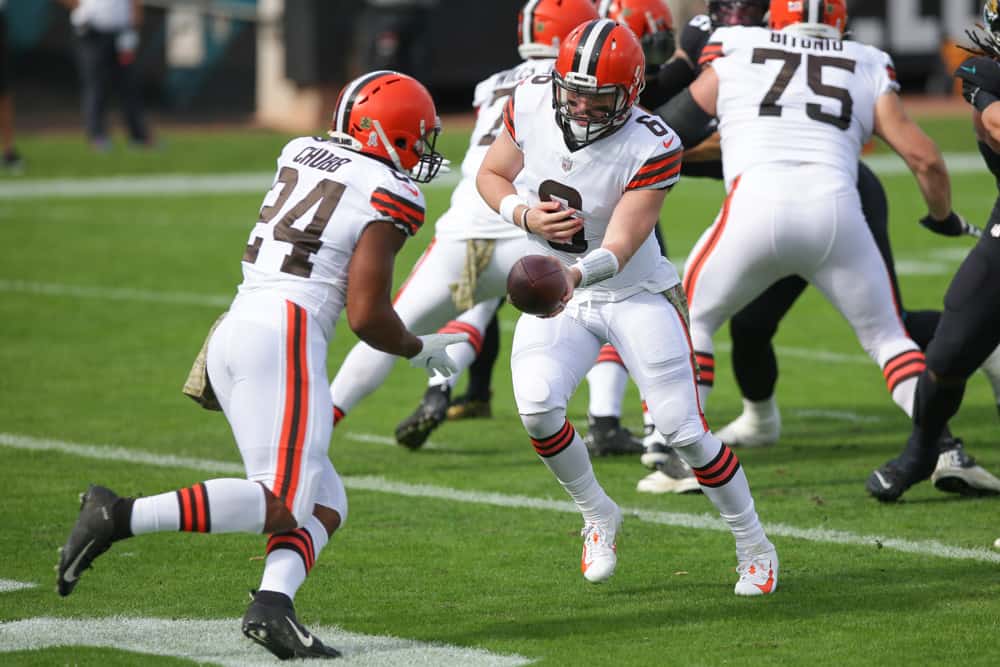 The Cleveland Browns are gearing up for an exciting 2021 season.
Fresh off the heels of excellent free agency and draft processes, the team saw its schedule for the first time yesterday.
The work has begun and with that is a decision about on-the-field leadership including the selection of team captains.
Here are 3 Browns players who should be team captains in 2021.
Spoiler alert: there are no shocking selections here.
1. Baker Mayfield – Quarterback
This is a no-brainer.
He is going into his fourth season after a career-best last year.
More importantly, he grew into the leadership role and has continued it in the offseason.
We have heard from free agents that he is among the first to reach out to welcome them to Cleveland, and we know how much he wants this team to succeed.
This is just for the few of you out there still against @bakermayfield #Browns #dawgcheck pic.twitter.com/wrOeTm98X9

— Ken Galvin (@KennyGalvin) May 13, 2021
On the flip side, he will be the man who gets the blame if the offense does not work as expected so he should be a team captain.
Regarding Mayfield, Nick Chubb said recently:
"He's our guy. He's our quarterback. He's played tremendous for us. He's a great teammate, and a great friend of mine. That's our guy. We'll live and die with Baker."
Nick Chubb agrees with Baker Mayfield for calling out Browns fans trying to recruit Deshaun Watson pic.twitter.com/KWHiJi1LRo

— Sports Illustrated (@SInow) February 5, 2021
2. Nick Chubb – Running Back
The Browns rushed for ZERO touchdowns in games Nick Chubb did not start.

Even with the #1 O line.

Even with Kareem Hunt.

Chubb is replaceable though. pic.twitter.com/AHvRC3jSuG

— Nick Karns (@karnsies817) May 8, 2021
Chubb sets the tone in the locker room and on the field, and his head coach took notice early last year.
"He is a cultural tone-setter. I like everything about him. Just doesn't say much. He comes to work and does his job. There's a way to lead without being a rah-rah guy. You don't have to be making speeches. His teammates are very, very keenly aware when [he's] in the building and on the field. He's about his business and about working. That's something I really respect."
#Browns HC Kevin Stefanski on @BullandFox says Nick Chubb is "a cultural tone-setter. There's a way to lead without being a rah rah guy. His teammates are keenly aware of Nick Chubb when he's in the building."

— Keith Britton (@KeithBritton86) April 29, 2020
3. Myles Garrett – Defensive End
Garrett carried the defense for most of last season and that included when he came back and was not 100% after dealing with post-COVID-19 issues.
With all of the new players added to the defense, Garrett is and should be the leader in 2021.
Coach Stefanski talked about Myles Garrett last October.
"Myles has grown as a person. Everybody knows the production he has provided in games.  He has provided a ton of leadership."
In addition to being an on-the-field captain, Garrett could lead strength and conditioning too.
Myles Garrett is just different 😤

🎥: Instagram/flash_garrett pic.twitter.com/tkhOdinYKt

— FanDuel (@FanDuel) April 20, 2021
2020 Team Captains
If you recall, Coach Stefanski did not name team captains for the entire 2020 season.
He opted to appoint a different weekly captain for each of the 16 games.
"My message to the players is you do not need a C on your chest to be a great leader."
It is not yet clear if Coach Stefanski will adopt the same approach for appointing 2021 team captains.
2019 Team Captains
Former Coach Freddie Kitchens named three captains, an offensive, defensive, and special teams player.
Those players were Baker Mayfield, linebacker Christian Kirksey (now with the Houston Texans), and long snapper Charley Hughlett.