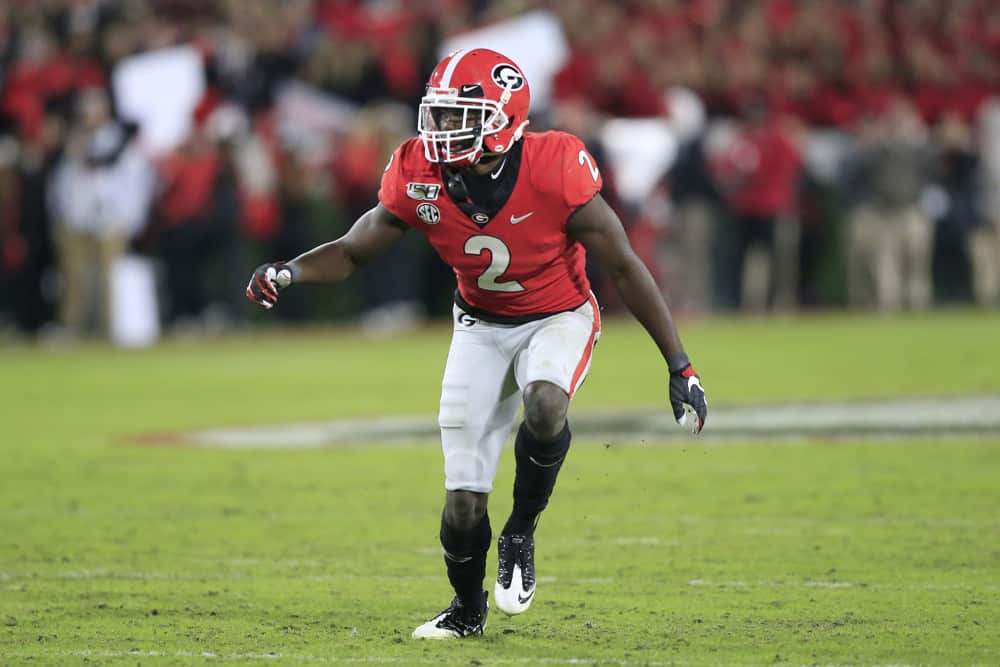 Now that the Cleveland Browns' are a playoff-caliber team, rookies might have a hard time cracking the roster.
Especially if that rookie is tabbed as the worst pick in the Browns' 2021 NFL draft.
NFL Spin Zone's Jarrett Bailey did just that to Cleveland's fifth-round pick, safety Richard LeCounte III.
To be fair, Bailey admitted he was hard-pressed to find anything wrong with Berry's 2021 draft picks.
#LibertyCounty HS (GA) & #Georgia #Bulldogs DB Richard LeCounte III (@LilEasy_35) drafted in the 5th Round, 169th Overall by the #Cleveland #Browns pic.twitter.com/HHYYlOcy4f

— IG: @SleeperAthletes (@SleeperAth1etes) May 1, 2021
And the best he could come up with was that Cleveland already has 3 very good starting safeties.
But LeCounte did fall to the late fifth round (169 overall) despite his top-100 ESPN pre-draft rating.
His poor combine performance, especially a dreadful 40-yard time, was probably the culprit.
LeCounte was still recovering from a serious motorbike accident that cut short his final season at Georgia.
With all that working against him, can Richard LeCounte make the Browns roster in 2021?
Why Andrew Berry Picked Richard LeCounte 
Andrew Berry stated before the draft that he would consider future needs and impact when making selections.
LeCounte appears to fit that mold if you believe what Sports Illustrated's NFL Draft Bible says about him.
SI's signature draft publication gives players a current value and a future value grade.
They took into account the player's combine performance and its apparent relation to his post-accident condition.
Former coaches tell why UGA's Richard LeCounte III will be a steal in the NFL draft
https://t.co/AM6wu5HIrq

— Bulldogs Extra 📰 (@abhsports) April 29, 2021
Even with those factors, LeCounte scored a 6.9, meaning he could make a pro roster, albeit at the tail end.
But then the analysts took into account his film and stats from the 33 games LeCounte started for Georgia.
And that bumped LeCounte's score to 8.8, projected as a solid NFL starter and just shy of Pro Bowl-caliber.
Cleveland expects LeCounte to be 100% before training camp, but Berry knows the Browns can wait if he's not.
Richard LeCounte III pic.twitter.com/1OzVyPRuA3

— Corey Dibiase 💵💰🌴🏖🤙🏾🍊 (@corey_dibiase) March 11, 2021
Eventually, Joe Woods will have what Browns area scout Colton Chapple saw at Georgia:
"He's a guy that plays really well in the post as more of a free safety type," Chapple said. "Excellent coverage skills, plays really well in the zone, plays with great eyes and anticipation and sees the field really well."
At 5'11" and 189 pounds, LeCounte is small, but Chapple listed his speed and power as assets.
Cleveland's scout expects the player to compete on defense and all four aspects of special teams, too.
LeCounte's Competition At Safety 
Richard LeCounte has some work cut out for him if he is to secure a spot on the Browns roster.
Recently acquired John Johnson III will wear the green dot and appears entrenched at free safety.
Grant Delpit has the edge as the third safety in dime and nickel packages alongside strong safety Ronnie Harrison.
Cleveland's pass defense adds a playmaker

The Browns draft LSU safety Grant Delpit with the No. 44 pick in the #NFLDraft pic.twitter.com/0Ts9tivkMh

— B/R Gridiron (@brgridiron) April 25, 2020
Sheldrick Redwine, also more of a free safety, has the most playing time among the other 4 safeties on the roster.
In fact, Jovante Moffatt, Montrel Meander, and Elijah Benton have only one defensive snap among them.
Karl Joseph and Andrew Sendejo, 2020 free agents who saw significant field time, are no longer with the team.
Redwine was active for 15 games last season and was on the field for almost 25% of the defensive snaps.
Former Miami Safety Sheldrick Redwine said playoff INT? I gotchu 😤 pic.twitter.com/Zff26LMGFR

— Saturday Gameday (@SaturdayGameday) January 11, 2021
He was only targeted 8 times, allowing 6 completions for 75 yards, and intercepted one pass.
Redwine also had a 30-yard interception return in the Wild Card game against Pittsburgh.
Moffatt and Redwine contributed to special teams, as well.
But Berry and Joe Woods brought the others back for a reason, and they will all compete for roster spots.
How LeCounte Makes The Browns Roster
Richard LeCounte has to concentrate on getting healthy.
He did not need any surgeries after his accident, but he suffered some serious wounds.
Soft-tissue injuries can take a while to get right and can interfere with muscle memory and flexibility.
At full speed, LeCounte simply has to be the player Colton Chapple saw before the accident.
"If Richard LeCounte III ends up on your favorite NFL team you're getting a heck of a ball player." @denny_thompson mentioned he was a fan of @LilEasy_35 game on @1010XL. https://t.co/CexmMQZcuL pic.twitter.com/Bx0Rqczd3f

— The Sports Den (@sportsDen_live) March 26, 2021
He showed good instincts and range and was unafraid to come down and hit ball carriers.
LeCounte racked up 8 interceptions from the free safety position in 33 starts.
Making some impact plays early in camp will catch the eye of the coaching staff.
Like every draft pick in any round, he can't take anything for granted.
Love this play from UGA SAF Richard LeCounte III. Man coverage against Kyle Pitts. Patient feet, jams Pitts at his break, stays at his hip and makes a nice play on the football on 4th & 1. pic.twitter.com/P84lrDWq6r

— Jared Feinberg (@JRodNFLDraft) September 4, 2020
Even if he is sure he is better than the other safeties on the roster, he needs to be good enough for Woods.
Otherwise, he might find himself sitting behind a last-minute free-agent addition.
But nothing in his history suggests LeCounte will be anything less than a committed and full-charge player.
And there is certainly a roster spot within his reach on this year's roster.