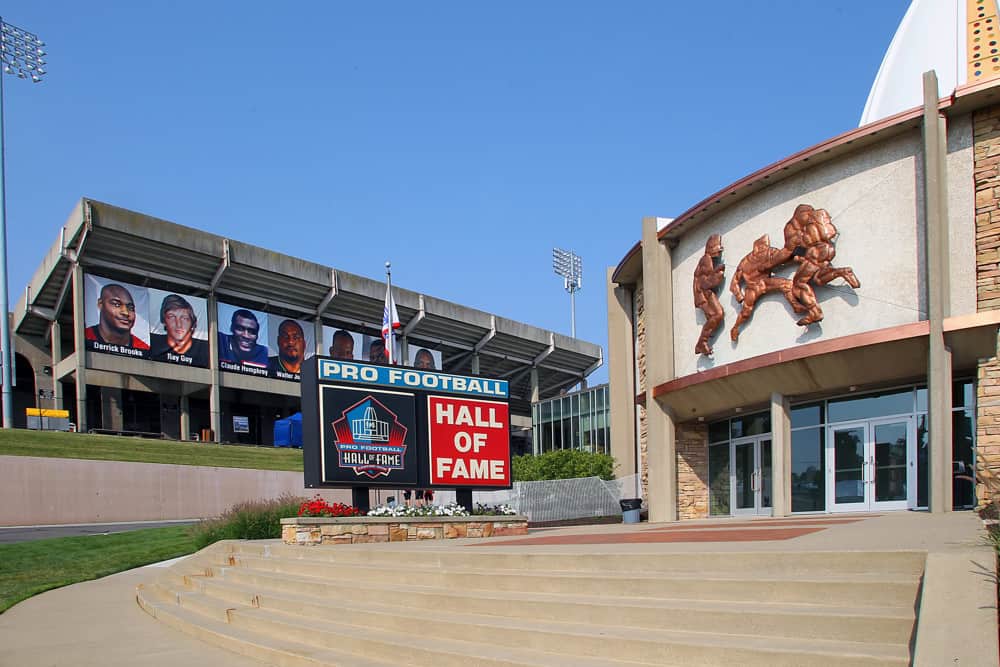 The Cleveland Browns are not an organization that produces Hall of Fame talent frequently.
In fact, the Browns only have 16 players to ever make the Hall of Fame.
Honestly, that is better than some teams like the Houston Texans, who currently have zero.
The Browns might see that number jump here soon with the way some of their players are performing.
There could be a few players on this current roster that make the Hall of Fame when their careers are over.
Myles Garrett
This seems like the most obvious selection out of all the current Browns players.
The Texas A&M product was selected No. 1 overall by the Browns in 2017.
Since then, Myles Garrett has done nothing, but succeed at the professional level.
He has earned himself two Pro Bowl appearances and arguably should've made a third.
Garrett is showing no signs of slowing down and is threatening to opposing offensive lines every time he takes the field.
Myles Garrett can't be stopped 😤

He strip sacks Burrow

(via @thecheckdown)pic.twitter.com/JWQxgQZzVq

— Bleacher Report (@BleacherReport) October 25, 2020
Through four seasons, Garrett has recorded 152 tackles, 42.5 sacks, and 10 fumbles forced.
Those are fantastic stats for a player who has only played one full 16-game season through four years in the NFL.
He should be able to put himself in the top sack list of all time, assuming Garrett continues to play at this level.
Cleveland finally gave Garrett some help in the form of Jadeveon Clowney this offseason.
That should hopefully take some of the pressure off Garrett and possibly he won't get doubled as frequently.
Regardless, he has a good shot at the Hall of Fame, assuming injuries don't derail his career.
Nick Chubb
The Georgia product has been a touchdown machine since entering the NFL.
In fact, Nick Chubb has scored 28 touchdowns through three seasons with the Browns.
He has earned Pro Bowl selections each of the last two years and it's unlikely going to stop there.
Through three seasons, Chubb has recorded 3,557 rushing yards, 28 rushing touchdowns, and 577 receiving yards as well.
Chubb is not known for being a receiving type of back, but has done well whenever Cleveland calls his number.
Every NFL team seems to have an issue stopping Chubb since he joined the league in 2018.
Nick Chubb rushed for 3 touchdowns today including this 88 yard run. 🔥🐶 pic.twitter.com/S7GDs8cgUY

— Everything Georgia (@GAFollowers) September 29, 2019
He continues to be the workhorse back for Cleveland and that's unlikely going to change anytime soon.
The addition of Kareem Hunt was smart by the Browns, but it's not going to take away carries from Chubb.
He'll continue to be a player who gets nearly 300 rushing attempts per year.
There is no doubting he'll be Hall of Fame worthy if he continues piling up the stats like he has through his first three years.
Joel Bitonio
There are plenty of other candidates such as Odell Beckham Jr. or possibly Baker Mayfield or Denzel Ward.
However, left guard Joel Bitonio is well deserving of a look at the Hall of Fame when his career is over.
He is a former second round pick of the Browns from the 2014 NFL Draft.
Bitonio has been a focal point of the Browns offensive line since entering the league.
He has earned himself three consecutive Pro Bowl appearances and arguably should have more than that.
Someone who has become one of the best guards in the entire NFL.
Bitonio has not missed a game for Cleveland since the 2016 season, which is pretty impressive.
This organization has more possible future Hall of Fame players than many might think.
Although, Bitonio is deserving of having his jersey retired in Cleveland and should make a fantastic candidate for the Hall of Fame whenever he decides to call it a career.