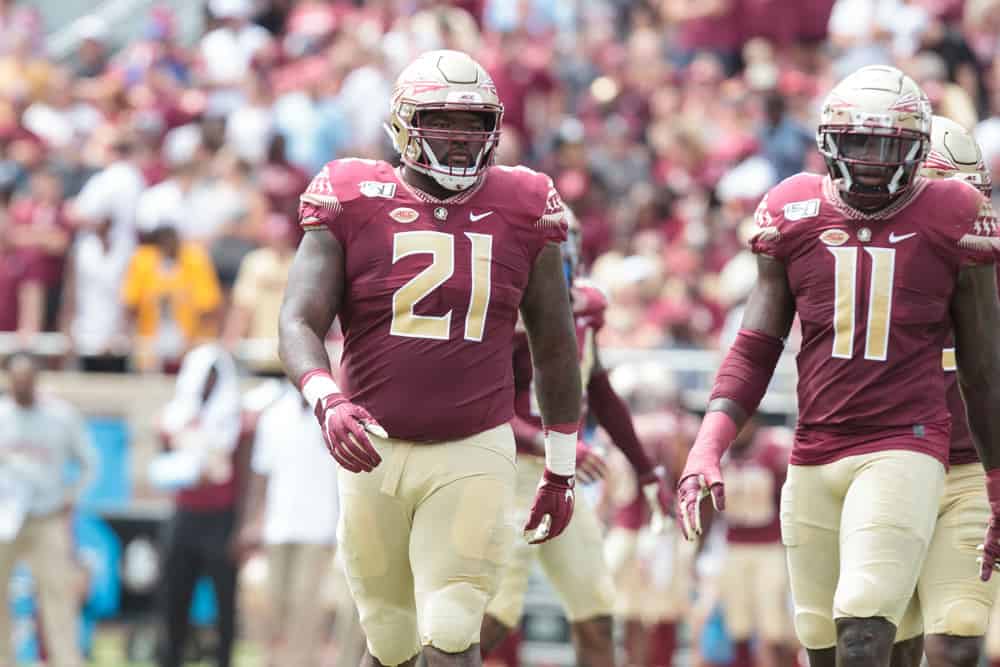 Plenty of writers use the offseason lull to analyze and write about the shifting rosters across the NFL.
Top-ranked players lists, most-improved rosters… the Cleveland Browns are well represented in the conversations.
But five players won't see their names mentioned much.
#Browns 2021 UDFA Signings

RB Tre Harbison
DE Romeo McKnight
CB Emmanuel Rugamba
CB Kiondre Thomas
DT Marvin Wilson

— Brad Stainbrook (@BrownsByBrad) May 3, 2021
Andrew Berry invited this small group of undrafted free agents to join the preseason excitement in Berea.
Of course, each of those overlooked players dreams of sticking around considerably longer.
But the odds are stacked against them as Berry continues to tweak the roster.
Still in all, the UDFAs possess enough skill or ability to have piqued the team's interest.
Which of the Cleveland Browns UDFA have the best chance of making the 2021 roster?
Best Bet: Marvin Wilson, DT 
Florida State University has not been an easy place to play football recently.
Their 2020 woes probably helped Marvin Wilson and wide receiver Tamorrion Terry go undrafted.
But Terry and Wilson did enough to top the list of UDFAs most likely to play in an NFL game this season.
Wilson did not help his case by showing up overweight, fighting with his coach, and then getting injured last year.
Browns UDFA Marvin Wilson: 90.7 PFF Grade in 2019

2nd among all DTs in CFB 💪 pic.twitter.com/vJ2vQjBrVG

— PFF College (@PFF_College) May 7, 2021
But the Browns looked a little deeper, specifically at Wilson's stellar performances in 2018 and 2019.
During his junior season, there was talk of a potential first-round selection in Wilson's future.
An injury cut short that season, too, and while he showed flashes of excellence as a senior, he slid down the board.
But Browns coaches think his earlier efforts are more indicative of what he can do at the next level.
1. Ar'Darius Washington ➡️ Ravens
2. Marvin Wilson ➡️ Browns

@zachtantillo ranks the 10 best UDFA signings of the 2021 NFL Draft ⤵️ https://t.co/G7VaZwNgjj

— PFF (@PFF) May 3, 2021
And with Sheldon Richardson and Larry Ogunjobi out of the mix, the Browns have some openings on their line.
To be sure, veterans Andrew Billings and Malik Jackson are not likely to lose their starting opportunity.
But plans to add to the gameday interior line rotation give Wilson a shot against a 6-player competition behind them.
Jordan Elliott, Damion Square, and fellow rookie Tommy Togiai are the players to beat at this point.
Tough To Bet Against: Manny Rugamba, CB 
Manny Rugamba could be the first Rwandan player in the NFL if he keeps doing what he did in college.
And it would be yet another notable achievement for the player born in a Rwandan refugee camp.
Rugamba wound up in Berea, another of his life's twists, and another chance to beat some serious odds.
There is nothing remarkably athletic about the young man at first glance.
Manny Rugamba becomes the first Rwandan to make it to the @NFL from @MiamiRedHawks to @Browns in #NFLDraft2021.

"Man this means the world to me, I just want to make a difference the best way I know how 🖤. Foreva proud to be Rwandan." Rugamba posted on Twitter.#FactsOnRwanda pic.twitter.com/7PXxiQbTeG

— Facts On Rwanda (@FactsOnRwanda) May 2, 2021
His measurables are not bad, but nothing stands out.
But deliverables are way more important, and Rugamba has never come up short in that department.
In 2019, Rugamba made 65 solo tackles from the cornerback position.
He threw in 11 knocked down passes and 2 interceptions and somehow only won third-team All-MAC honors.
Manny Making It Look Easy 💰

Naperville Central grad Emmanuel Rugamba (@BooRadd_) with a pick-six. #RiseUpRedHawks 🏆

— Gus Ramos (@G1Bound) November 30, 2020
Rugamba was the Defensive Player of the Game in Miami (Ohio)'s 2019 MAC Championship victory.
It is unlikely he will crack the Browns' top four of Denzel Ward, Greedy Williams, Troy Hill, and Greg Newsome.
But after that group, the Browns field a host of unproven talent in the cornerback room.
That they haven't signed another veteran shows the Browns think Rugamba, AJ Green, or the others can step in.
Speaking of the Others
Defensive end Romeo McKnight will compete for a backup edge rusher's role.
But the depth of competition works against him doing any better than a practice squad spot this year.
Cleveland is likely to add a 5th edge rusher to their rotation this season behind Myles Garrett, Jadeveon, Clowney, and Takk McKinley.
Sources: Romeo McKnight has transferred to Charlotte. The DE began his career at Iowa and transferred to Illinois State, where he left this summer. First-team all MVC last year with 12 sacks and 16 TFLs. He's been practicing and will play against Appalachian State on Saturday.

— Pete Thamel (@PeteThamel) September 11, 2020
Porter Gustin and Joe Jackson drew no negative attention to themselves as the 3rd and 4th ends last year.
That gives them an edge, and Curtis Weaver is likely to get a strong look as well.
Cornerback Kiondre Thomas is in the mix with the crowd behind the big four.
He brings a solid resume from good programs to his first NFL preseason.
Minnesota CB transfer Kiondre Thomas. Look for #3 in purple on Saturday! pic.twitter.com/PJbPlP0oeh

— 🏈KSU_90 (@90_ksu) September 9, 2020
But just like the others in a crowded room, he has to do something to stand out among them.
Tre Harbison joins the fray behind Nick Chubb and Kareem Hunt.
Pre-draft analyses of Harbison were all over the place, but Berry liked him enough to give him a shot.
In a short senior year at Charlotte, Harbison got some special team experience to help him out.
These UDFAs all face long odds, but not impossible odds as they pursue their NFL dreams.