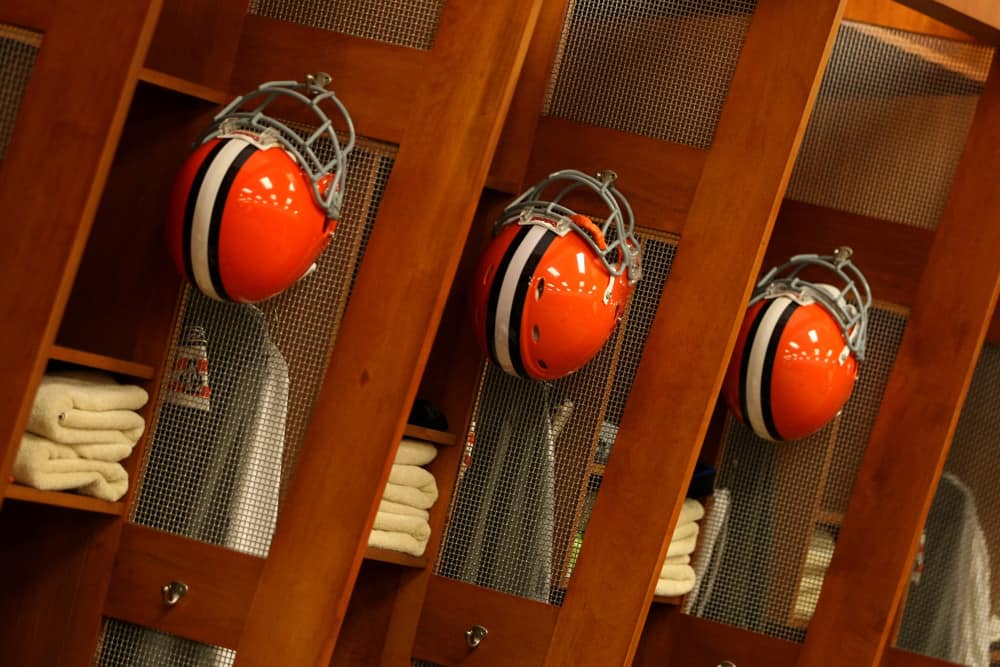 When Andrew Berry stood pat at the trading deadline, he was quick to dispel the notion his team is set.
The Cleveland Browns GM claims he constantly searches for ways to improve the roster.
That being said, as we get deeper into the second half of the season, options are few and far between.
With the defense playing better of late, there is less clamor for change.
Joe Woods adjusted some sets and assignments to minimize exposure of some weak points.
The Cleveland Browns are down another starter on defense. Cornerback Denzel Ward is expected to miss a few weeks with a calf strain…. – https://t.co/b8Rr2VndRj pic.twitter.com/iBnBVhBpH3

— MLB &NHL News Now (@MLB_News247) November 24, 2020
Most notably, he threw a third safety onto the field, allowing Sheldrick Redwine to roam as the free safety and pulling Andrew Sendejo closer.
But with Denzel Ward expected to miss at least a few games, Woods might look for more resources.
At this point of the season, especially with the Covid-screening requirements, the initial answer has to come from the practice squad or the current active players.
By Week 13, however, a free agent can clear protocols and reinforce the Browns defense.
Berry might be content to ride with his team as is.
But just in case, here are 3 free agents who might still help the Cleveland Browns.
1. Ha Ha Clinton Dix, Safety 
Joe Woods seems ready to concede Sendejo is not the answer at free safety.
Redwine did an admirable job when he was thrown into the position as a rookie and in the last two weeks.
But neither player will be considered for a Pro Bowl nod this year.
Ha Ha Clinton Dix was inexplicably cut by the Dallas Cowboys just before the season started.
His name gets bounced around every time an injury creates another opportunity.
Ha Ha Clinton Dix is having a night

He has his 2nd Interception in the game pic.twitter.com/BJ9TScGmvn

— Alabama Diehards (@AlabamaDieHards) September 24, 2019
Over his six-year career, Clinton Dix won praise as a solid and smart player, but without the stats to back it up.
His 16 interceptions are not terrible, and his range is considered his strongest attribute.
We should suspect there is a reason nobody has picked him up even in this Covid and injury-laden season.
But even if Clinton Dix lost a step since his Pro Bowl season, he is smart enough to help a young team vying for a playoff berth.
He says he is looking for a home, and with Grant Delpit looming, it might not be in Cleveland.
But he can help Redwine fine-tune his game while providing quality security at the position.
2. Eric Reid, Safety 
Few people doubt Eric Reid remains a quality option at free safety.
Unfortunately, he comes with considerable baggage when it comes to a segment of NFL fans.
If any team is going to sign the controversial safety, it could be the Browns.
Eric Reid brought the pressure and came up with the fumble recovery 💪 @E_Reid35 pic.twitter.com/SM7m8Moxeb

— The Checkdown (@thecheckdown) September 29, 2019
Cleveland has a long record of civil rights firsts and its locker room is receptive to social activism.
But the reception to Baker Mayfield's "I'll kneel – I won't kneel" preseason declaration could make Berry hesitant.
And Eric Reid didn't do himself any favors by declining to join the Washington Redskins practice squad.
Apparently, Reid expects to join the active roster of any team that signs him.
Despite his inactivity this season and teams being 12 weeks into the playbook, Reid feels time to acclimate on the practice squad is beneath him.
That's why Clinton Dix is my first choice and Earl Thomas doesn't even make the cut.
3. Javien Elliott, Cornerback 
Javien Elliott's name doesn't pop off the free-agent list like Clinton Dix or Reid.
But he comes off a productive season as a slot corner for the Panthers.
If Kevin Johnson proves adequate in place of Denzel Ward, Elliott provides a slot option behind Tavierre Thomas.
Beastly moves by Javien Elliott! pic.twitter.com/93rqafp7I4

— Carolina Panthers (@Panthers) October 13, 2019
Joe Woods finally showed more of his promised dime-heavy defense recently.
Perhaps another slot corner will allow him to continue that trend.
Elliott started 7 games over three seasons with the Buccaneers before his season in Carolina.
He won't come in and take over a position, but he has fresh legs and can spell another corner during a long game.
Other Mentionables
Cleveland has a young team and a new coaching staff probably heading to the playoffs.
The last thing they want is to disrupt the apple cart.
But a positive presence with playoff experience couldn't hurt.
Antoine Bethea provides more locker room and sideline presence than skills, but can still make a play at safety.
How does Dak Prescott not see Antoine Bethea here? He never moves.
pic.twitter.com/fJ0zltE7Mn

— Ralph Vacchiano (@RVacchianoSNY) November 5, 2019
Cornerbacks BW Webb and Cody Sensabaugh have the experience, but a lot of mileage and a few lost steps.
Linebacker Nigel Bradham is a player, but he brings some baggage to the locker room.
Cornerback Eli Apple is bouncing around teams and brings an extensive injury and attitude history with him.
During a season full of injuries and expanded rosters, free agency is not loaded with great options in Week 12.
But Clinton Dix or Reid could spark the defense, while Elliott could blend into an important support role.