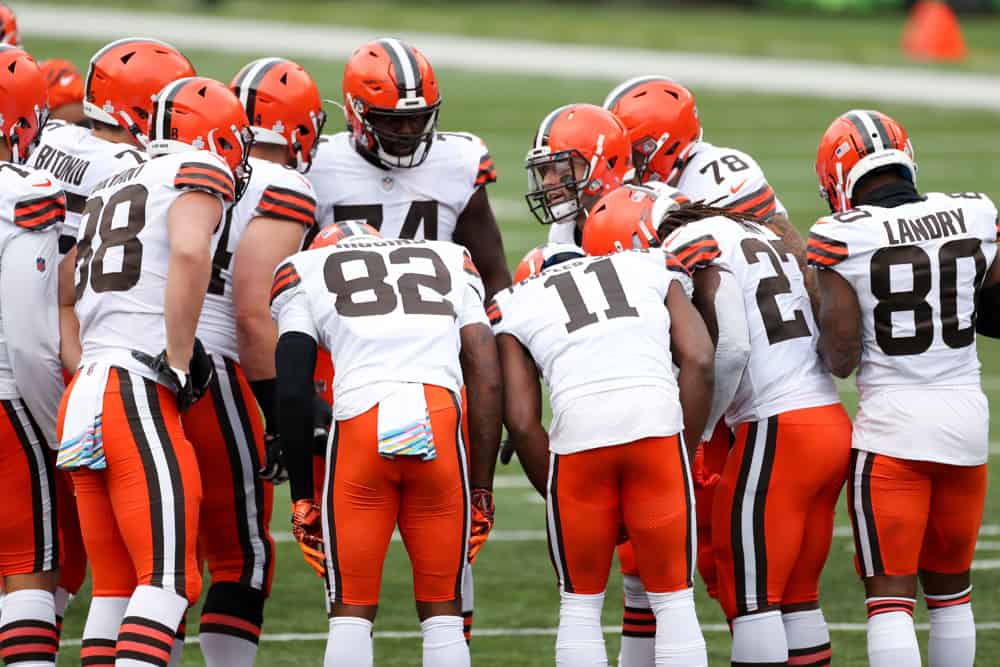 The Cleveland Browns have improved their record to 7-3 on the year after a win over the Philadelphia Eagles.
Now, they head into a matchup against the Jacksonville Jaguars who are 1-9 on the year.
They've lost nine straight games, but that doesn't mean Cleveland can take them lightly.
The Browns will be without both Myles Garrett and Denzel Ward in this one.
Cleveland is going to need some other players to step up and contribute if they want to come home with the win.
3. Jarvis Landry
It has been a frustrating season for wide receiver Jarvis Landry to say the least.
He has not scored a touchdown through the first 10 games of the regular season.
Despite that, the Browns coaching staff is not ready to give up on Landry.
#Browns Alex Van Pelt on Jarvis Landry, who hasn't found the end zone this season: "He'll get in there soon."

— Camryn Justice (@camijustice) November 19, 2020
Over the last two weeks Landry has failed to surpass the 30 yard receiving mark in either contest.
Luckily, he'll get a favorable matchup against the Jaguars this week.
Jacksonville will be without their young stud defensive back C.J. Henderson on Sunday.
That puts Landry in a great spot against a defense that has struggled to stop anyone all season long.
It is time for Landry to step up and show everyone why he is a five-time Pro Bowl receiver.
2. Olivier Vernon
Finally, the Browns were able to get production out of defensive end Olivier Vernon last week.
He came into last game with 16 tackles and two sacks on the season.
Although, Vernon destroyed the Eagles offensive line and finished with four tackles, one pass defended, and three sacks in the victory.
It was a nice outing by the 30-year-old who has struggled heavily since joining the Browns roster last season.
Vernon will need to carry that momentum with him into this game versus the Jaguars.
As already mentioned, both Garrett and Ward are going to be sidelined on Sunday.
The Browns defense is banged up and desperately needs someone to step up and dominate.
Vernon needs to turn in another solid performance in order to make sure the Jaguars offense doesn't keep them in the game.
1. Baker Mayfield
It has been a struggle to watch quarterback Baker Mayfield over the last few weeks.
He has failed to throw a touchdown pass during each of his last three games.
Actually, the most impressive thing Mayfield has done over the last few weeks was during pregame warmups.
Let's check in real quick on Baker Mayfield's pregame warm ups pic.twitter.com/OXIJlVOXJU

— FOX Sports: NFL (@NFLonFOX) November 22, 2020
All jokes aside, Mayfield does need to figure it out versus the Jaguars on Sunday.
This secondary has been allowing teams to air it out on them all season long.
Mayfield is in a great spot to put together another solid performance like he did against the Cincinnati Bengals a few weeks ago.
The Browns defense is banged up, so Cleveland needs their offense to lead them to victory right now.
Luckily, the Jaguars are struggling on both sides right now, but that doesn't mean the Browns can sit on cruise control.
Mayfield needs to be a leader and show everyone why he was the No. 1 overall selection in the draft a few years ago.