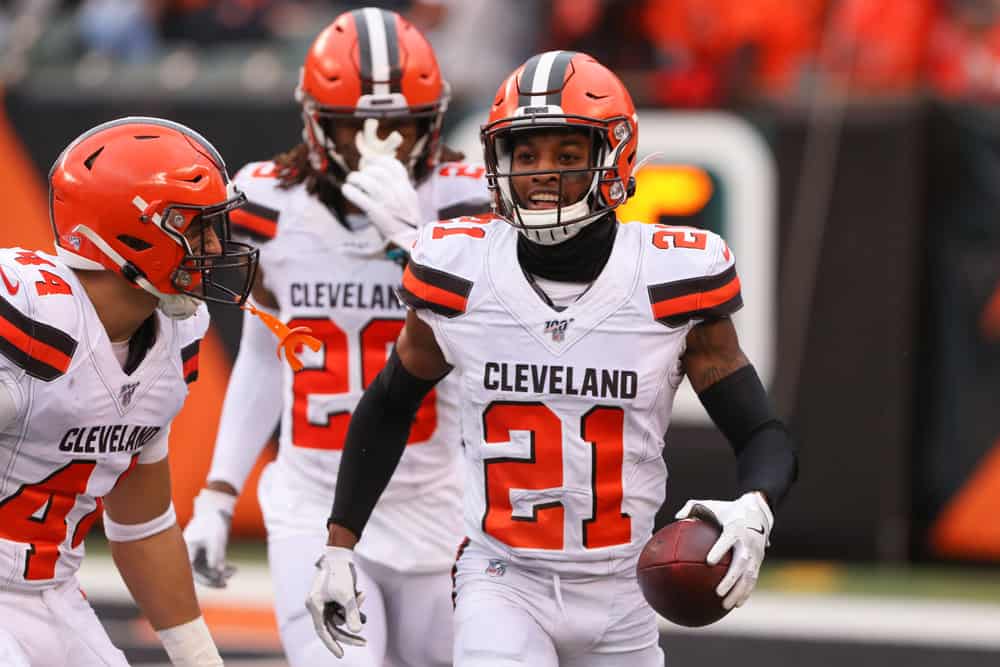 The Cleveland Browns are looking to bounce back after a tough loss to the Pittsburgh Steelers in Week 6.
It was an all around rough game for Cleveland, but they have a great opportunity to gain back some momentum against the Cincinnati Bengals.
These two teams had a surprisingly close game during their last meeting in Week 2.
The Browns were able to pull out the victory, but divisional games are usually close games.
There are a few matchups in this one that fans should focus on during Sunday's contest.
3. Baker Mayfield vs Bengals Secondary
The Browns are going to need quarterback Baker Mayfield to step up and play much better than he has over the last two games.
In Week 2, Mayfield threw for 219 yards with two touchdowns and one interception in the victory over Cincinnati.
That's a pretty decent performance from him, but consistency is something Mayfield lacks.
The Steelers absolutely destroyed Mayfield during the Week 6 loss to Pittsburgh.
Minkah Fitzpatrick picks off Baker Mayfield and takes it back the other way for a #Steelers TD. pic.twitter.com/6btyZNWm3g

— NFL Update (@MySportsUpdate) October 18, 2020
To be fair, Mayfield was a little banged up, but plenty of the blame still falls on him.
However, Mayfield has a great chance to rebound against the shaky Bengals defense.
This is a secondary that is allowing 259 passing yards per game this season.
Mayfield needs to step up and show that he is capable of leading this offense.
A bad performance against this below-average secondary would really put Mayfield in a bad spot.
2. Terrance Mitchell vs Tyler Boyd
The Browns secondary has been banged up and exploited by opposing offenses all season long.
Cincinnati was no exception as they dropped 30 points on Cleveland during their Week 2 loss.
One of the biggest reasons why Cincinnati was in that game was because of Cleveland's weak secondary.
Cleveland desperately misses second-year defensive back Greedy Williams who hasn't played all season.
#Browns are placing CB Greedy Williams on Injured Reserve with a nerve injury in his shoulder. He hasn't played all season after suffering the injury in camp. Team hopes he can return this season.

— NFL Update (@MySportsUpdate) October 12, 2020
Veteran defensive back Terrance Mitchell has been asked to step up this season.
He struggled to slow down wide receiver Tyler Boyd during their last meeting.
Boyd finished with seven receptions on eight targets with 72 yards and one touchdown.
Cleveland is hopeful that this time Mitchell can hold Boyd in check.
The Browns safeties are banged up as well, so they need Mitchell to hold his own.
1. Myles Garrett vs Bengals O-Line
Superstar defensive end Myles Garrett has put himself in the Defensive Player of the Year conversation with his play this season.
He appears to be well worth the massive extension he received during the offseason.
Garrett has been dominating offensive lines all season long.
Highest pass-rush grades among DL:
1. Chris Jones – 91.7
2. Aaron Donald – 90.8
3. Myles Garrett – 90.6 pic.twitter.com/NnRW5IzBl0

— PFF (@PFF) October 22, 2020
The Bengals offensive line has been having a tough time stopping anyone.
Garrett recorded three tackles, two quarterback hits, and one sack during their last meeting.
As mentioned before, the Browns secondary is banged up right now.
Cleveland needs their pass rushers to bring pressure in order to have success on defense.
This season, Garrett has seven sacks, 19 tackles, and three fumbles forced in six games.
His presence on the field makes a huge impact to the Browns defense.
Garrett might need to have a big game if they want to stop quarterback Joe Burrow from carving up the Browns secondary.