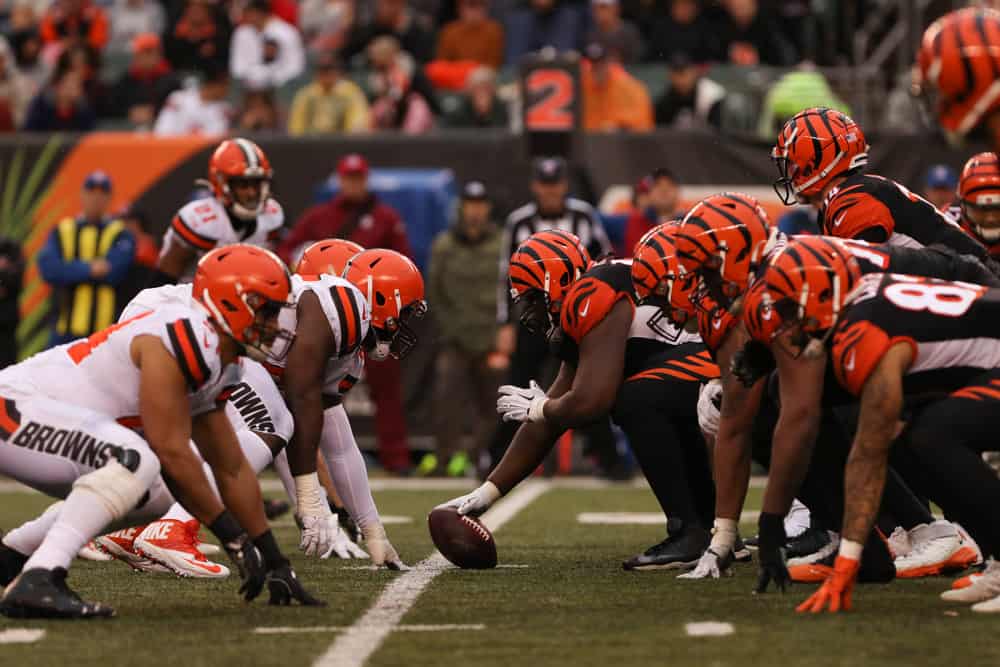 In Week 7, the 4-2 Cleveland Browns take on the 1-4-1 Cincinnati Bengals, and here you can find where to watch, listen, and stream the game.
How To Watch
Fans can find the Browns and Bengals on CBS with Spero Dedes and Adam Archuleta calling the game.
How To Listen
The three flagship stations for Browns football are WKRK 92.3 The Fan, 98.5 WNCX, and ESPN 850 AM WKNR.
Regarding satellite radio, here is the SiriusXM broadcast station for your Browns: Channel 388
Here are the Browns radio affiliates for those outside of Cleveland, according to the team website:
Akron
WAKR – 1590 AM
Akron
WONE – 97.5 FM
Canton
WHBC-AM – 1480 AM
Canton
WHBC-FM – 94.1 FM
Columbus
WTOH – 98.9 FM
Corry (Pa.)
WWCB – 1370 AM
Dayton
WHIO-AM – 1290 AM
Dayton
WHIO-FM – 95.7 FM
Dayton
WZLR – 95.3 FM
Dover
WJER – 1450 AM
Erie (Pa.)
WPSE-AM – 1450 AM
Erie (Pa.)
WPSE-FM – 107.1 FM
Fostoria
WFOB – 1430 AM
Geneva
WKKY – 104.7 FM
Jamestown (N.Y.)
WQFX – 103.1 FM
Lima
WWSR – 93.1 FM
Mansfield
WRGM – 1440 AM
Mansfield
WVNO-FM – 97.3 FM
Marietta
WJAW – 100.9 FM
Norman (Okla.)
KREF – 1400 AM
Sandusky
WMJK – 100.9 FM
Tulsa (Okla.)
KAKC – 1300 AM
Uhrichsville
WBTC-AM – 1540 AM
Uhrichsville
WBTC-FM – 101.9 FM
Wooster
WQKT – 104.5 FM
Youngstown
WKST – 1200 AM
How To Stream
Here are the fans' main options to stream the game:
Will the Browns Sweep the Regular Season Series with the Bengals in Week 7?
Joe Mixon is out for Week 7, which means that Giovani Bernard will carry the load.
Although Mixon is out, the Browns moved from a 4.5-favorite earlier in the week to only a three-point favorite.
In 2020, Bernard has just 12 rushes and 16 receptions in six games.
However, his 5.3 career yards per touch rank seventh among active NFL players.
Meanwhile, Joe Burrow will have to adjust to being without Mixon.
The first overall pick looks to find Tyler Boyd, Tee Higgins, and A.J. Green more in the passing game.
Higgins is the only Bengals wide receiver with multiple touchdowns this season.
Higgins' first career catch in the NFL came in Week 2 against the Browns.
The Cleveland secondary will hope to shut down the Cincinnati receivers.
In addition, the Browns will hope to intercept Burrow for the first time.
They forced one Burrow fumble in Week 2.
Myles Garrett, Adrian Clayborn, and Sheldon Richardson each tallied sacks, as the Browns will look to get to the quarterback again in Week 7.
Looking Ahead: Week 8 Matchups
Browns fans hope that Week 7 is not a trap game, but here are the Week 8 games:
Browns vs. Raiders: Sunday, November 1 at 1 pm eastern
Bengals vs. Titans: Sunday, November 1 at 1 pm eastern