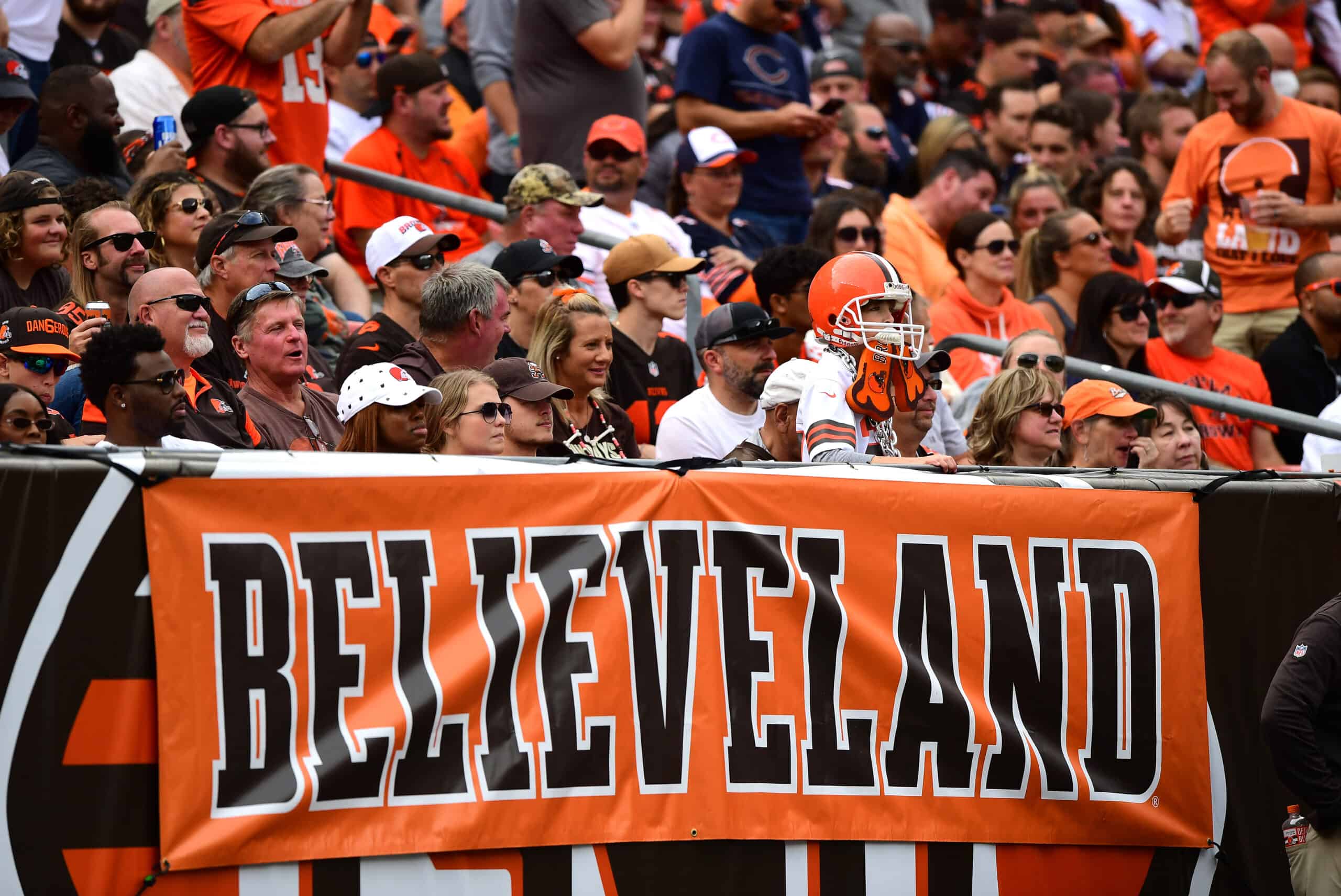 It's tough to evaluate the Cleveland Browns' 2021 season.
Most of the season Cleveland was playing behind an injured quarterback in Baker Mayfield.
On paper, this roster is strong and has many of their young superstars locked up long-term.
This team could be a few trades away from being a legitimate threat once again in the AFC.
That being said, the solution to the Browns' problems might not be too far away.
1. Kirk Cousins
It's a risky move, but one that could pay off in a big way for Cleveland.
Two-time Pro Bowl quarterback Kirk Cousins could be a huge upgrade to the Browns roster.
The 33-year-old is coming off a strong campaign with the Minnesota Vikings in 2021.
Cousins finished with 4,221 passing yards with 33 touchdowns and seven interceptions through 16 games.
The veteran quarterback did a fantastic job and still has a capable throwing arm.
No playoff implications, but Kirk Cousins has two 40+ yard touchdowns for the Vikings (-3.5) today! ✌️

Cousins Over 1.5 pass TDs (-132) 💵
Justin Jefferson anytime TD (-121) 💵#DaBears | #Skol pic.twitter.com/0RsstrYOe0

— TwinSpires Sportsbook 💵 (@TS_Sportsbook) January 9, 2022
Next season, Cousins is owed a base salary of $35 million, which is a significant amount of money.
However, his contract is up after 2022, so there is no long-term commitment.
It's uncertain what the Browns are going to get from Mayfield anymore.
He underwent surgery to fix his shoulder issue, but there is no guarantee he returns and contributes at a high level.
Clearly, the Browns are unsure about Mayfield considering he's on his fifth-year option and no extension in sight.
Possibly, Cleveland goes the veteran quarterback route in an attempt to fix this offense.
2. Adam Thielen
There could be a fire-sale in Minnesota and the Browns should capitalize on it.
Head coach Kevin Stefanski worked with both Cousins and wide receiver Adam Thielen during his time in Minnesota.
The connection is there and the Vikings could be headed towards a rebuild.
They recently fired their head coach and general manager after a rough 2021 campaign.
Vikings fire head coach Mike Zimmer, GM Rick Spielman as NFL's 'Black Monday' begins https://t.co/Xv2kWTSC3J pic.twitter.com/LH8iJDBxEq

— New York Post (@nypost) January 10, 2022
They have a veteran quarterback on a one-year deal and a roster that isn't ready to compete.
That being said, Thielen could become available this offseason.
He still has three years left on his contract where he earns a reasonable salary.
In 2021, Thielen recorded 67 receptions, 726 receiving yards, and 10 touchdowns in 13 games.
The Vikings have no need for a veteran player like Thielen on a roster that isn't going to be competitive.
There's a chance Cleveland is able to pull him away from Minnesota in exchange for draft picks and possibly a young player.
3. Myles Jack
It's going to take a lot to pull this off, but maybe it's possible.
Sixth-year linebacker Myles Jack would be a perfect addition to the Browns roster.
He is coming off back-to-back 100 tackle seasons and would be an immediate upgrade to a fairly weak position in Cleveland.
It's uncertain if the Jacksonville Jaguars are willing to give him up, but they've traded plenty of their young stars in the past.
In September of 2021, they traded former first-round pick defensive back CJ Henderson after drafting him the season prior.
Trade alert 👀

PANTHERS RECEIVE:
CB CJ Henderson
5th-round pick

JAGUARS RECEIVE:
TE Dan Arnold
3rd-round pick

(via @RapSheet) pic.twitter.com/x5rvnmFwIY

— B/R Gridiron (@brgridiron) September 27, 2021
That being said, it doesn't seem insane to think the Jaguars would part ways with Jack for the right offer.
The Browns have plenty of draft capital and a few young players they could use to pull off this trade.
Jack is signed for the next two seasons at $10.5 million and $11.2 million, which is cheap considering his production.
He is one of the most underrated players in the league and would be a massive upgrade to the Browns defensive unit.