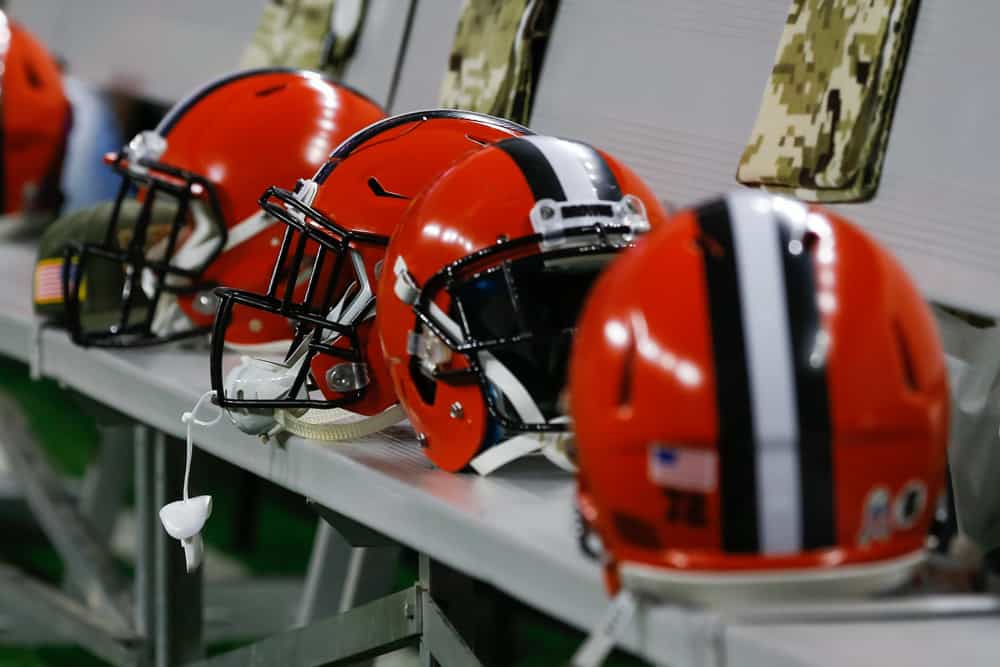 COVID-19 has taken just about every normal aspect of our lives and turned it upside down.
The world was without sports for what seemed like years.
That hiatus is now over as the NHL, NBA, MLB, and various other sports leagues restart.
But, some players are choosing not to play amid a global pandemic, that includes the NFL.
A couple of Cleveland Browns have already decided they will not appear in the upcoming campaign.
Players opting out from COVID:

Bears
DT Eddie Goldman

Bills
DL Star Lotulelei

Browns
OT Drake Dorbeck
OG Drew Forbes

Chiefs
OG Laurent Tardif
RB Damien Williams

Cowboys
WR Stephen Guidry
CB Maurice Canady

Eagles
WR Marquise Goodwin

Giants
OT Nte Solder

— Fantasy Football Advice (@FF_Advice101) July 29, 2020
Not included in that list is defensive tackle Andrew Billings who has also opted out.
Between the trio of Billings, Forbes, and Dorbeck, none of those guys will be sorely missed.
However, that's not to say more prominent players couldn't decide to opt-out as well.
Let's take a look at a few guys who, if they decided to opt-out, could really impact this Browns season.

1. Mack Wilson, LB
The Browns linebackers have been labeled by many as the worst unit of the team right now.
There is a lot of inexperience in the group, no question about that.
The departure of Joe Schobert might be one that has a bigger impact than some may think right now.
Regardless, that leaves Mack Wilson as the new leader of the bunch.
He's someone that took a lot of defensive snaps last year at 89%.
The next closest out of the linebackers is Sione Takitaki who played appeared in just 10% of plays defensively.
While Wilson has already proven to be an anomaly athletically, he'll have to be able to read offenses better this year in an increased role.
Mack Wilson showing the ideal way to destroy mid-zone. Plays through the G with low leverage. #Browns pic.twitter.com/ZcVBXkP3Vn

— Jake Burns (@jake_burns18) August 21, 2019
If Wilson were to decide to opt-out, the linebacker unit would quickly resemble that of a college all-star team.

2. Austin Seibert, K
Cleveland's kicking woes have been well-documented in the past couple of years.
From Cody Parkey to Greg Joseph, this was a position that gave the Browns fits.
The fifth-round draft pick out of Oklahoma, Austin Seibert, had some mishaps throughout his rookie season.
He was good enough to earn the kicker spot moving forward though, as he put 10 of his 13 attempts from 40 yards or more through the uprights.
Extra points gave him the occasional issue, as he finished with a lower kicking percentage on those compared to his field goal percentage.
Still, he's the guy moving forward.
If Seibert opts out, the search for another kicker will quickly be underway.

3. Jack Conklin, RT
Perhaps the biggest acquisition this past free agency period was Jack Conklin.
The 6'6", 308 lb tackle has spent the last four seasons in Tennessee as one of the better players at his position.
He made both the All-Rookie team in 2016 along with earning an All-Pro selection.
The Browns offensive line was a big area concern throughout the 2019 season and needed addressed this offseason.
On top of getting Conklin, the Browns took Jedrick Wills out of Alabama in the first round of this past NFL Draft.
The hope is that those two will fill the two glaring holes on the line after last year.
If even one of those guys decides to sit this season out, it could be trouble for the rest of the unit.