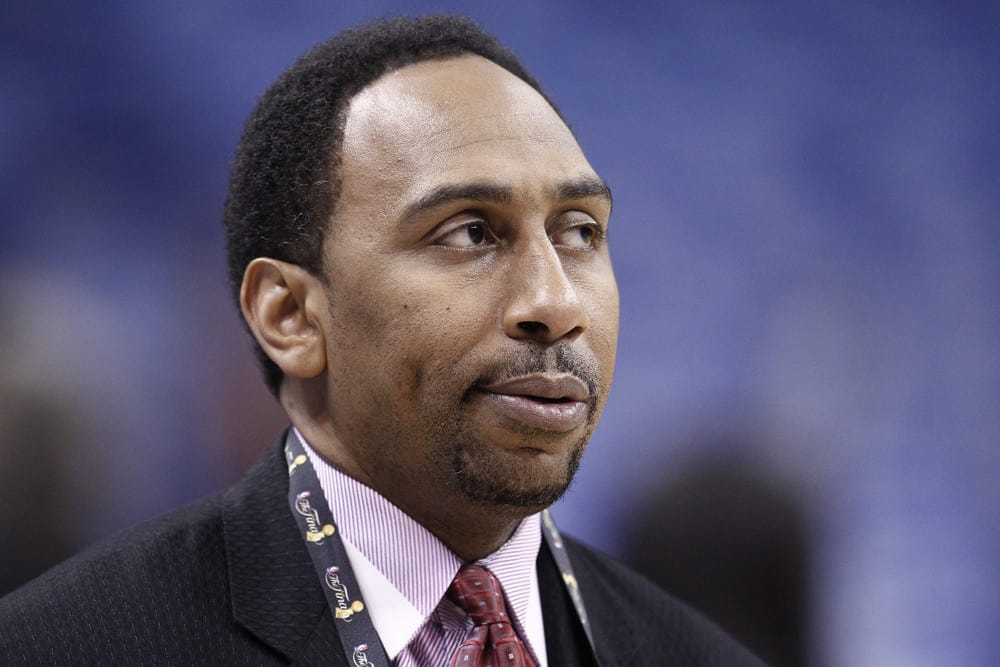 ESPN television personality Stephen A. Smith is highly critical of Cleveland Browns wide receiver Odell Beckham Jr.'s recent comments to the Wall Street Journal Magazine.
OBJ told the publication two weeks ago he thinks NFL owners "don't see us [players] as human," and that he believes the 2020 season should not happen.
During a Tuesday's edition of "First Take," Smith discussed Beckham's commentary.
"The NFL who employs you, okay, is choosing to have a season. By the way, you're choosing to play in that season," Smith said. "You got a check, right? But in the same breath, you're gonna complain about the season that you've elected to participate in, knowing you're gonna get paid for it?

"What type of damn sense does that make? It makes no sense whatsoever."
It's important to note Beckham's interview with the WSJ Magazine took place before the NFL-NFLPA agreement on July 24, which includes increased COVID-19 precautions.
Beckham reported to training camp on July 28.
Browns general manager Andrew Berry told media members on Tuesday that he believes Beckham is committed to playing in 2020.
"We feel really good about everything that the league and the PA have agreed upon and everything that we've done in Cleveland," Berry said. "In terms of Odell, he's returned and really been focused on working hard. He's been very engaged in everything that we've done in the classroom and he's really focused on having a great year."
Browns GM Andrew Berry on conversations he's had with Odell Beckham since OBJ arrived to camp: "He's returned and been focused on working hard. He's been engaged. … and really focused on having a great year." pic.twitter.com/dPqHDUiBjA

— Jake Trotter (@Jake_Trotter) August 4, 2020
Smith was still critical of Beckham, regardless of when his comments to the WSJ Magazine came.
"What you're not going to do is be in my face saying you accept the circumstances, but you moaning about it too," Smith said. "You don't get to do both. And that's what Odell Beckham Jr. is doing here.

"With all due respect, OBJ play, or don't play. It's very simple."
Smith also discussed Beckham's insinuation that race factored into the decision to play the 2020 season.
"I'm a Black man. When [you're going to] bring up race, make it count please," Smith said. "That's all I ask. Make it count."
While Black players make up about two-thirds to three-quarters of the NFL's players, there are only two people of color who are owners in the league: the Jacksonville Jaguars owner Shahid Khan and Buffalo Bills co-owner Kim Pegula
"When you bring up race in this equation, a white guy like you Max [Kellerman], a white guy like you Tim [Hasselbeck] or white folks all across the nation they sit up there and go like this, 'what is this?' Because this ain't what we've been talking bout here," Smith said. "This is not what the protests have been about.

"The protests have been about racial oppression, racial inequality, things of that nature. That isn't applicable to you in this sequence, Odell Beckham Jr. or any other NFL player. You have the choice to play and get paid, or don't play and don't get paid. It's a choice."
NFL players have until 4 p.m. ET Thursday to decide whether to opt out of the 2020 season.
If a player decides to opt out, the decision is irrevocable.
Players who choose to opt out for approved medical reasons receive a $350,000 stipend for 2020 and not advance against future salary.
Players who opt out for other COVID-19 concerns receive a $150,000 for the season, which is treated as a salary advance and come out of future years' pay, unless the player is an undrafted rookie.